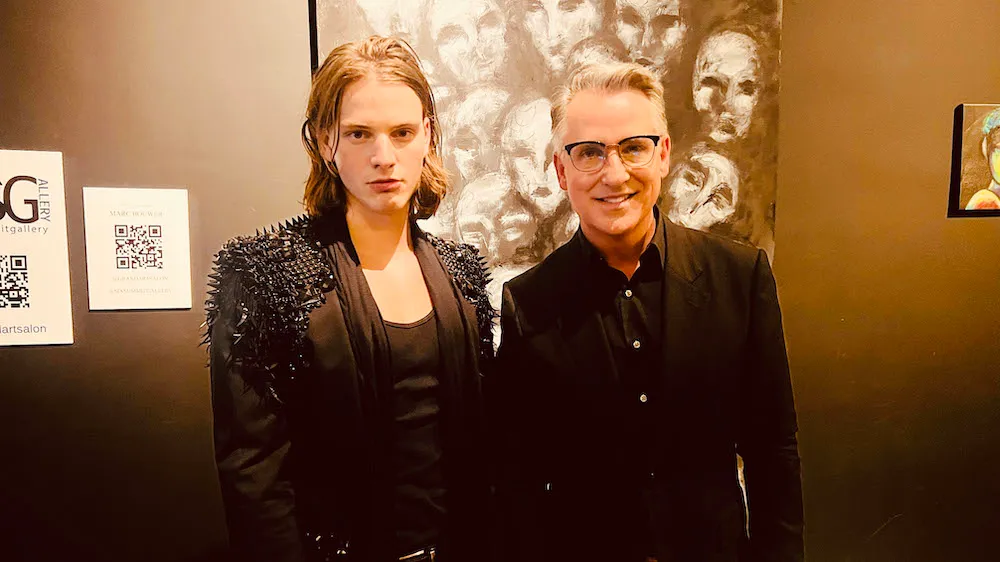 Out With Dr. Bill – The Art of Living Creatively
From the bustling streets of Manhattan to the serene beaches of Fire Island, New York City and its surrounding locales serve as an ever-changing canvas for creativity.
In this week's piece, I'll take readers on a whirlwind journey – from the poolside conception of a fresh logo to groundbreaking art exhibitions, and from iconic fashion weeks to transformative haircuts.
Welcome to a world where creativity isn't just a moment – it's a way of life!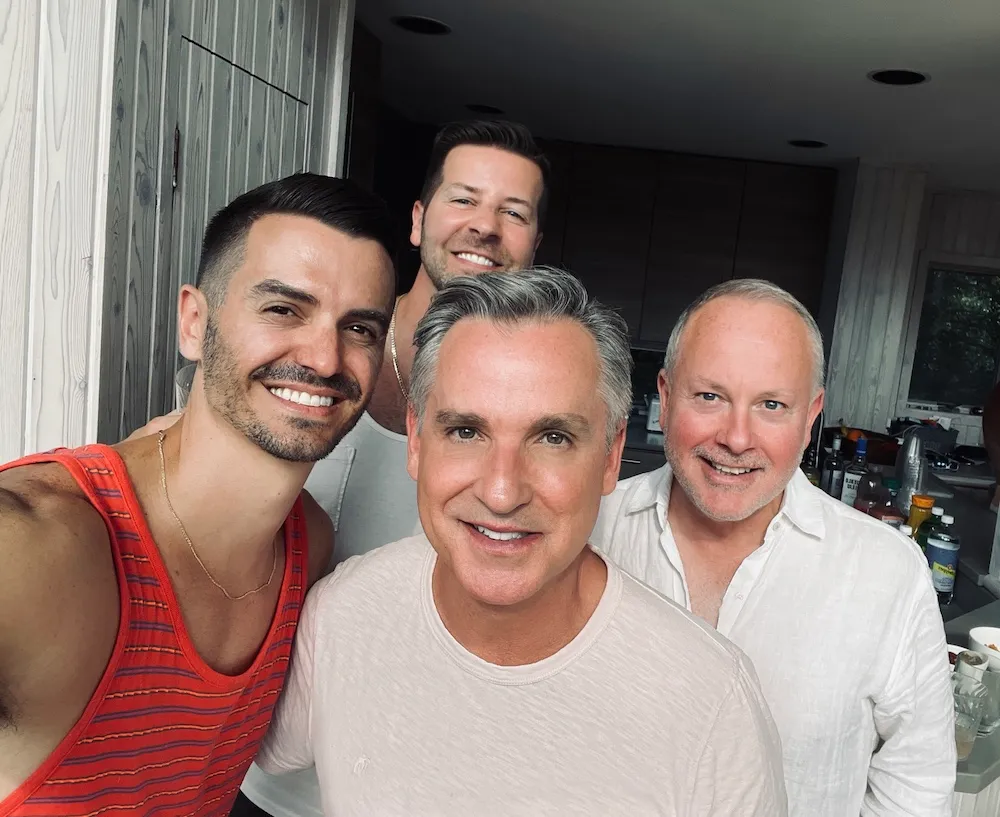 From Poolside to Masterpiece: A Rosé-Fueled Logo Design
I recently teamed up with the remarkably gifted Bill Sommer for a fresh new logo, and let me tell you, it was a game-changing experience. For a sneak peek into Bill's creative world, you can tip-toe digitally over to his portfolio here. Trust me, his artistry has graced some of New York's most iconic brands; the guy is a creative wizard.
Now, get this: the "a-ha" moment for our new logo didn't happen in some stuffy office. Oh no, it emerged during a laid-back brainstorming session by the pool, accompanied by – wait for it – some delectable bottles of rosé. And not just any rosé, mind you.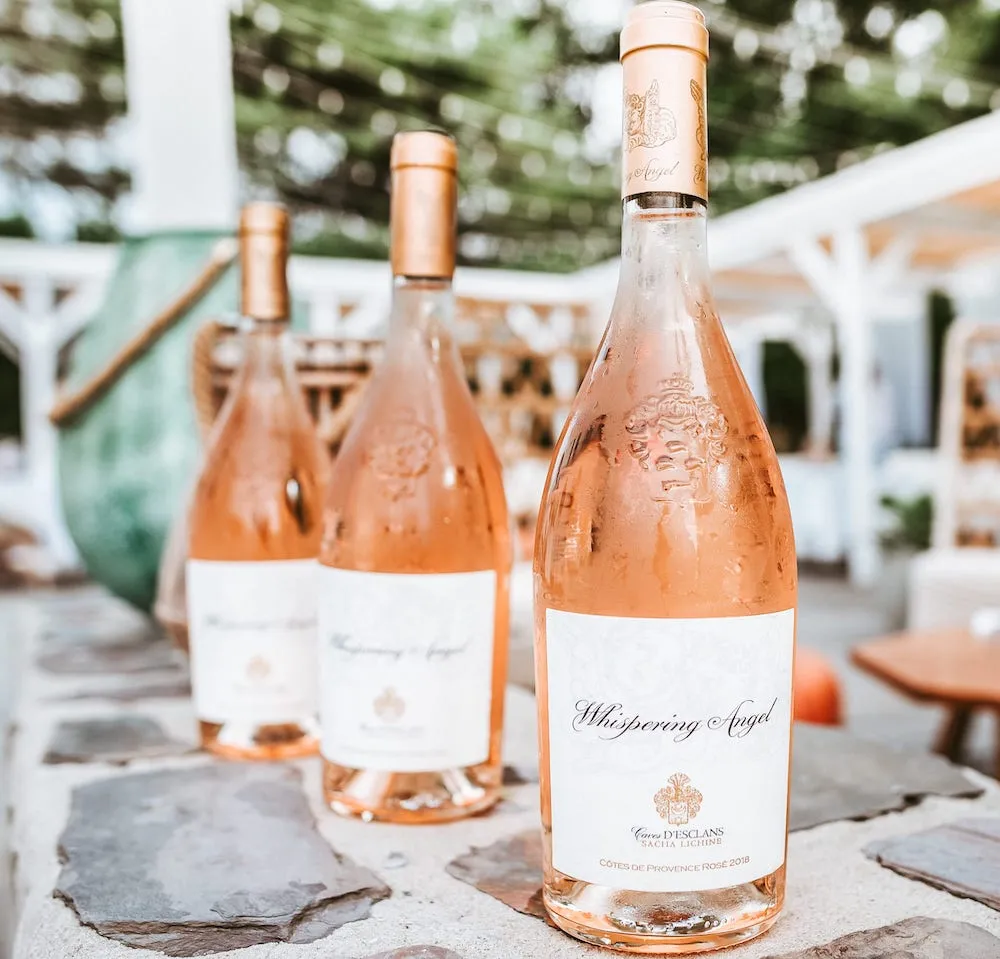 Whispering Angel rosé was the star of my last column – the wine that's practically a muse in a bottle! Sipping that luscious rosé and basking in the sun, the logo concept began to take shape, like a beautiful butterfly emerging from its cocoon. Bill said he wanted to riff off my iconic glasses and the vintage charm of mid-century design. Imagine mashing up the aesthetic vibes of "Bewitched" and "The Twilight Zone" – quirky yet timeless.
Major kudos to Bill, and let's not forget his fiancé Jeffrey, another design maestro in his own right. Jeffrey was the indulgent soul who metaphorically held the napkin as we sketched out our ideas. Check out his work at Jeff Cook Design.
That afternoon felt like enrolling in an impromptu masterclass on graphic design, sprinkled with laughter, creativity, and just the right amount of rosé-inspired wisdom. Cheers to teamwork, creativity, and of course, a fabulous new logo!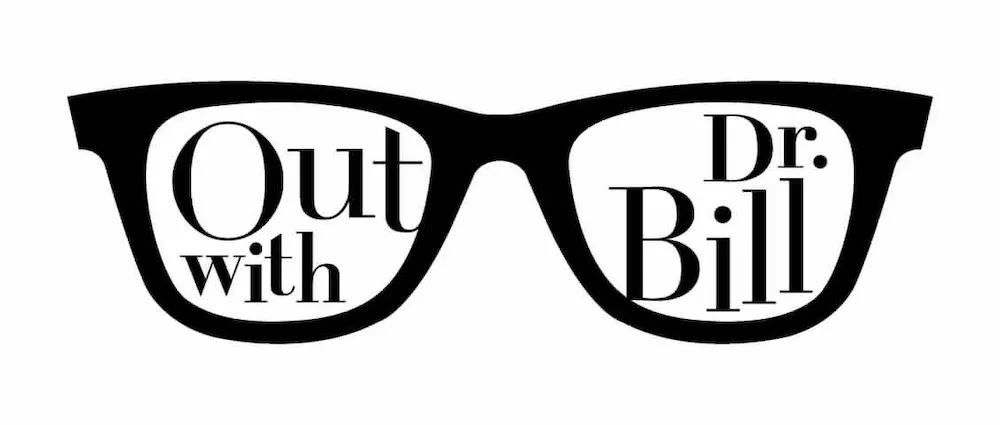 From Logo Design on Fire Island to Marc Bouwer's Artistic Reawakening in NYC: A Journey Through Creativity
After a wonderfully creative session on Fire Island working on a new logo, we each darted home for a quick costume change.
Refreshed and re-attired, we reconvened in the city that never sleeps to dive into another artistic universe. This time, we were guests at Marc Bouwer's inaugural art exhibition "Facial Recognition," and what an immersive experience it was. Adding to the specialness of the evening, Marc himself provided us with an intimate, guided tour of his fascinating new body of work.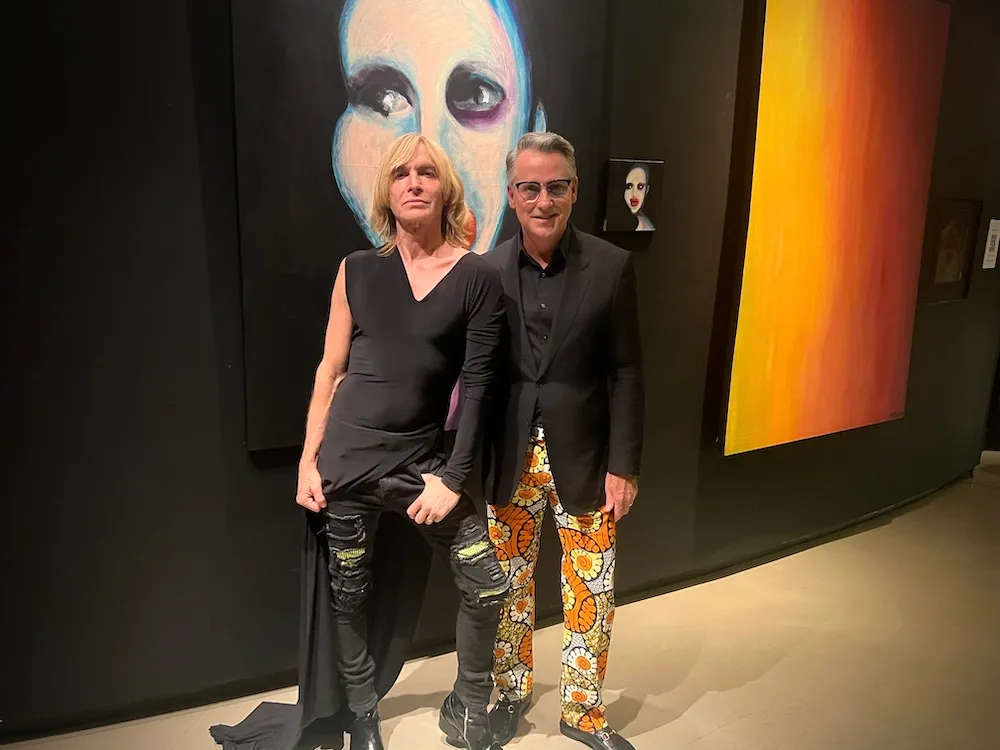 The journey to this art show began in a place you might not expect: Marc's involvement in HBO's two-part series "Phoenix Rising." It was there, while animating paintings of Marilyn Manson, that Marc rekindled his love for the visual arts.
This newfound passion led to the extraordinary exhibit we were now wandering through, guided by the master himself.

During the pandemic, Marc discovered a resourceful way to express his creativity. Utilizing discarded materials like old TV boxes, he painted faces in vibrant, neon hues against black backgrounds, each one emerging as an individual personality evoking distinct stories.
This creativity was in full view at "Facial Recognition," a show presented by Six Summit Gallery and enriched by Marc's collaboration with friend and neighbor, Amy Berg.

And for the Bravo TV aficionados among us, Marc has also showcased his fashion expertise on none other than Sonja Morgan from "The Real Housewives of New York." I've even had the pleasure of making an appearance on episodes where Sonja dazzled in a Marc Bouwer original.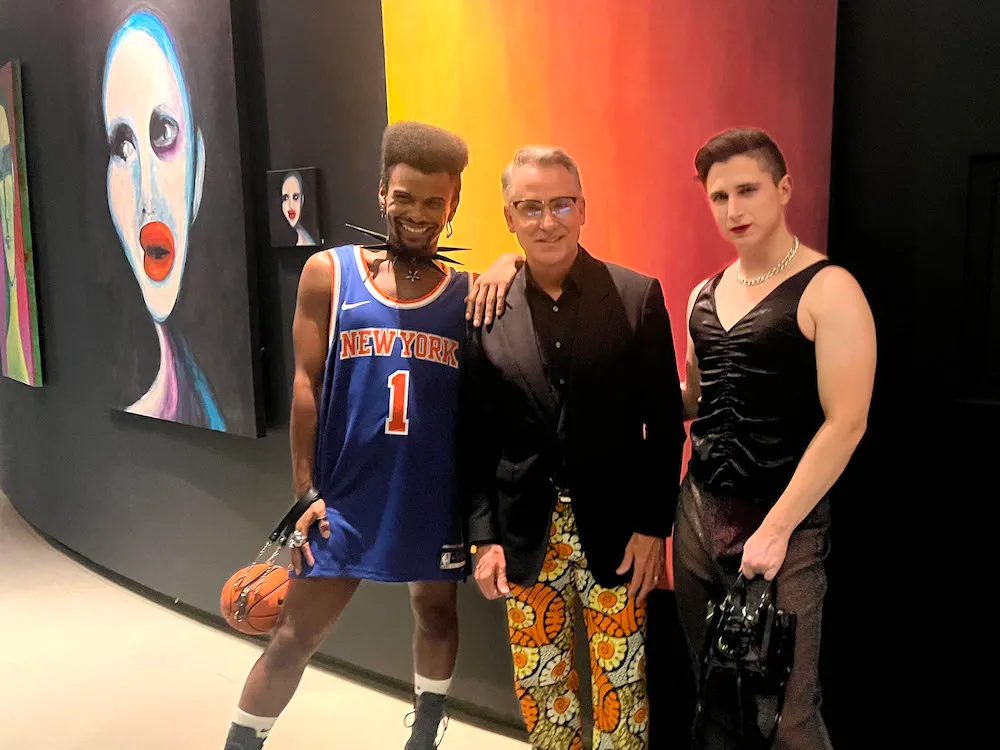 But it wasn't just the art on the walls that captivated us. The space was animated by a handful of young runway models and a mesmerizing young woman who danced through the exhibit with the elegance of a ballerina, complete with on-point turns and elevated leg moves.

The venue – none other than the former Playboy Club on 510 West 42nd Street – added another layer to the experience. This venue, where my father once proudly held a "Key" and my sister donned the iconic Playboy Bunny outfit, served as a poignant reminder of the nuanced relationship between glamor and objectification.

All in all, Marc Bouwer's "Facial Recognition" isn't just an art exhibition; it's a multifaceted journey into the realms of creativity, resourcefulness, and social commentary. It's a must-see experience, whether you're a longtime Bouwer fan or someone who finds themselves intrigued by his evolving creative narrative while wandering the streets of New York City.

Here's to more enriching cultural escapades on the horizon!
Creative Collabs & Fashion Titans: A Toast to Innovation
Ah, Fashion Week – the time when the city transforms into a runway, and everyone who's anyone in the fashion world is buzzing around.
I found myself at L'Amico, sitting against a window that offered a delightful view of the vibrant streets of Sixth Avenue. It was here that I met up with my FashWire friends who were in town for the big week. Across the table was Kimberly Carney, a dynamo in conversation and an absolute titan in the fashion technology sector.
Her credentials? Let's just say they're as eye-popping as the ensembles I saw on the runway. She and FashWire have snagged the International Trade Council's Women in Business First Place Award, Glossy's 2022 Fashion Award for Best Fashion Marketplace, and many more. Kimberly is not just playing the game; she's redefining it.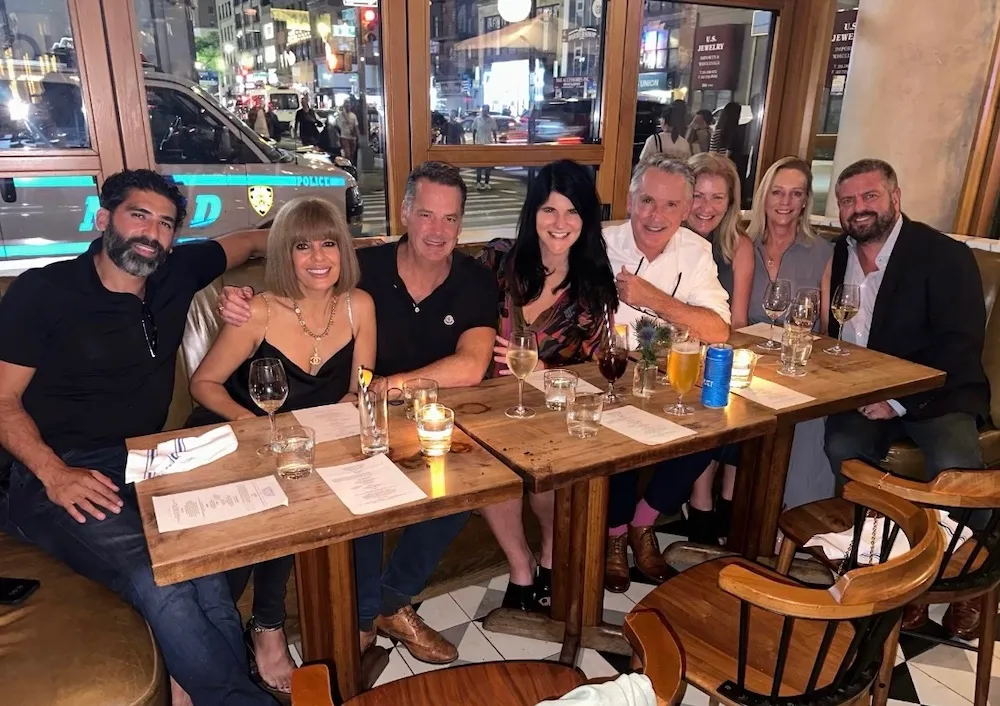 But let's not forget the person who made the modern Fashion Week possible: Fern Mallis. She, alongside Stan Herman and the Council of Fashion Designers of America (CFDA), organized "7th on Sixth" back in 1993 at NYC's Bryant Park.
I had the honor of attending a 2015 interview between Fern and Leonard Lauder. Trust me, it was a masterclass in industry insight.

I've also had the privilege of sharing a front-row view with Fern at select shows during my days at Harper's Bazaar and Travel + Leisure magazines. Those weren't just moments of fabulous fashion; they were lessons in the nuance and dynamics of an industry that I love.

So, as I enjoyed my meal, toasting to Kimberly's remarkable contributions to the world of fashion technology, I couldn't help but reflect on the rich tapestry of this industry. From Fern's pioneering work to Kimberly's innovative spirit, it's amazing to think about the contributions each of us makes to this extraordinary world.
Here's to Fashion Week – past, present, and future.
Snips, Styles, and Transformations: A Walk Down Memory Lane with My Hairstylist Damien Miano
This week, as I settled into the well-worn seat at Miano Viél Salon and Spa for my monthly haircut, a comforting nostalgia washed over me. Damien Miano, co-owner of the salon and a friend of over two decades, always manages to make these sessions feel like more than just routine grooming.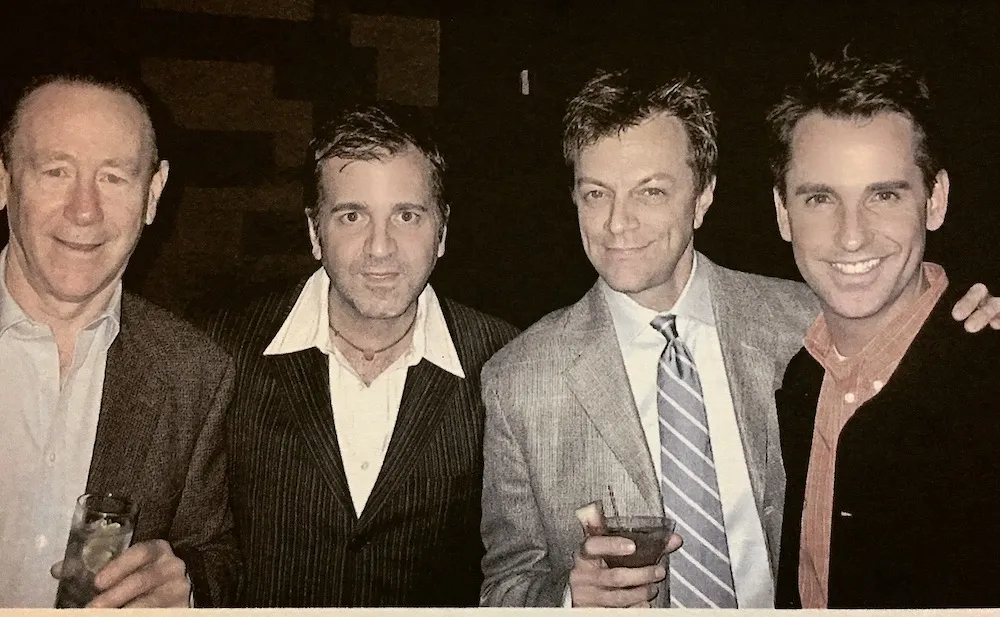 In fact, every snip and clip takes me back to my childhood, where I spent countless hours entertained by the buzz and chatter in my mother's various salons. Being the child of a hairdresser – we did not have "hairstylist" back then – provided a unique playground of human interactions, stories, and the alluring alchemy of transformation.

The sense of transformation is what initially connected Damien and me, back when he was capturing hearts and TV ratings on "Live with Regis and Kathie Lee" with his remarkable "Ambush Makeover" segments.
These segments were no ordinary feats. They were mini miracles performed on the bustling streets of New York City. Unsuspecting tourists would be whisked away for a head-to-toe transformation, culminating in a big reveal that often-brought tears of joy to participants and viewers alike. In a way, every haircut with Damien feels like my own little "Ambush Makeover," linking me to the broader canvas of transformations that have shaped my life.
This includes meeting TV legend Regis Philbin in 1997 during my time at Miramax Films. We were promoting "Air Bud: Golden Receiver" and had planned an on-air catch with our Golden Retriever and a nerf-like football. The ball was dropped (literally) but the memory of that humorous mishap remains a fond one. It's a reminder that the best transformations, whether it's a makeover or a shift in one's career, often come from embracing life's unpredictable moments.

So, as I walk out of Miano Viél Salon, freshly snipped and styled, I'm grateful for the tapestry of transformations that have colored my life. From the heartwarming reactions in "Ambush Makeover" to high-stakes moments on live TV with iconic figures like Regis Philbin and promising talents like Kevin Zegers, these experiences add layers of richness to my story.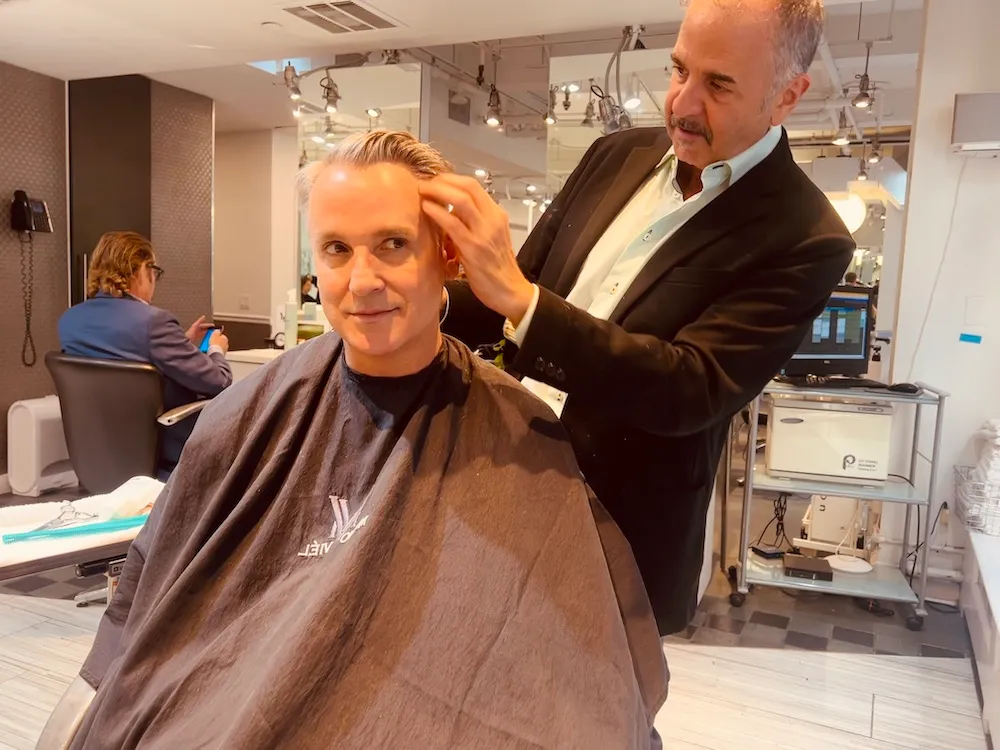 And let's not forget the lasting impact of my mother's salons, where I first learned that even the simplest change can make a world of difference. Here's to embracing the magic of transformations, big or small.
The Art of Living Creatively: A Conclusion
It's evident that New York City isn't just a static stage for our creative escapades; it's a dynamic partner, fueling our inspiration and daring us to dream bigger.
From designing logos poolside to high fashion encounters, to indulging in the arts, to getting snipped and styled at the salon, I've relished how the city breathes life into my creative pursuits.
Here, creativity isn't confined to traditional spaces – it's the lens through which I see the world, and hopefully, through which you, dear reader, can explore your own world anew. Let's toast to the endless canvas that is New York, and look forward to even more cultural and culinary adventures ahead!
Stay tuned for my next post, where I'll spill the tea (or should I say, the gin and the guacamole) on two Chelsea favorites that promise to tantalize your senses: the intoxicating allure of Bathtub Gin and the zesty fiesta that is Fonda. Cheers to living creatively!
---