Gay Miami: The Latest
Former "Empire" actor Jussie Smollett is due to make an initial court appearance Monday on a new set of charges alleging that he lied to police about being targeted in a racist and homophobic attack.
Washington state health officials want to change a rarely used law that makes it a felony to intentionally expose a sexual partner to HIV, saying the current penalties don't have an impact on reducing transmissions or improving public health.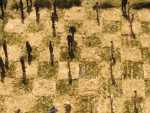 The museum of the Nazi German Auschwitz death camp is objecting to a scene in a new Amazon TV series that shows a murderous game of human chess being played there, insisting that no such thing took place at the camp.
Bernie Sanders' commanding Nevada caucus victory made him a top target for his Democratic rivals and a growing source of anxiety for establishment Democrats worried that the nomination of an avowed democratic socialist could cost the party in November.
Grammy award-winning singer Pharrell may have been fired from three different McDonald's as a teen, but that didn't stop him from opening what has become one of the hottest restaurants in Miami.
The new virus took aim at a broadening swath of the globe Monday, with officials in Europe and the Middle East scrambling to limit the spread of an outbreak that showed signs of stabilizing at its Chinese epicenter but posed new threats far beyond.
Barbara "B." Smith, one of the nation's top black models who went on to open restaurants, launch a successful home products line and write cookbooks, has died at her Long Island home at age 70 after battling early onset Alzheimer's disease.
Police manned checkpoints around quarantined towns in Italy's north on Monday as authorities sought to contain cases of COVID-19 virus that have made Italy the focal point of the outbreak in Europe and fears of its cross-border spread.
By the fall of 2018, when Democrats were promoting a slate of centrist candidates to topple Republicans in Congress, Bernie Sanders was seeing a very different picture.
An estimated 80 hippopotamuses, perhaps more, live in the area around the Rio Magdalena, Colombia's principal river, which runs through the center of the country.
Murder charges have been filed against two 13-year-old boys suspected of starting a blaze that killed two firefighters at a central California library.
"Sonic: The Hedgehog" zoomed to the top of the box office with a take of $26.3 million in its second weekend while audiences ignored critics and heeded "The Call of the Wild."
Economic growth has been slowing. And some economists say the expansion may be vulnerable to risks ranging from the U.S.-China trade war to China's deadly viral outbreak.
A private equity firm seeking to buy rights to operate the internet's .org suffix said Friday it will cap price hikes and create an advisory board with veto powers to ease concerns from the nonprofit community.
When insurers revoke their decision to pay after the service is completed, patients are legally on the hook for the bill.
Kia is joining its affiliate Hyundai in recalling thousands of vehicles in the U.S. because water can get into a brake computer, cause an electrical short and possibly a fire.
Highlights of womenswear trends from top designers at this year's Milan Fashion Week, including Armani, Versace and Marni.
You might have heard that the fear of a new virus from China is spreading faster than the actual virus.
Step out of the sun to check out South Beach's diverse art scene, featuring old masters, modern marvels, Instagram-worthy murals, and a high-tech video installation.
Saturday night in Chicago was a fun time at Hamburger Mary's and Mary's Attic with drag, dancing, cold drinks, and great friends.