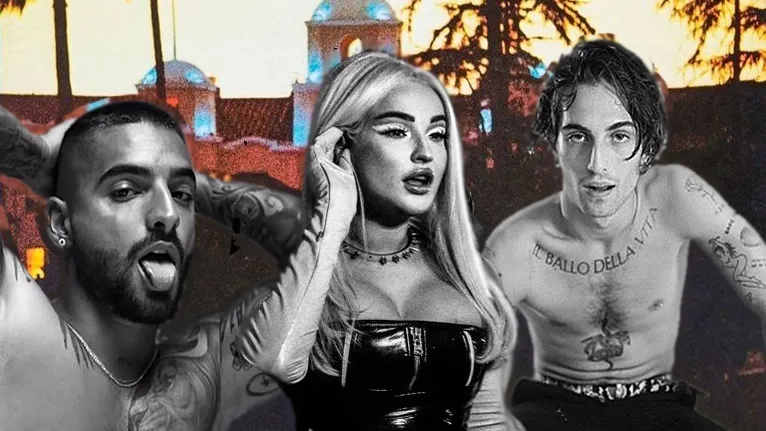 10 Concert Tours to Catch This Fall
While the spring and summer concert circuit was undoubtedly dominated by all things Taylor Swift and Beyoncé, a new crop of major tours will be kicking off this fall. From legends saying farewell to relative newcomers doing their biggest shows yet, here are 10 shows to catch this fall:
Lana Del Rey
The elusive chanteuse has never toured in the typical album-tour-album-tour fashion. In fact, her last real tour was four years ago, and most major cities were left off the itinerary. Her current tour isn't at all more inclusive–some of her dates are in the randomest of places–but here's hoping that these shows remind her of how much she likes performing live and perhaps she'll add more. Plus, with Grammy nominations coming soon and her latest album being a contender in top categories, she may want to keep this momentum going. Now-Oct. 5, click here for more information.
Janelle Monáe: The Age of Pleasure Tour
One of the most versatile multi-hyphenate talents of our time, this marks Monáe's first tour in five years. In support of her latest album "The Age of Pleasure," she's offering up a healthy dose of electropop irreverence with plenty of kooky, defiant queerness to go around. Now-Oct. 16, click here for more information.
Eagles: The Long Goodbye Tour
One of the greatest bands that ever lived, this is the most bittersweet of the year's concert tours. They still sound as perfect as ever and put on one hell of a show, so it's well worth the splurge. The name of the tour is "The Long Goodbye," and it'll be interesting to see just how long they plan on saying goodbye for. Now-Nov. 18, click here for more information.
Maluma Don Juan World Tour
The beautiful Colombian superstar has been on the road pretty consistently ever since he first broke through international airwaves back in 2016. But like a fine wine, he gets better with age (if such an adage can be applied to a 29 year old). This time, he's dropped his Papi Juancho alter ego in favor of a new one, Don Juan. Music aside, he typically does most of his show shirtless, and this is a must-see for that reason alone. Now-Nov. 26, click here for more information.
Måneskin Rush! World Tour
The most successful new rock band in recent memory, these Italian sex pots rose to fame as the 2017 runner ups on the Italian version of "X Factor" and after winning the Eurovision Song Contest 2021 for Italy. Nominated earlier this year for Best New Artist at the Grammys, this tour marks their first arena tour in North America. And just like with Maluma, you can bet you'll see some skin. Now-Dec. 19, click here for more information.
Kim Petras: Feed the Beast World Tour
This past winter, Petras became–in her words–"a tranny with a Grammy" when she took home the gold for her collaboration with Sam Smith. Her tours in the US have been limited, playing mostly small clubs with tiny stages. This time, fresh off her Grammy win and release of her new album "Problématique," she's playing proper concert halls for what's sure to be her best tour yet. Sept. 22-Mar. 5, click here for more information.
John Mayer Solo
John Mayer is a mainstay on the touring circuit, but when he first embarked on his solo tour earlier this year, it was the first time he hit the road without a band. Fan response to the tour was huge, selling out every single evening across North America. Lucky for us, he's heading back out on tour this month for what will be one of the finest tours of the year. I should know, I've already seen it. Sept. 27-Mar. 29, click here for more information.
Queen + Adam Lambert: Rhapsody Tour
A continuation of the world tour that began pre-COVID, Queen's "Rhapsody" tour is a total delight. Not only do Brian May and Roger Taylor still have it, but Adam Lambert's vocals make for a sublime experience. Catch this powerhouse pairing while you still can. Oct. 4-Nov. 12, click here for more information.
Kesha: The Only Love Tour
In support of her latest album "Gag Order," her final release under her contract with Dr. Luke's Kemosabe Records, Kesha herself has said that this tour will be a combination of joy, celebration, and extreme vulnerability. Impressively, she's squeezing 22 tour dates into one month, coast to coast. Kesha is great live, and even if her last couple albums have been underwhelming, she has a tendency to elevate her material through live performance. And, of course, supporting Kesha is always in style. Oct. 15-Nov. 6, click here for more information.
Doja Cat: The Scarlet Tour
Doja Cat has had one of the most impressive career starts of any modern pop star and her upward trajectory shows no signs of stopping. Garnering 16 Grammy nominations over three years, she has proven to be one of the most interesting, talented, and capable artists of our time. "The Scarlet Tour" will also be her first major tour, so you can bet she's going to hold nothing back. Oct. 31-Dec. 13, click here for more information.
---