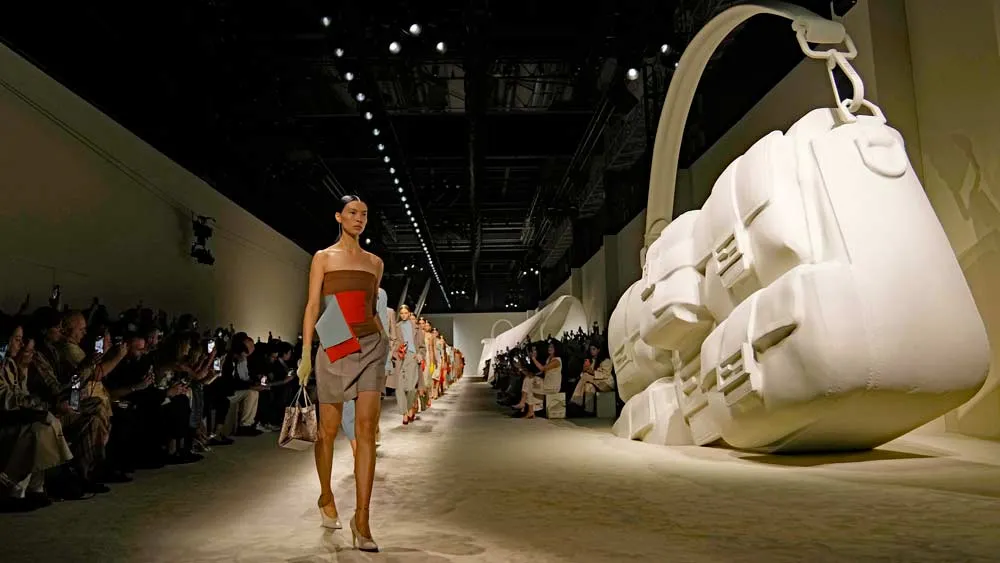 Supermodels Grace Kim Jones' Fendi Front-row During Milan Fashion Week
Colleen Barry
READ TIME: 2 MIN.
A hush fell over the Fendi runway as the front-row filled with supermodels signaling the show was about to begin: Naomi Campbell, Linda Evangelista and Kate Moss had taken their seats. Backstage, it was still a murmur of activity.
Kim Jones' Spring-Summer 2024 collection for Fendi unveiled during the first day of Milan Fashion Week on Wednesday was a twist on knitwear, anchored by leather.
The first look set the tone: A form-hugging color-block knit dresses in mocha, baby blue, salmon and ivory, with a double sash trailing at the waist lending drama and movement. A tri-colored clutch gave the right accent.
The collection overall was dainty: Knitwear was as a rule very fine, accented at times by thin golden chains creating details on open backs. Slinky, clinging monochrome knit dresses had peekaboo cutouts. The twinset trop gave way to built-in layers and sleeves that wrapped around the body, a mysterious swirl. Dresses ruched around the body, suggesting constant motion.
A chunkier ribbed knit gave a chenille-soft appearance in a long jacket and skirt with a healthy front slit. Knit was also fashioned into a chainmail slip dress, with a coppery finish, or neon-orange wrap dress.
Leather added substance: short color-block jackets paired with a matching knit mini-skirt. Contrasting gloves finished many looks. Bags were mostly held as if clutches; a tiny, flat bag dangled from gloved hands.
As he took his bows, Jones – in his sixth season at Fendi after succeeding Karl Lagerfeld as womenswear designer – sent a kiss to the supermodel-filled front-row. Nearby was a bevy of A-list actors: Demi Moore, Cristina Ricci, Gwendoline Christie, who all shared a laugh before the show, along with Naomi Watts.
The runway was flanked by enormous casts of Fendi bags, that created archways with their opening flaps, or backdrops for VIPS and influencers to be photographed upon arrival.
---