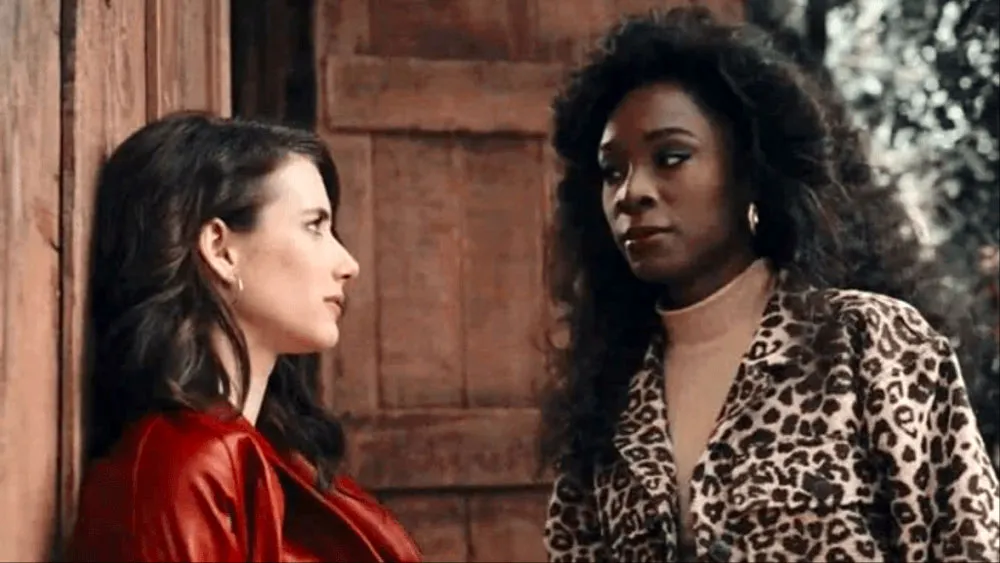 Emma Roberts Reportedly Apologizes to Angelica Ross for Transphobia on 'AHS' Set
There are three things now apparent about what goes on behind the scenes of Ryan Murphy productions: there will be hot people; there will be sexual tension; and there will be toxic behavior. And the latest person to offer a look behind the Murphy workplace curtain brought receipts.
On Tuesday night, just as audiences were eagerly awaiting to see Kim Kardashian's acting chops in Murphy's new "AHS: Delicate," trans actor Angelica Ross outed Emma Roberts' bad behavior on the set of "American Horror Story: 1984."
If you remember, Ross and Roberts shared the screen together in the show. According to Ross, her experience with Roberts, like the show, was less than fresh.
Ross accused Roberts of intentionally misgendering her and mocking her with transphobic comments that were written off simply as "jokes." During an Instagram Live, Ross told a story of how Roberts playfully accused Ross of "being mean" to her. When someone stepped in and said, "OK, ladies that's enough. Let's get back to work."
Ross said Roberts responded with: "'Don't you mean lady,' and she turns around... She covers her mouth and goes back here, but she can't see I'm looking at her deadass like, 'What the fuck did you say?'"
Ross continued, "I was trying to process the fuck she just said. I'm standing there and she walked away. My blood is boiling... If I say something it's going to be me that's the problem."
Well, it seems Roberts heard Ross loud and clear and has reportedly given her a call to clear things up. Ross announced as much on Wednesday afternoon.
"Thank you @RobertsEmma for calling and apologizing, recognizing your behavior was not that of an ally," Ross tweeted. "I will leave the line open to follow up on your desire to do better and support social justice causes with your platform."
So, a happy ending?
On the set of "American Horror Story: 1984," Ross alleged that Roberts had "been playing mind games with everybody on this set and everybody has been waiting for the moment you would get me."
So one has to wonder what kind of toxic games Roberts got up to on the set of "AHS: Delicate." Moreover, what kind of workplace is Ryan Murphy creating where people like Roberts and Lea Michele's infamous antics are consistently fostered and emboldened?
Ross further claimed that Murphy left her "on read" after he reached out to her for a potential all-Black "AHS" season.
"Remember your idea about a HORROR seasons starring Black women? Well I'm doing it," Murphy reportedly wrote in an email to Ross in 2020. "Not sure of the story yet, but we will start a writers room in the fall. Along with you, who are the four women I should get? I think you, Keke Palmer, Gabby ... Not sure of the fourth?"
About the idea, Ross recalled, "After not hearing back. After sending flowers and no response I sent one last email in Feb 2022 (it took about a year to film season 10 due to COVID) while still contractually in first position with the show. Mind you, marvel had called twice now. I haven't heard from him since."
---