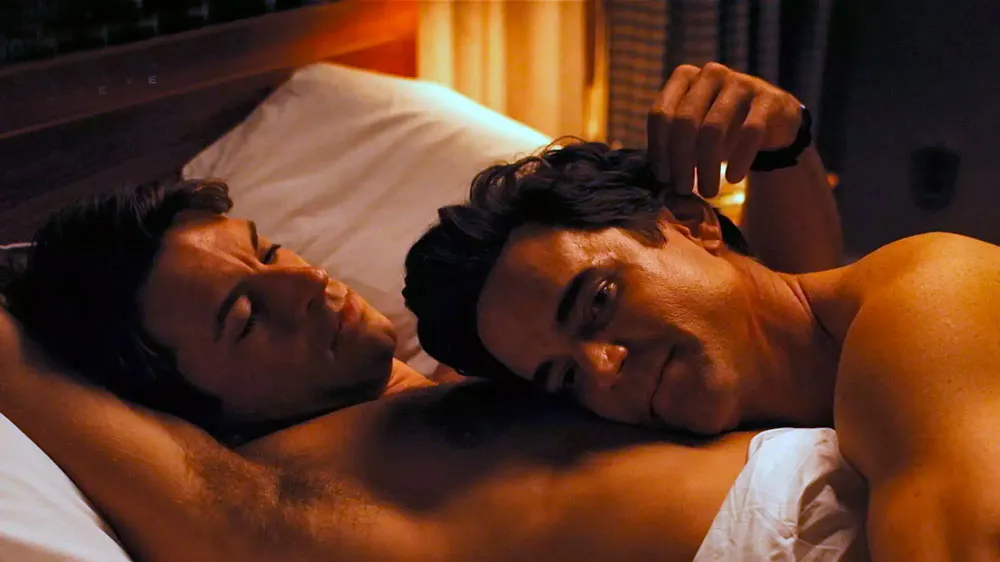 Meet the Cast of Showtime's Much Anticipated 'Fellow Travelers'
Showtime's highly anticipated original series, "Fellow Travelers," may very well turn out to be the most sweeping gay love story ever committed to film, TV or streaming.

The show blends an epic, deeply affecting gay romance with political intrigue and decades spanning storytelling, against the backdrop of the Lavender Scare of the 1950s and the AIDS holocaust of the 1980s.

Based on the celebrated novel by Thomas Mallon, "Fellow Travelers" has been created by Oscar-nominated screenwriter Ron Nyswaner ("Philadelphia") and centers on the passionate relationship between two vastly different queer men who meet working in Washington D.C. during the McCarthy era and evolve in very different ways over the course of four decades.


Watch a preview of a scene from "Fellow Travelers"

In 1953, urged by Senator Joseph McCarthy and his minions, President Eisenhower signed Executive Order 10450, barring all homosexuals from working for the federal government. McCarthy, along with his closeted pit-bull of a chief council Roy Cohn, declared war on "subversives and sexual deviants"–queer people–doing their best to oust them from government jobs, out them to their families, destroying many lives in the process.

The gorgeous and charming Hawkins Fuller (ageless Matt Bomer) has a covert but prominent and quite lucrative job in politics. He is more than fine living in the shadows and being disciplined about his sexual activities, avoiding any emotional strings when he hooks up–which he does, frequently. His life changes when he meets the idealistic and devoutly Catholic Tim Laughlin (Jonathan Bailey). The two men fall for one another, almost at the exact time the queer witch hunt commences. Things are complicated by the fact that Fuller is semi-dating his mentor's daughter, Lucy (Allison Williams).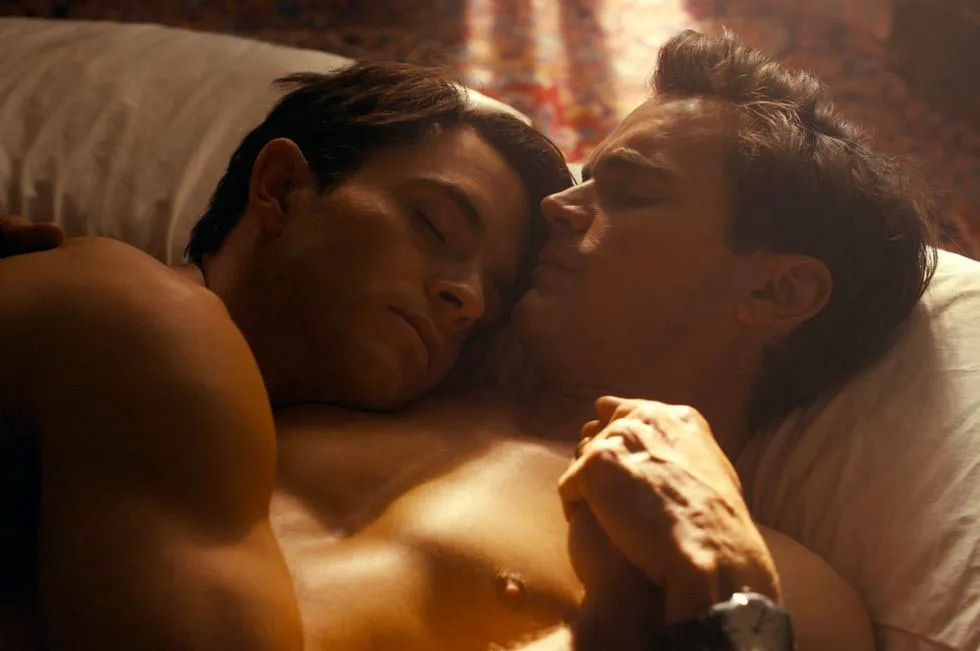 Also on the canvas is journalist Marcus Hooks (Jelani Alladin) who is careful not to make waves, since he's both Black and a closeted gay man. But when Hooks meets drag artist Frankie (Noah J. Ricketts), his world changes in ways he was not prepared for.
What follows is a most extraordinary saga, spanning decades, and chronicling the lives of gay men in an era when being a deviant was anathema to the kind of American culture that extremists were desperately trying to cultivate.
The 8-episode dramatic/romantic thriller will make its streaming debut on the Paramount+ with SHOWTIME plan beginning Friday, October 27 before its linear debut on Sunday, October 29 at 9 p.m. ET/PT on SHOWTIME.
Most of the amazing cast happen to be proudly out, another bold and welcome step for streamers. And most have also appeared in a slew of LGBTQ+-themed projects across all mediums.
EDGE takes a first look at this remarkable group of extraordinary actors.
Matt Bomer (Hawkins Fuller)
Because of his truly stunning good looks, out actor Matt Bomer was not taken so seriously at the outset of his career, until the USA TV series, "White Collar," which he starred in for six seasons (2009-2014). He also strutted his hot stuff in Steven Soderbergh's "Magic Mike," in 2012. Two years later, he landed the role that would deservedly win him a Golden Globe and nab an Emmy nomination, that of gay New York Times reporter Felix Turner in Ryan Murphy's HBO adaptation of Larry Kramer's seminal play, "The Normal Heart." Bomer went on to appear in two of Murphy's "American Horror Story" seasons, "Freak Show" and "Hotel," and co-star both on Broadway and in the filmed Netflix version of the remake of Mart Crowley's "The Boys in the Band," also directed by Murphy.
Bomer's daring performance in "Fellow Travelers" should finally solidify his stature as one of America's best actors. Fuller is a complex role. He's driven by both his ambition and his sexual desire, but the former usually always wills out, until he does the one thing he vowed never to do, fall in love (with Tim). And, although he fights it, fate keeps bringing them back together. Bomer is fearless in his embodiment of an incredibly flawed human who is the product of his repressed times.
Later this year, Bomer will be featured in Bradley Cooper's "Maestro," as one of Leonard Bernstein's lovers.
Jonathan Bailey (Tim Laughlin)
Jonathan Bailey began his acting career as a child on the UK stage. By the age of 8, he was playing Gavroche on the West End in "Les Misérables." He continued to act in theatre, including taking over for Andrew Garfield in a revival of "Beautiful Thing" in London in 2006, and appearing in many a Shakespeare play. Bailey rose to TV prominence as the journalist Olly Stevens in 2013's "Broadchurch," opposite Olivia Colman. In 2016 he played the hilarious sex-obsessed friend of Phoebe Waller-Bridge in her first TV project, "Crashing." The 2018 stage revival of Stephen Sondheim's "Company," with Patti LuPone, won the out actor an Olivier Award. Shonda Rhimes then snatched him up to play Anthony in the smash Netflix series, "Bridgerton."
As Tim in "Fellow Travelers," Bailey is a revelation. Tim has quite the journey from dreamer to realist, fighting for his life. And all the while he must deal with his intense feelings for Fuller, who he can't quit.
Next up, Bailey is playing Fiyero in the filmed musical, "Wicked."
Jelani Alladin (Marcus Hooks)
While in high school, Jelani Alladin played the Emcee in "Cabaret" and The Cat in the Cat in "Seussical." He went on to perform, regionally, in "The History Boys" and "Violet" among other shows and made his Broadway debut originating the role of Kristoff in "Frozen" in 2018. A year later he played the titular role of "Hercules," on the Great White Way. Alladin also had a small role in Lin Manuel Miranda's "Tick, Tick... Boom!" in 2021.
Alladin's Marcus is ambitious but doesn't like to take too many risks. Once he meets Frankie, his proceeding with caution is challenged and the two embark on a stormy relationship.
The out actor will next be seen in the Disney+ prequel series to "Beauty and the Beast" as Jean-Michel, opposite Luke Evans.
Noah J. Ricketts (Frankie Hines)
Coincidentally, Noah J. Ricketts also appeared in the original cast of "Frozen" on Broadway, ultimately taking over the role of Kristoff! Other Broadway credits include: "Beautiful: The Carole King Musical." Regionally, he performed in "Dreamgirls," "Hello, Dolly!," "Tarzan" and "La Cage aux Folles." "Fellow Travelers" is Ricketts' first significant TV role.
Out actor Ricketts' is fierce as Frankie, a young man who challenges the norms of his time. Ricketts always grounds Frankie in the respected time periods, despite the character's 'radical' beliefs.
Ricketts is currently in rehearsals readying to play Nick Carraway in the new musical version of F. Scott Fitzgerald's "The Great Gatsby," world premiering at the Paper Mill Playhouse in Millburn, NJ this October.
Allison Williams (Lucy Smith)
The daughter of NBC News anchor Brian Williams, Allison Williams came to prominence as Marnie on HBO's "Girls," stealing most of her scenes (2012-2017). In 2017, she played Rose in Jordan Peele's Oscar-winning horror classic, "Get Out." A year later she starred in the psychological indie thriller, "The Perfection." And just this past year, solidified her place as the new queen of horror playing Gemma in the box office smash, "M3GAN," directed by Gerard Johnstone.
As Lucy, the daughter of a Senator crushing on a closeted gay man, Williams imbues her character with warmth, sincerity, pain and, ultimately, understanding. It's a performance brimming with nuance.
Set for a 2025 release, Williams will be reprising her role as Gemma in "M3GAN 2.0."
Linus Roache (Senator Wesley Smith)
British thesp Linus Roache was diving into groundbreaking gay roles early in his career as the repressed titular character in Antonia Bird's controversial film, "Priest," in 1994. His impressive filmography includes, "The Wings of the Dove," "Hart's War," "Batman Begins," and last year's gay-themed, "My Policeman," written by Nyswaner, where he played the older Harry Styles! He's probably best known to most as the ADA Michael Cutter on "Law and Order."
Roache plays Senator Wesley Smith–that rarity in Washington, a good guy, hellbent on fighting McCarthy until he's forced to make a difficult decision. The actor brings great gravitas to the role of mentor to Fuller.
He will next be seen opposite Christina Ricci in Michael Ryan's film, "The Dresden Sun."
Mike Taylor (Leonard Smith)
Newbie Mike Taylor's film credits include the survivalist indie, "Brotherhood" (2019) and "Beau is Afraid" (2023) as Joaquin Phoenix's son. For TV he's been in episodes of "Schitt's Creek," "Titans" and played Cooper in all 23 episodes of "LEGO DreamZzz–Trial of the Dream Chasers."
Taylor impresses playing Senator Smith's closeted gay son, forever jealous of his dad's love for Fuller.
Robert Bazzocchi (Daniel Cherney)
Super sexy newcomer Robert Bazzocchi may not be very well known yet, but he makes quite an indelible impression as Daniel Cherney in "Fellow Travelers" in a few powerful scenes as a young man with an explosive secret that could devastate a high-powered politico.
He was first seen in the Canadian drama series, "Backstage," that aired on the Disney Channel and will soon be seen as Liam in "The Boys" spinoff series, "Gen V."
Also, look out for gifted young newcomer Watson Clements, as Fuller's troubled son, Jackson, and handsome David Tomlinson as Eddie Kofler, one of Fuller's discarded hook-ups.
Finally, hunky Matt Visser portrays the real-life golden boy David Schine, who Cohn brought in as a consultant on his staff. Their relationship was a curious one that Schine, himself, refused to ever comment on in his lifetime. Interesting to note, after Schine's death, Tony Kushner, author of the masterpiece "Angels in America," (which features Roy Cohn as a major character) wrote a one-act play reuniting Cohn and Schine titled, "G. David Schine in Hell."
---
Frank J. Avella is a proud EDGE and Awards Daily contributor. He serves as the GALECA Industry Liaison and is a Member of the New York Film Critics Online. His award-winning short film, FIG JAM, has shown in Festivals worldwide (figjamfilm.com). Frank's screenplays have won numerous awards in 17 countries. Recently produced plays include LURED & VATICAL FALLS, both O'Neill semifinalists. He is currently working on a highly personal project, FROCI, about the queer Italian/Italian-American experience. He is a proud member of the Dramatists Guild. https://filmfreeway.com/FrankAvella https://muckrack.com/fjaklute