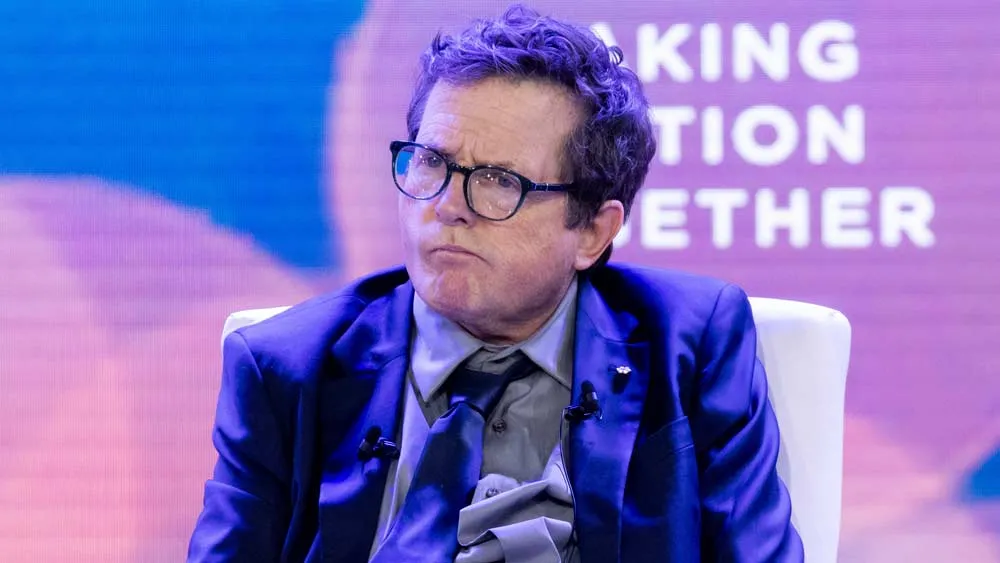 Michael J. Fox Receives 2023 Elevate Prize Catalyst Award at Clinton Global Initiative
Glenn Gamboa
READ TIME: 3 MIN.
Actor and philanthropist Michael J. Fox won this year's Elevate Prize Catalyst Award, which the "Back to the Future" star plans to use to further his foundation's work to find treatments for Parkinson's disease.
Fox, who was diagnosed with Parkinson's disease at the age of 29 in 1991, received the award at the Clinton Global Initiative, or CGI, conference on Tuesday in New York. The annual prize, which went to Nobel Peace Prize winner Malala Yousafzai last year, includes $250,000 from the Elevate Prize Foundation and support to amplify the winner's messaging.
Former Secretary of State Hillary Clinton, who interviewed Fox onstage at CGI, credited him with research advances in understanding Parkinson's. "I don't think this work would have made the progress it has if Michael hadn't been so open," she said.
Fox said that once he got support from his family after his diagnosis, he did not hesitate about going public with his diagnosis.
"There's such shame associated with this illness," Fox said. "It's so ridiculous, this great need to keep it secret. The cruel thing of it is it's going to out you eventually."
However, he said there is no choice but to "keep trying to move the ball forward – whether it's world peace, climate change or this disease."
Former President Bill Clinton said he was "awestruck" by Fox. "I've known Michael J. Fox for a long time, and he looks better every time I see him," he said. "He is a brave, good man."
Joseph Deitch, founder of The Elevate Prize Foundation, called Fox "a lightning rod for good," as he presented him with the award.
"He is an icon," Elevate Prize Foundation CEO Carolina García Jayaram told The Associated Press in an interview. "He was able to use the power of his story to introduce to so many people what this disease was and make us care about it."
Garcia Jayaram said Fox embodies this year's CGI theme of " Keep Going " and was "the perfect person at the perfect time" as the more than $2 billion Fox's foundation has raised for research since it launched in 2000 has made a major difference in the understanding of the disease.
"I just can't think of a better person to inspire us all to face our challenges with that much stamina and honesty and vulnerability," Garcia Jayaram said. "It's scary to be that vulnerable and share something so personal to you and your family -- especially in his case when his job was to be a public figure. He did it anyway. Nothing will stop him."
Deborah Brooks, co-founder and CEO of the Michael J. Fox Foundation, said the award comes at an important time for the nonprofit. In April, a biomarker for Parkinson's disease was identified for the first time, a "seismic shift" that will help improve chances for creating treatments and tests that can detect the disease in living patients.
"We're excited that this kind of recognition allows him to help us continue to keep moving at what feels somewhat like a warp pace in terms of driving progress on some of the most exciting things going on in neuroscience right now," Brooks said.
New developments will require hundreds of millions, if not billions, of research dollars, as well as more volunteers for testing, Brooks said. However, Fox plans to use the award to increase his profile, as well as raise awareness about how people can help.
"Patients and families want to be part of the solution they are looking for," said Brooks, adding that the foundation created the Fox Trial Finder, which helps connect patients to potential testing programs. "Often they have no idea how that manifests, and so it's always been a part of our message."
_____
Associated Press coverage of philanthropy and nonprofits receives support through the AP's collaboration with The Conversation US, with funding from Lilly Endowment Inc. The AP is solely responsible for this content. For all of AP's philanthropy coverage, visit https://apnews.com/hub/philanthropy.
---