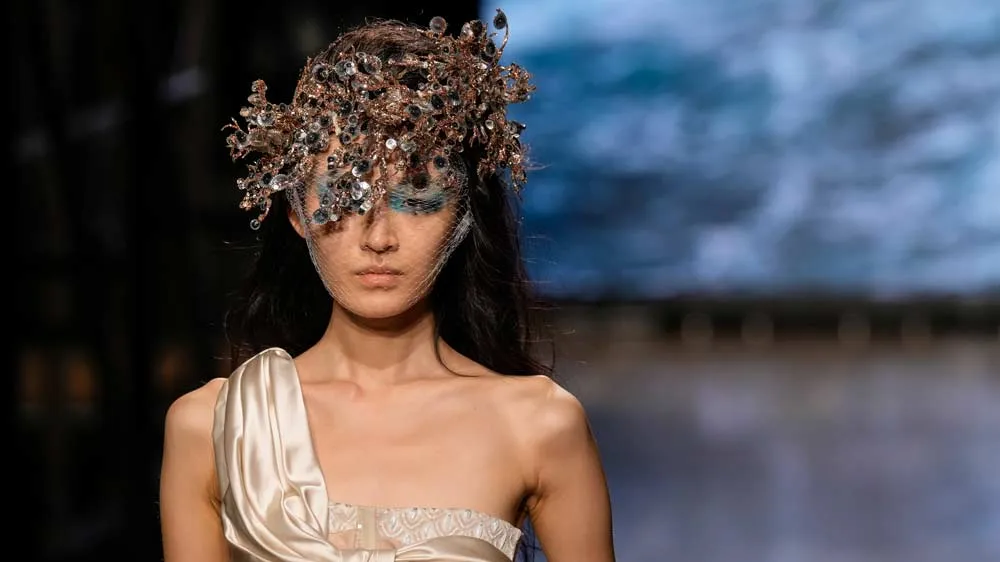 Actress, Model Marisa Berenson Stars in Antonio Marras' Runway Production
Colleen Barry
READ TIME: 2 MIN.
It's never just about the runway for Antonio Marras. He creates worlds for his fashion shows.
The one he created for his Spring-Summer 2024 collection starred U.S. actress and model Marisa Berenson, who lent her considerable screen credits – having appeared in films by such greats as Luchino Visconti, Stanley Kubrick and Bob Fosse – to Marras' mock movie set.
Skipping between English and Italian, Berenson played a diva lamenting a warm Bloody Mary and her missing playboy husband, in a performance really about the fear of losing relevance.
Marras has nothing to fear there. He created a summer collection that is an edgy take on a 1940s and 1950s diva and divo wardrobe, with looks perfect for a stroll through town, for a trip to the beach, or for an elegant night out.
The designer said the collection was meant to show volumes, as if windswept. So, divas wore flowing silken caftans, lightly layered. Miniskirts appeared inflated, fitted with a tight bodice. Marras also put volumes in asymmetrical bow or bubble sleeves. For a business meeting, the diva wore fitted jacket tops that flowed into poodle skirt proportions. The divo's suits were mostly with shorts – sometimes silken, sometimes tweed with lurex threading, sometimes leather – with a loose jacket or perhaps an intarsia sweater.
Marras' movie set was inspired by the 1968 film "Boom!" starring Elizabeth Taylor and Richard Burton, filmed in the designer's native Sardinia. Colors were soft: camels and pastels, often accented with a black floral motif, and prettily decorated with lace and crystals. Rhinestone jewelry accented the looks.
The diva/divo is ''Maicontentu," Sardinian dialect for "Never happy," which appears on garments.
---