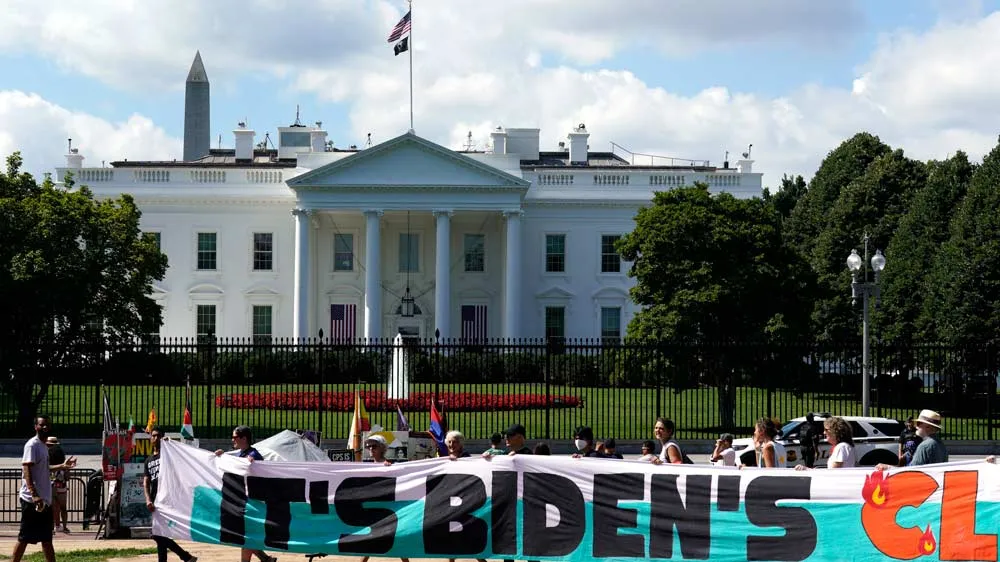 Biden Using Executive Power to Create a New Deal-style American Climate Corps
Matthew Daly
READ TIME: 3 MIN.
After being thwarted by Congress, President Joe Biden will use his executive authority to create a New Deal-style American Climate Corps that will serve as a major green jobs training program.
In an announcement Wednesday, the White House said the program will employ about 20,000 young adults who will build trails, plant trees, help install solar panels and do other work to boost conservation and help prevent catastrophic wildfires.
The climate corps had been proposed in early versions of the sweeping climate law approved last year but was jettisoned amid strong opposition from Republicans and concerns about cost.
Democrats and environmental advocacy groups never gave up on the plan and pushed Biden in recent weeks to issue an executive order authorizing what the White House now calls the American Climate Corps. The program is modeled after the Civilian Conservation Corps, created in the 1930s by President Franklin D. Roosevelt, a Democrat, as part of the New Deal.
"This summer, our country saw heat waves, wildfires and floods that destroyed communities, uprooted families and claimed hundreds of lives," the Sunrise Movement and other organizations wrote on Monday in a letter to Biden's White House.
"While previous executive orders and legislation under your administration demonstrate tremendous progress toward meeting our Paris climate goals and your campaign promises, this summer has made clear that we must be as ambitious as possible in tackling the great crisis of our time,'' the groups wrote.
More than 50 Democratic lawmakers, including Massachusetts Sen. Ed Markey and New York Rep. Alexandria Ocasio-Cortez, also encouraged Biden to create a climate corps, saying in a separate letter on Monday that "the climate crisis demands a whole-of-government response at an unprecedented scale.''
The lawmakers cited deadly heat waves in the Southwest and across the nation, as well as dangerous floods in New England and devastating wildfires on the Hawaiian island of Maui, among recent examples of climate-related disasters.
A federal climate corps will "prepare a whole generation of workers for good-paying union jobs in the clean economy'' while helping to "fight climate change, build community resilience and support environmental justice,'' the lawmakers wrote.
The White House declined to say how much the program will cost or how it will be paid for, but Democrats proposed $10 billion for the climate corps in the climate bill before the provision was removed.
Republicans have largely dismissed the climate corps as a do-gooder proposal that would waste money and could even take jobs away from other workers displaced by the COVID-19 pandemic.
"We don't need another FDR program, and the idea that this is going to help land management is a false idea as well," Arkansas Rep. Bruce Westerman, chairman of the House Natural Resources Committee, said in 2021.
Rep. Joe Neguse, a Colorado Democrat who has co-sponsored a climate corps bill, said it's important to train the next generation of federal land managers, park rangers and other stewards of our natural resources. Neguse and other Democrats have said the program should pay "a living wage" while offering health care coverage and support for child care, housing, transportation and education.
A key distinction between the original Civilian Conservation Corps and the new climate contingent is that, unlike the 1930s, the U.S. economy is not in an economic depression. The U.S. unemployment rate was 3.8% in August, low by historical measures.
The new corps is also likely to be far more diverse than the largely white and male force created 90 years ago.
White House climate adviser Ali Zaidi said the administration will work with at least six federal agencies to create the climate corps and will pair with at least 10 states. California, Colorado, Maine, Michigan and Washington have already begun similar programs, while five more are launching their own climate corps, Zaidi said: Arizona, Maryland, Minnesota, North Carolina and Utah.
The initiative will provide job training and service opportunities to work on a wide range of projects that tackle climate change, including restoring coastal wetlands to protect communities from storm surges and flooding; deploying clean energy projects such as wind and solar power; managing forests to improve health and prevent catastrophic wildfires; and implementing energy efficient solutions to cut energy bills for consumers, the White House said.
---