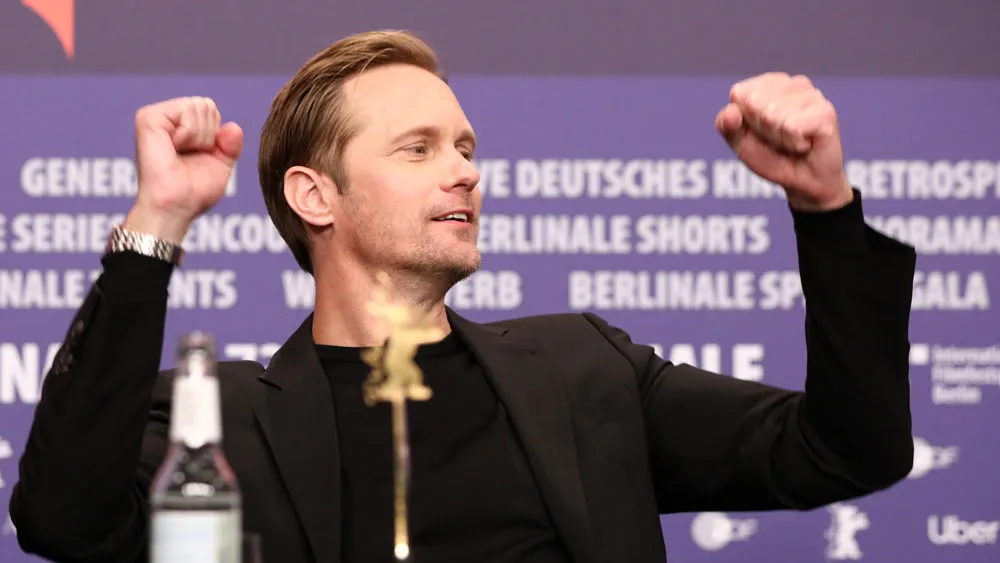 Alexander Skarsgård Gets Saturday Night Fever - Parties, Kisses Men at Stockholm Club
When it comes to gay allies, few are as hands-on as Swedish actor Alexander Skarsgård. The buff actor, Emmy winner (for HBO's "Big Little Lies") made quite a splash at Stockholm's leading queer club this past Saturday night.
Skarsgård was spotted dancing the night away at a gay bar in Stockholm, Sweden, reports the website Gayety. "While at Backdoor, which is said to be 'Scandinavia's biggest' gay club, Skarsgård did not seem put off by the attention he received after fans spotted him. In fact, he took bunches of photos, kissed fans on the cheek, boogied, and proudly wore a Vanity Vain t-shirt. That's right, he is a confirmed 'Drag Race fan!"
Making it even more iconic was that Vanity Vain was present in the club and got a peck on the cheek from Skarsgård.
"Hollywood kissed me and wore my merch," Vain wrote on Instagram.
Vain wasn't the only person the 47-year old Skarsgård kissed while partying on the dance floor as pics were shared on social media.
"In addition to being a hottie on-screen, Skarsgård has been an advocate and ally for the LGBTQ+ community throughout his career. He has shown his support through both his on-screen roles and his off-screen actions. His portrayal of the openly bisexual vampire Eric Northman in True Blood earned him praise for representing LGBTQ+ characters with authenticity and sensitivity. Additionally, the actor has participated in LGBTQ+ charity events and used his platform to raise awareness about LGBTQ+ rights and issues," adds Gayety.
Check out these pics from Skarsgård's Instagram:
---