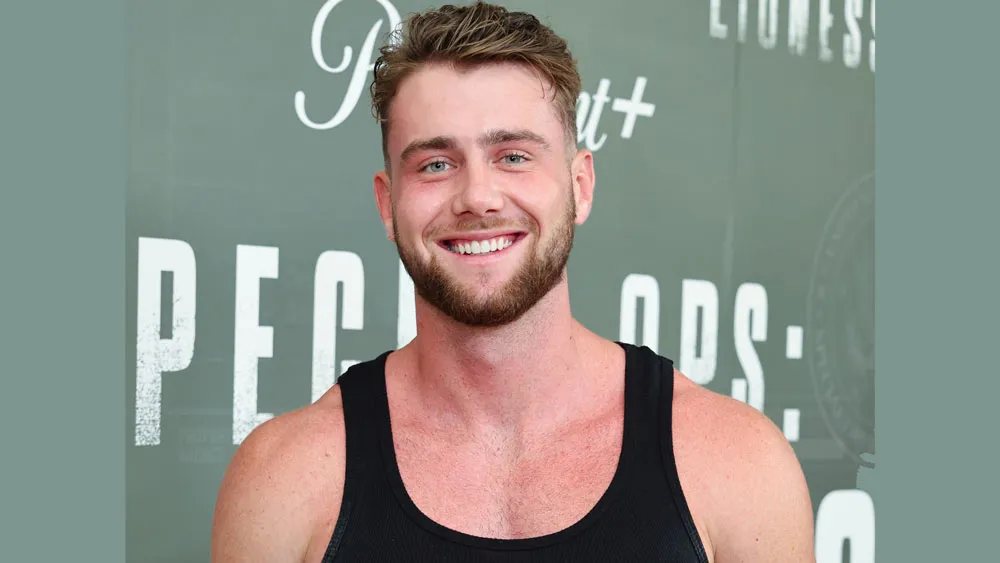 Behind Winning Smile, Harry Jowsey Struggles with Mental Health Issues
Harry Jowsey may have a confident, welcoming, and very sexy grin that has made him a huge Instagram success, but, as he opened up in an interview with the Daily Telegraph (behind a firewall), he struggles with emotional issues.
The 26-year-old star, made famous from the reality show "Too Hot to Handle," "spoke about the dark thoughts that have followed him since his teenage years, and how he previously turned to self-harm," reports the Daily Mail.
" 'I used to cut the top of my arm instead of the underneath. There is a scar there,' he said.
"He masked his injuries to shield the wounds from his parents. 'I used to do the top of my arms because I didn't want my parents to think that I was sad,' he added.
"Sadly the torment followed him into adulthood, plunging him into further periods of darkness, exacerbated by a toxic relationship that left him feeling isolated and gasping for support," writes the DM.
" 'There was more recently as well where I had a really dark time and I couldn't figure out how to get through it,' Harry told the Telegraph.
"His journey, however, demonstrates his resilience as he actively sought therapy to navigate his tumultuous emotions," writes the DM, adding: "Harry insists that hope never deserted him."
" 'It comes in waves, but there's never been a moment where I've been like, I'm going to end it all now. There has always been light,' he continued."
He recently posted an IG when he addressed dealing with mental health.
Jowsey was seen Sunday night leaving the dance rehearsals for the upcoming 32nd season of ABC's "Dancing with the Stars," in which he'll be competing alongside celebrities including Tyson Beckford, Alyson Hannigan, and Mira Sorvino, when it premieres on Sept. 26, reports Footwear News.
The shoe-minded fashion site added that Jowsey was wearing "a pair of Puma's chunky white Velophasis Technisch sneakers. His $120 style featured round-toed white mesh uppers with white and black overlay, further secured by translucent white TPU accents."
On the upcoming season Jowsey is paired with Rylee Arnold, the younger sister of alumnus Lindsay Arnold.
Also featured on the upcoming season are Real estate mogul and The Real Housewives of Beverly Hills star Mauricio Umansky, singer Jason Mraz, "The Brady Bunch" star Barry Williams, supermodel Tyson Beckford, Marvel star Xochitl Gomez, singer/social media star Lele Pons, and comedian and actor Matt Walsh.
Since "Too Hot to Handle," Jowsey has, according to his "Dancing with the Stars" bio, "been entertaining his 10 million fans on his social platforms through various endeavors, one including his latest signage with William Morris Endeavors (WME) to pursue acting. He launched an interactive show on Spotify, 'Dating Harry Jowsey,' where each week Jowsey went live answering fans' most pressing questions about dating, relationships and everything in between.
"It doesn't stop there – while simultaneously working with Spotify, he hosted the hit podcast, 'Tap In,' where no topic was too taboo for Jowsey."
The 6'5" hunk has recently videos for an IG series sponsored by Netflix in which he wears outfits of famous female celebrities. Most recently he modeled clothes worn by Ashley Park, Reese Witherspoon, and Gigi Hadid. In the first, titled "Will Ashley Notice That Harry Is Wearing Her Outfit," he emerges from behind the curtain wearing a yellow and gold body suit that shows off his considerable basket. "That thang is BIG," reads one IG comment.
It was his package that made him a social media favorite after he "dubbed the term 'Boyfriend Dick' when explaining his own peen. 'It's not too big, it's not too small. Just perfect. Looks pretty.' And boy, oh boy, did he start a revolution (...and apparently also a T-shirt line, which we are in no way affiliated with)," wrote Cosmopolitan in 2020.
In the second he is with Reese Witherspoon modeling an outfit that the actress wore when was a teenager: A lace top and a black skirt.
And in the third he is paired with Gigi Hadid wearing the mammoth red Versace gown she wore to the 2022 Met Gala. He puts his own spin on it, most notably when he opens the cape and reveals that he didn't tuck.
More from his IG:
---