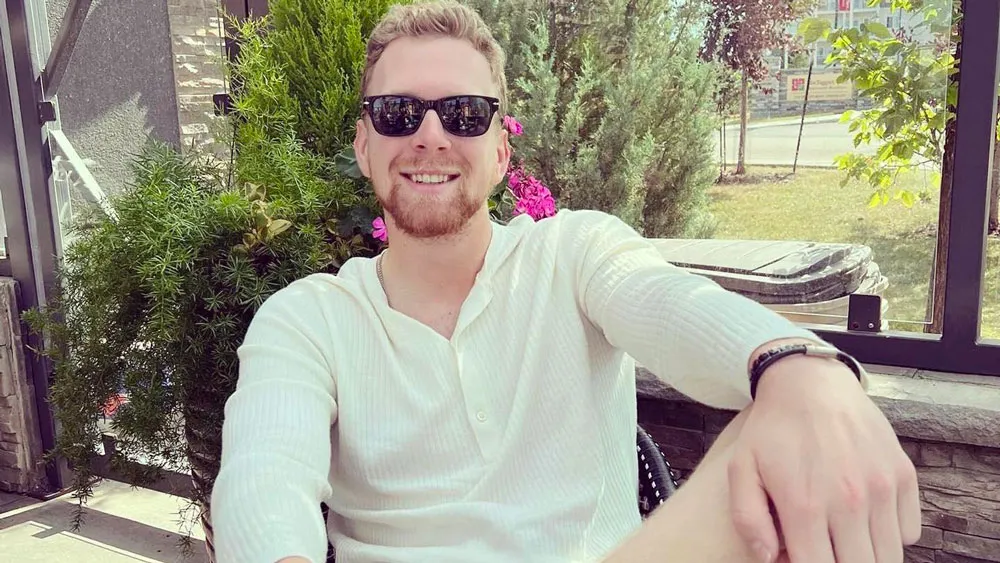 12 Insta-Reasons We Love Rising Out Hockey Star Luke Prokop
We are slowly and steadily making progress toward a more LGBTQ+ accepting society, even in sectors typically homophobic in nature. Professional sports have had their fair share of recent pioneers, but the National Hockey League is one of the organizations still stirring up controversy. During Pride Month 2023, the NHL had several players and teams that opposed celebrating Pride events. This sets a poor precedent for queer hockey players who want to live their truth and play the sport they love.
One minor league hockey star who has made headlines for being openly gay is the Seattle Thunderbirds defenceman Luke Prokop. A native of Edmonton, Canada, Prokop is certainly in the right place for LGBTQ+ athletes, as Seattle is a diverse, queer-friendly big city. As his career progresses, Prokop, who made headlines when he came out as gay in 2021, hopes to make the Nashville Predators roster, the NHL franchise in which he was drafted. In the meantime, let's learn a little more about this courageous hockey player!
Prokop celebrates on the ice with his Thunderbirds teammates after helping the team to the WHL's Ed Chynoweth Cup, the championship of the Western Hockey League. The T-Birds have been a staple of Pacific Northwest sports for years now, even though their status as a minor league team started to become overshadowed with the expansion of the NHL's Seattle Kraken into the area. Prokop looks handsome and happy in what is surely a shining moment in his hockey career so far!
Prokop celebrates National Coming Out Day with words of encouragement for those still in the closet. With anti-queer stigma still prevalent in the world of sports, Prokop's representation means more than ever. If even one young hockey fan feels they can accept themselves because of him, that's more reason for other athletes to live authentically and represent the community. Prokop tapes his hockey stick in rainbow strands to show the world his Pride!
Prokop shows off the matching blue suit and slacks with a cup of coffee on an overcast April morning in Kent, Washington. Sometimes the best thirst traps are fully clothed and fashionable rather than shirtless! Fans were impressed with the athlete's ensemble in the comments section.
Prokop shows himself with some family back in Edmonton during Christmas 2022. Connecting with old friends and relatives always inspires the spirit during the holiday season, and Prokop looks adorable getting into the spirit with Santa Clause!
Prokop celebrates a year of being out of the closet with a post about how liberating it's been to live as an openly gay man. He commends his fans for helping him feel supported and loved and expresses how he can't wait to keep feeling the same way. Fans support him in the comments section telling him they will buy his jersey!
Prokop seems to know nothing but championship success on the ice! He shows off his first title trophy with the Edmonton Oil Kings at the conclusion of the 2022 season. Prokop has won multiple championships in the WHL, as we previously documented his win with Seattle in 2023!
There's nothing more important for an LGBTQ+ person than a supportive mother! Prokop celebrates his wonderful mom during Mother's Day 2022 by describing her as his biggest fan and his rock. Parents who accept their queer children just as they are go a long way in changing how society views LGBTQ+ people.
A baby-faced Prokop is seen playing for the Calgary Hitmen during the fall of 2021. Prokop has certainly been on a variety of teams in his junior hockey career thus far, hopefully making his resume more impressive before heading off to the big leagues!
Prokop shows his special bond with his dog on graduation day in May 2020. A collage of photos going back to his childhood demonstrates how connected we all get with the pets in our lives, especially during our most confusing life events.
Prokop spends quality time with his sister and commends her supermodel style in this family photo from June 2020. Many fans thought Luke looked equally attractive in this picture, and they could see the resemblance between the siblings.
This fun photo shows Prokop getting off the bus to play the Thunderbirds while he was still on the Edmonton Oil Kings. Little did he know he would eventually win championships with the other side just about a year later!
Prokop talks in this video essay with the Players' Tribune about the thought process behind his coming out on social media and his hopes for progression in the world for LGBTQ+ people. Prokop has unfortunately remained the only NHL prospect to come out since 2021, but one person living authentically is better than zero!
---