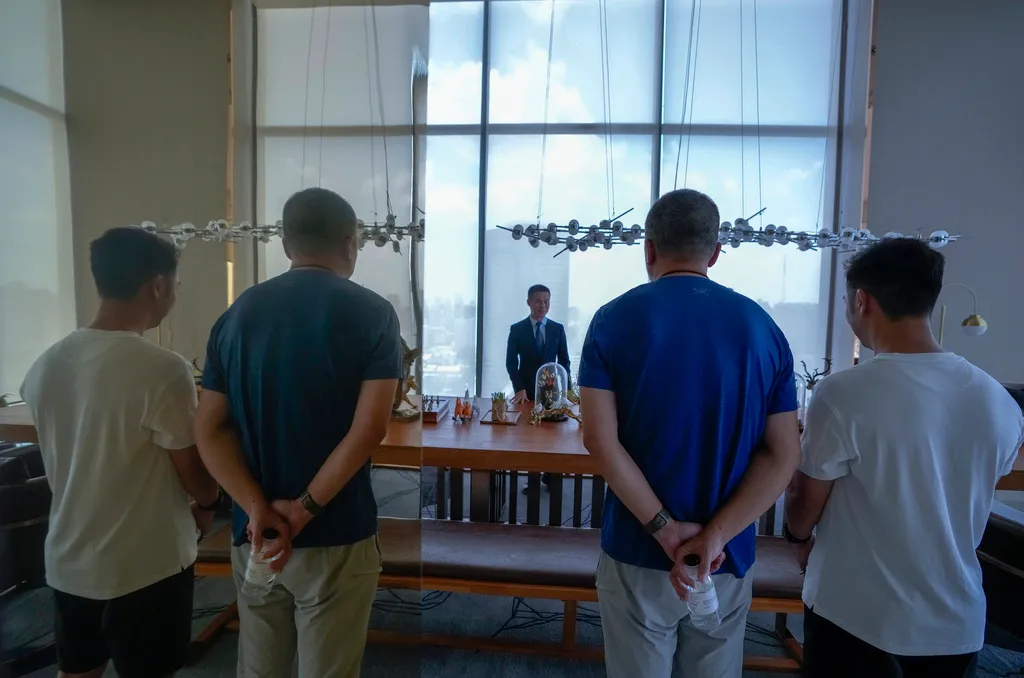 Thailand's LGBTQ+ Community Draws Tourists from China Looking to be Themselves
Yucheng Tang
READ TIME: 4 MIN.
Xinyu Wen traveled to Thailand in June, planning a two-week vacation around Bangkok's Pride parade.
Instead, the 28-year-old stayed a month and a half, as her experience at the parade gave rise to discussions and discoveries in the Thai capital's thriving LBGTQ+ community.
LGBTQ+ people from China, frequently scorned and ostracized at home, are coming to Thailand in droves, drawn by the freedom to be themselves. When Wen walked along the parade on the streets in Bangkok, "I felt like I was in a big party or a huge amusement park. We could forget all upsetting things and feel fun-filled," she said.
Bangkok is only a 5-hour flight from Beijing, and Thailand's tourism authorities actively promote its status as among the most open to LGBTQ+ people in the region.
Wen got interested in Thailand when her friend sent her a photo of rainbow-colored, Pride-themed ice cream being sold on the streets.
"I wanted to go to Thailand to take a look," she said.
Wen describes herself as queer, which she says means that her partners can be any gender and she can be any gender. At home, Wen said she regularly gets judgmental stares on the street for wearing her hair short like a man's, and was once asked by her barber: "What happened to your life?"
But at the Bangkok Pride parade in June, Wen noticed people confidently wore what they wanted. She was excited to be able to express herself publicly and finally drop her guard. More than that, she said she was also impressed by the protest element to the event, in which people carried signs written in traditional Chinese with slogans like "China has no LGBTQ" and "Freedom is what we deserve."
"I felt a mixed feeling, touched but sad," she said.
Ahead of her trip, she read up on the situation in Thailand, finding reports that showed there is still widespread discrimination, especially in the workplace. Thailand does not recognize same-sex unions or marriages, which also means they're barred from adopting children, and other legal processes that straight couples have access to.
Wen arrived at the parade somewhat skeptical. But she ended up finding it empowering.
"Although I initially had a critical attitude toward the parade in Bangkok because discrimination against LGBTQ individuals hasn't disappeared, I still felt inspired because the neglected groups and the suppressed feelings matter here."
Thailand Tourism Authority official Apichai Chatchalermkit said in an Aug. 9 article in The Nation newspaper that LGBTQ+ tourists are considered "high-potential" as they tend to spend more and travel more frequently than other visitors.
"Using a photo of LGBTQ+ individuals in tourism advertisements is considered as offering a warm welcome without discrimination," he said.
Thailand doesn't keep figures on LGBTQ+ tourists. But through mid-August, it has counted 2.2 million Chinese tourists out of an overall 16 million.
Owen Zhu, a gay real estate agent in Bangkok who sells houses to Chinese clients, said many are also coming to stay. He estimated some 2/3 of his clients are LGBTQ+, many of whom buy apartments to live in part- or full-time.
"Among Chinese gay people, Thailand is called gay's heaven," he said, noting that there are many chat groups where gay men from China coordinate trips to Thailand and share information about parties and tickets to events.
Being gay is not illegal in China, though other Asian countries have strict laws around homosexuality – such as Malaysia, which announced in August that anyone in possession of an LGBTQ+-themed watch could be jailed for 3 years. But LGBTQ+ people in China face other pressures to conform that can make the free expression of their identities difficult.
As a lesbian in her conservative province in central China, Jade Yang was talked into marrying a gay man at her parents' request so that both of them could keep up appearances.
The 28-year-old, who works in the television industry, first visited Thailand four years ago and remembers being shocked to hear people talk casually about their same-sex partners. Yang disliked lying to her cousins and friends about the marriage and moved to Thailand in February, saying she wanted to distance herself from her hometown.
Now, she said, she can date the women she likes and focus on her studies and career without worrying about how to act as a straight woman.
"I wasted a lot of time over the past three years," she said. "After coming here, I feel the world is so big for me to explore. I have also learned I should not deny the way I am so easily, and love myself better."
At the Silver Sand gay bar in Bangkok, owner Adisak Wongwaikankha said about 30% of his customers are LGBTQ+ people from China, and that number has been growing.
He operates a bar on the ground floor and a drag show on the second floor.
"Most of our Chinese customers come with excitement and curiosity," he said.
Another draw for tourists, inside and outside the LGBTQ+ community, is Thailand's loose enforcement of prostitution laws and renowned nightclub shows.
Eros Li first came to Thailand in February to check out the nightlife and the massage parlors, many of which offer sex services. The 42-year-old returned two months later, saying that, while there are some spas in China where similar sex services are on offer, they are less accessible and there is a risk of being arrested.
"The LGBTQ community in Thailand is lively and open. I received many messages on gay dating apps every day, which made me happy," Li said.
---