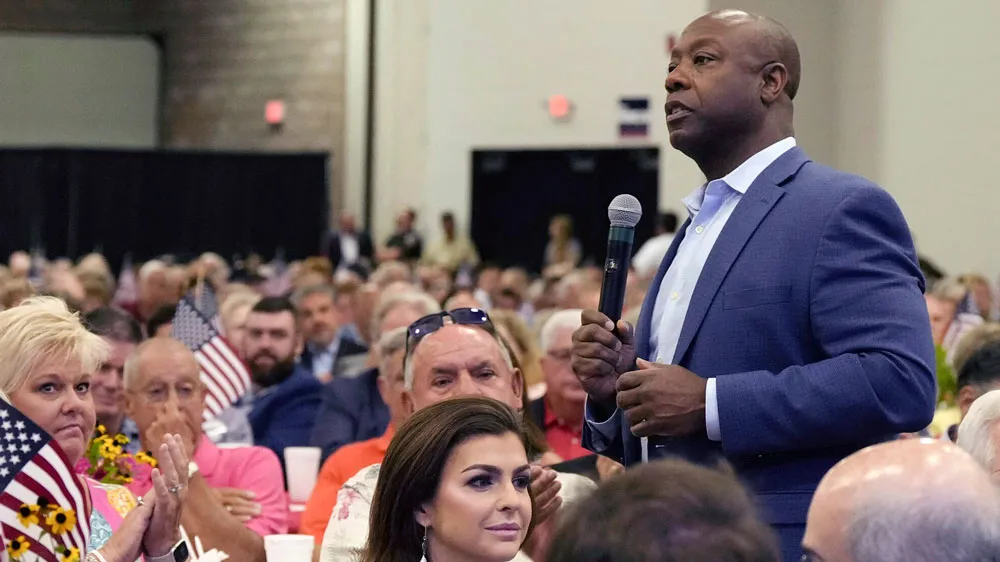 There's No Sign of Widespread COVID-19 Mandates in the US. Republicans Are Warning of Them Anyway
Ali Swenson
READ TIME: 5 MIN.
As Americans fend off a late summer COVID-19 spike and prepare for a fresh vaccine rollout, Republicans are raising familiar fears that government-issued lockdowns and mask mandates are next.
It's been a favorite topic among some of the GOP's top presidential contenders. Florida Gov. Ron DeSantis told reporters that people are "lurching toward" COVID-19 restrictions and "there needs to be pushback." South Carolina Sen. Tim Scott posted online that the "radical Left" seeks to bring back school closures and mandates. And former President Donald Trump urged congressional Republicans to stop the Biden administration from bringing back COVID-19 "mandates, lockdowns or restrictions of any kind."
"The radical Democrats are trying hard to restart COVID hysteria," Trump told supporters in Rapid City, South Dakota, during a recent campaign stop. "I wonder why. Is there an election coming up by any chance?"
While some individual schools and colleges have implemented temporary mask requirements, there is no sign that anyone in federal or state leadership is considering widespread COVID-19 restrictions, requirements or mask mandates. The administrations of several Democratic governors denied that any such moves are even under discussion. The overriding sentiment is to leave the decisions to individuals.
"No COVID-19 public health restrictions or mask requirements are being considered by the Murphy administration," said Christi Peace, spokesperson for New Jersey Gov. Phil Murphy.
"There are no impending mass lockdowns or mask mandates for New Mexico," said Jodi McGinnis Porter, spokeswoman for the New Mexico Department of Public Health.
It was largely the same message from Democratic governors' offices in several other states that responded to an inquiry about whether any COVID-19 mandates were under consideration. That included Connecticut, Kansas, Louisiana, Massachusetts, Michigan and Oregon.
Pennsylvania Gov. Josh Shapiro, a Democrat, made clear his opposition to COVID-19 lockdowns as well as mask and vaccine mandates when he was campaigning for office last year: "This is an area where I think folks got it wrong," he said of school and business shutdowns. His office echoed the same sentiment in its response to the AP this week, saying, "The administration's view is that there is no need to impose restrictions."
In the two most populous Democratic-led states, California and New York, the state health departments recommend getting the updated vaccine, but have no requirements for the shot or mask wearing. New York Gov. Kathy Hochul was asked during a news conference Wednesday about whether she would consider mask or vaccine mandates: "We are in a place where we're seeing low numbers; not requiring such actions today," she said.
Elisabeth Shepard, spokesperson for Oregon's Democratic governor, Tina Kotek, noted that the federal public health emergency for the virus outbreak ended in May.
"Currently, COVID-19 lockdowns and mask mandates are not being discussed and the governor has no plans to institute these measures," she said.
Still, the misleading narrative has proven a convenient scare tactic for Republicans in their efforts to woo voters who see Democrats as oppressive leaders targeting their freedoms.
The GOP presidential hopefuls hammering this message in the last week join a chorus of conservative lawmakers and far-right pundits who have spent the last month warning that tyrannical COVID-19 measures are looming.
In August, conspiracy theorist Alex Jones claimed an anonymous "high-level manager in the TSA" and an unnamed "Border Patrol-connected" source told him that Transportation Security Administration workers would soon need to wear masks and that COVID-19 lockdowns would return in December.
The U.S. Centers for Disease Control and Prevention said the claims were "utterly false," but they still were amplified by influential Republicans, including Rep. Lauren Boebert of Colorado, who posted on X that she wrote to the TSA demanding answers.
Later last month, when a Black liberal arts college in Atlanta announced it had reinstated a temporary mask mandate in response to student infections, Rep. Marjorie Taylor Greene, a Republican from Georgia, posted on X that "Americans have had enough COVID hysteria. WE WILL NOT COMPLY!"
The school, Morris Brown College, has since lifted the requirement but is keeping in place other policies, including contact tracing and temperature checks on campus.
Some of the outcry from conservatives has been in response to President Joe Biden's comments last month on COVID-19's recent uptick, which has led to an increase in hospitalizations and deaths nationwide – though a fraction of what the country saw in past surges.
"As a matter of fact, I signed off this morning on a proposal we have to present to the Congress a request for additional funding for a new vaccine that is necessary – that works," Biden told reporters during a visit to South Lake Tahoe. "And tentatively – not decided finally yet – tentatively, it is recommended that, it will likely be recommended that everybody get it no matter whether they've gotten it before or not."
The CDC on Tuesday endorsed those new shots for everyone 6 months and older, and the vaccines will be available at pharmacies, health centers and some doctor offices as soon as this week. But a new federal vaccine mandate is not under consideration, according to a White House official who requested anonymity to discuss the administration's thinking.
A federal mask mandate is also not on the table.
"To be clear, the rumors of a federal mask mandate are not true," said Jeff Nesbit, assistant secretary for public affairs for Health and Human Services. "We now have a range of tools for people to protect themselves from the impact of COVID-19, including vaccines, at-home testing and treatments. Masking is one of several steps people may choose to take to protect themselves if they wish."
Reinstated mask requirements across the country have so far been limited to a handful of local schools and businesses. One example is a Maryland elementary school that required students who were exposed in a classroom's outbreak to wear masks at school for 10 days.
But these isolated measures have sparked outrage from conservatives who have used them to energize their supporters.
Sen. J.D. Vance of Ohio last week unveiled the "Freedom to Breathe Act," a bill that would block the federal government from imposing mask mandates for domestic flights, public transit and schools. His call for unanimous passage of the bill failed, with Democratic Sen. Ed Markey of Massachusetts calling it a "red herring" meant to deflect from the GOP's prioritization of "gimmicks over people."
Greene, the Republican from Georgia, introduced a companion bill in the House. She has said she won't vote to avoid a government shutdown unless the government ends coronavirus mandates, which have already largely been reversed.
Misinformation experts say there's a strategy to Republicans' foreboding claims about impending mandates: They remind voters of the negative feelings they had early in the pandemic – and associate those with Democrats.
"Wearing a mask doesn't have to be connected to anxiety, fear, anger and other strong emotions, but for many people it is," said Lisa Fazio, a Vanderbilt University psychology professor who studies the spread of false claims. "No one wants to go back to those feelings, so Republicans are trying to tie those negative feelings and memories to their political opponents."
Meanwhile, some of the Republican-led states where state leaders are railing against COVID-19 measures have been the hardest hit by the recent surge. Data shows Mississippi had the highest COVID-19 death rate per 10,000 people in the last week of August.
Early that week, the state's Republican governor, Tate Reeves, pledged to block any widespread restrictions, posting online that the state would "live in self-determination, not top-down fear."
___
Associated Press data journalist Nicky Forster and writers Joey Cappelletti, Mike Catalini, Sara Cline, Jill Colvin, John Hanna, Susan Haigh, Maysoon Khan, Seung Min Kim, Steve LeBlanc, Morgan Lee, Marc Levy, Lisa Mascaro and Andrew Selsky contributed to this report.
___
The Associated Press receives support from several private foundations to enhance its explanatory coverage of elections and democracy. See more about AP's democracy initiative here. The AP is solely responsible for all content.
---