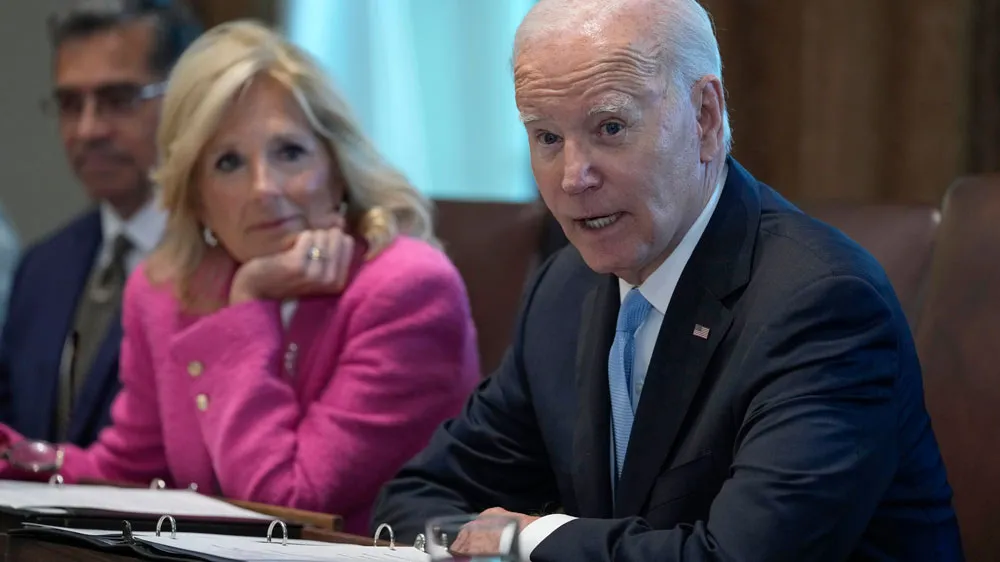 Biden White House Strategy For Impeachment Inquiry: Dismiss. Compartmentalize. Scold. Fundraise.
Colleen Long
READ TIME: 5 MIN.
On Capitol Hill, House Republicans were all-in Wednesday on House Speaker Kevin McCarthy's announcement of an impeachment inquiry into President Joe Biden. Down Pennsylvania Avenue, the president was holding forth at the White House on the importance of bipartisanship in fighting cancer – and ignoring shouted questions about impeachment.
It was a clear sign of Biden's broader reelection pitch: the idea that if he simply does his job and governs, Americans will see the results and reward him with four more years. Never mind all that pesky impeachment talk across town.
"Look, I've got a job to do," the president said later, away from the cameras, to a roomful of supporters at a reelection fundraiser in Virginia in his most extensive comments yet about the inquiry. "I get up every day – not a joke – not focusing on impeachment. I've got a job to do. I've got to deal with the issues that affect the American people every single solitary day."
The we're-all-better-than-this attitude is central to the White House strategy for countering impeachment proceedings being launched ahead of the 2024 election by Republicans who are trying to link Biden to the business dealings of his son, Hunter. This as the GOP tries to shift attention away from Donald Trump's own legal troubles.
The White House has been preparing for a potential impeachment essentially since Republicans won control of the House in the November elections. It has roughly two dozen staff members in the counsel's office detailed to the matter. The new chief counsel, Ed Siskel, is a former Obama administration attorney who helped craft the response to the congressional investigations into the 2012 Benghazi attack that killed four Americans, including the U.S. ambassador.
The White House impeachment playbook so far has been: Dismiss. Compartmentalize. Scold.
That is, shrug off the charges as baseless, stay focused on policy, leave the impeachment question to the lawyers and chide those who give too much credence to it all.
White House press secretary Karine Jean-Pierre had dismissed the inquiry as a "political stunt" and deflected questions about the details to the White House counsel's office. House Republicans? "We think they should work with us on legitimate issues – things that actually matter to the American people," she said.
Still, the impeachment inquiry is a tricky matter for Biden because the thing is so personal, focused on his relationship with his 53-year-old son, a source of pain and pride whose questionable choices have landed the president here.
The White House has said that Joe Biden was not involved in his son's business affairs. And so far, despite months of investigations, Republicans have unearthed no significant evidence of wrongdoing by the elder Biden, who spoke often to his son and as vice president did stop by a business dinner with his son's associates. Hunter Biden is not a public figure.
Hunter Biden's attorneys were on message, too.
"Rather than waste time and taxpayer dollars on this political sideshow, Mr. McCarthy should lead the Congress to do real work of governing," Abbe Lowell said in a statement. "Americans deserve better."
Meanwhile, lawyers for Hunter Biden filed a suit Wednesday in Los Angeles accusing former Trump White House aide Garrett Ziegler of violating computer privacy laws. The suit accuses Ziegler, a vocal Biden critic, and his researchers of "accessing, tampering with, manipulating, altering, copying and damaging computer data that they do not own," purportedly from Hunter Biden's laptop and iPhone data.
Before now, most of the questions from reporters fielded by the president on the topic were about a criminal investigation into Hunter's business dealings running parallel to the House investigations. His responses were brief and upbeat: He's done nothing wrong; we support him.
While the overall White House strategy is not expected to change, this week's announcement of a formal inquiry shifts the dynamics somewhat. It will be harder to just shrug off questions. And the Biden reelection campaign is starting to blast out fundraising emails and texts denouncing the probe.
Even the donation pitches reflect the broader strategy. An email from Vice President Kamala Harris on Wednesday made this plea to potential donors: "It's clear: They're going to throw everything they have at Joe, because they know they can't run against our record. If you're waiting for a moment to show your support for him, trust me when I say: This is it."
Threats of impeachment used to be rare so there's not much basis for comparison. While Trump was twice impeached, neither was about personal conduct. The inquiry into Biden is more akin to the late 1990s impeachment of President Bill Clinton led by the Republican House speaker at the time, Newt Gingrich of Georgia. In that endeavor, the White House stonewalled, making then-special counsel Lanny Davis the public face of its response. By his account, it worked.
"Take a look at how things went for Speaker Gingrich and the GOP House members after the midterm congressional elections in November 1998," Davis emailed Wednesday. "They lost five seats to the Democrats, defying U.S. history."
He predicted McCarthy would suffer the same fate, praising the White House response so far.
"The Biden White House has begun to speak forcefully to rebut the misinformation and false innuendo that is the only basis Speaker McCarthy and House leaders can express as the basis of a House inquiry."
Andrew Johnson was the other president impeached. Trump is the only president to face it twice – acquitted both times – and he is the first to face criminal charges in four separate indictments, including for trying to overturn the 2020 election he lost to Biden.
Rep. Ted Lieu, a top Democrat, said Wednesday there are no similarities between the Democratic impeachments of Trump and the Republicans' pursuit of Biden.
"We had mountains of evidence," he said. "That's why articles of impeachment ... were passed, and that's why we had a bipartisan vote of U.S. senators to convict Donald Trump." Lieu added that while the Democratic majority didn't ultimately have enough support to remove Trump from office, they were able to get a handful of members from the other side to join them.
McCarthy said that House investigations so far "paint a picture of a culture of corruption" around the Biden family as Republicans probe the business dealings of Hunter Biden from before the Democratic president took office.
"These are allegations of abuse of power, obstruction and corruption, and they warrant further investigation by the House of Representatives," McCarthy said at the Capitol.
Oversight Committee Chairman James Comer, R-Ky., says he doesn't want the inquiry to last into election season. "I hope not. I hope we can get it through as quickly as possible. I'm an impatient person. We wouldn't have to do impeachment inquiry if this administration would cooperate with us."
As impeachment talk swirled elsewhere, Biden and first lady Jill Biden gathered with top administration officials on Wednesday afternoon to talk about battling cancer, one of the president's top goals. Their elder son, Beau, died of brain cancer.
After the Bidens finished speaking, reporters erupted with questions about the impeachment inquiry. Four boom mics dangled above the table, ready to catch any response from the president.
He didn't respond.
___
Associated Press writers Will Weissert, Chris Megerian, Stephen Groves, Farnoush Amiri and Lisa Mascaro contributed to this report.
---