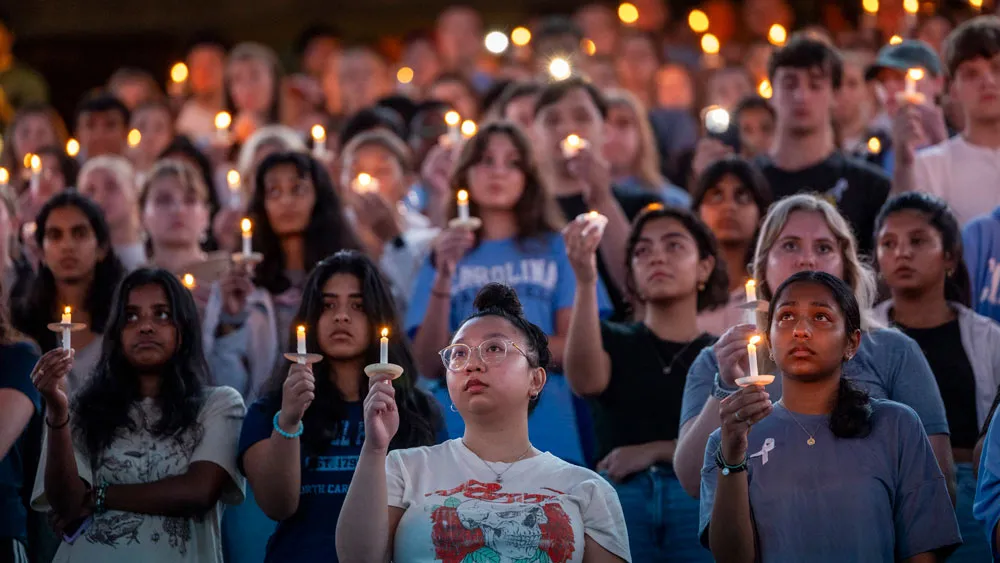 At the University of North Carolina, Two Shootings 30 Years Apart Show How Much Has Changed
Holly Ramer
READ TIME: 5 MIN.
Three decades ago, as a University of North Carolina student, he covered a deadly shooting for the school newspaper. Last month, as a journalism professor at the same school, Ryan Thornburg kept his students safe during a lockdown – after another shooting.
In some ways, the era of campus shootings has come full circle. Other UNC-Chapel Hill alumni who remember the 1995 tragedy now have children enrolled at their alma mater, where an associate professor was shot to death Aug. 28 (and where a second brief lockdown was imposed Wednesday). But vast changes in the way information spreads make their recent experiences less like replays and more like double exposures: new technology, new emotions superimposed upon the same setting.
Twenty-eight years ago, there was no way for university officials to alert the entire community that a gunman had opened fire on the edge of campus, killing two people and wounding two others. E-mail existed but wasn't widespread. Calling home meant long-distance surcharges and leaving messages on answering-machine tapes when no one picked up.
Thornburg, the former student journalist, didn't even think to call his parents in California about the 1995 shooting until he saw a television news van near the scene. As he said in an interview last week: "That made me go, 'Oh, my parents might know about this sooner rather than later, I better give them a call.'"
EXPERIENCES RELIVED, DIFFERENTLY
Thornburg was a sophomore when law student Wendell Williamson walked down the street firing a semiautomatic rifle on Jan. 26, 1995. Continuing to shoot even after he was wounded by police, Williamson eventually was tackled by two bystanders and later committed to a psychiatric hospital after being found not guilty by reason of insanity.
Thornburg, then the city editor at The Daily Tar Heel, was headed to the police station to get information for an unrelated story when the shooting began. He used a pay phone in the lobby to relay updates to the newsroom, then spent a long night working on the next day's edition.
"It's kind of embarrassing, but the exhilaration I felt at the end of that – I didn't feel like I wanted to go away from it or look away. I wanted to really engage and do more," he told his students at the start of this semester when one asked what sparked his passion for journalism.
A few days later, it was their turn to experience a campus shooting.
Thornburg was teaching "Introduction to Newswriting" when a campus-wide alert about an active shooter popped up on his computer and was projected on a screen behind him. The response began: As sirens blared with instructions to take cover, text messages went out to students, faculty and staff.
Thornburg hustled some students in from the hallway and locked the doors. At one point, he told them to hide under their desks. Together, they listened to a broadcast of police scanner traffic and watched a local news livestream. Rumors were flying.
"I said, 'I know you're all on social. What are you hearing? Let's talk about it, and let's talk about what's reliable and what's not,'" Thornburg said. "It was a little bit of a teachable moment."
EVERYTHING IS FAST NOW – THE BAD AND THE GOOD
While campus alert systems have become much more robust, so too has the spread of misinformation, said Paul Dean, president of the International Association of Campus Law Enforcement Administrators. Cutting through the clutter can be a challenge, as is finding the balance between security and anxiety. Students who grew up in the age of school shootings are arriving on campus extra jumpy, he said.
"These kinds of alerts trigger people, and I'm cognizant of that," said Dean, chief of police at the University of New Hampshire. "It's a difficult balance."
On one hand, there were no warnings in 1995 to prevent students from stumbling into the line of fire. On the other hand, many knew nothing of the shooting until hours later and thus were spared the fear and panic of lockdown.
Zoe Bright, a current UNC sophomore, was on the phone with her father when she received the first alert last month. After reassuring him she was safe in her dorm, she started checking on her friends. They were all doing the same. One friend sought shelter in the bathroom of a downtown bar after her building was evacuated before sprinting to Bright's dorm room.
"Basically everyone I've ever met in my entire life was texting me," Bright said. Everybody at the school, every group chat on every platform that I have, was blowing up for the whole three hours."
She told her father, Mark, about hearing helicopters outside, something he had reported to his own parents when he was a senior at UNC in 1995. But beyond that, their experiences were vastly different.
Mark Bright remembers hearing shots and seeing the commotion downtown as he left class that day. He clustered with classmates in the doorway of a nearby building for a while, then went back to his dorm thinking maybe a beer truck had gotten robbed. His wife, fellow 1995 graduate Presley Bright, can't recall how she found about the shooting. But they both remember learning the details from the student newspaper the next day.
That front page featured Thornburg's lead story and four others about the shooting, a map of the crime scene and a photo of a victim's body covered by a sheet. In contrast, the current Daily Tar Heel staff filled the front page with oral history as it unfolded – emotional texts that students received during the lockdown. In Thornburg's view, this year's newspaper staff captured the moment far better.
"When I saw it, I viscerally knew that it captured the experience of being in our unique situation, but that it also transcended so many other lockdowns," said the professor, who was teaching the same class during the second lockdown on Wednesday.
'JUST THE WAY WE ARE RIGHT NOW'
This year alone, there have been at least 86 incidents of gunfire on K-12 schools and college campuses, resulting in 27 deaths and 57 injuries, according to Everytown for Gun Safety, a gun-control research and advocacy group. Over the last decade, such incidents have increased in frequency, says Dan Flannery, director of the Begun Center for Violence Prevention and Research at Case Western Reserve University.
"It's horrible to even think that that's just the way we are right now. People have accepted that this is a thing that's going to keep occurring and we're all kind of getting more desensitized to it as a more normal part of our culture," Flannery said.
Indeed, some UNC alumni were not particularly surprised by the recent shooting – not because they had been through it before but because of what they know about American society.
"Once I got over the initial shock of what was happening and making sure that we were doing the right thing, it was sort of like, 'Okay, today's the day. This happens," said Thornburg, who called the lockdown "simultaneously surreal and the least surprising thing ever."
Likewise, Mark Bright said because his daughter had a lot of angst about where to go to college, he briefly thought: "If she had been at a different college, this wouldn't be happening."
Then the reality of the United States in 2023 quickly set in.
"Then my second thought after that was, 'It doesn't matter what college you go to,'" he said. "It doesn't really matter at all nowadays. It could be anywhere."
___
Associated Press journalist Holly Ramer, based in New Hampshire, is a 1995 graduate of the University of North Carolina and a former staff writer for The Daily Tar Heel.
---