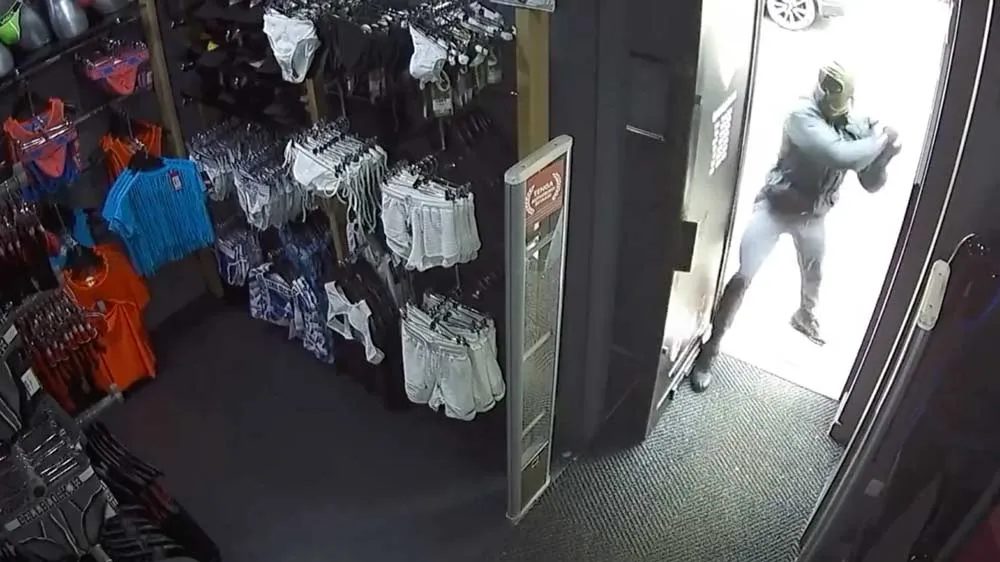 Watch: Masked Motorbikers Target Gayborhood Sex Shop with Crowbar Attack
Motorcycle-mounted, crowbar-wielding vandals caused thousands of dollars in damage to a sex shop in Manchester, England's gay neighborhood – the fifth such attack in only four months.
UK newspaper the Independent reported that a security camera video shows two men – dressed in black and wearing black facemasks – pulling up to the shop at about 2 p.m. on Sept. 10. In the video, one man can be seen jumping off the motorbike, crowbar in hand, and rushing to the store, launching into a brash broad-daylight frenzy.
Following four earlier attempts – which were carried out in a similar manner – the windows were replaced with sheets of steel; the crowbar attack proving futile, the vandal is seen entering the shop and striking an anti-theft security apparatus near the door before jumping back on the motorbike and fleeing with the driver.
The Manchester Evening News reported that, according to the store's general manager, Richard Tropez, "staff heard 'smash, smash, smash' as the ordeal unfolded." He also said that, for the store's workers, the violent episode was "absolutely terrifying..."
Months had passed since the last attack, but Tropez did not find the attackers' return to be a surprise. "We've been targeted," Tropez told the newspaper. "No one else, it's just us."
Police estimated that the attack resulted in about £3,500 of damage – more than $4,300.
ITV detailed that the motorcycle seen in the video is thought to be "the same bike used in a previous incident in May 2023," with the city's police asking for help from the public in identifying the bike and its owner.
Chief Inspector Steve Wiggins informed the public that one person has been arrested in connection with the series of attacks, "but we know that there is someone out there who knows where this bike is and who it belongs to and we are urging them to reach out to us."
Given the public nature of the daylight attack, police are also hopeful that witnesses will come forward.
Chief Inspector Wiggins also assured the public that "We have a dedicated specialist unit investigation in addition to patrols being conducted by neighborhood officers, and we hope this goes some way to reassure the local community that we are committed to protecting the public."
Crimestoppers is offering a reward of £2,000 (about $2,500) for information leading to additional arrests.
---
Kilian Melloy serves as EDGE Media Network's Associate Arts Editor and Staff Contributor. His professional memberships include the National Lesbian & Gay Journalists Association, the Boston Online Film Critics Association, The Gay and Lesbian Entertainment Critics Association, and the Boston Theater Critics Association's Elliot Norton Awards Committee.