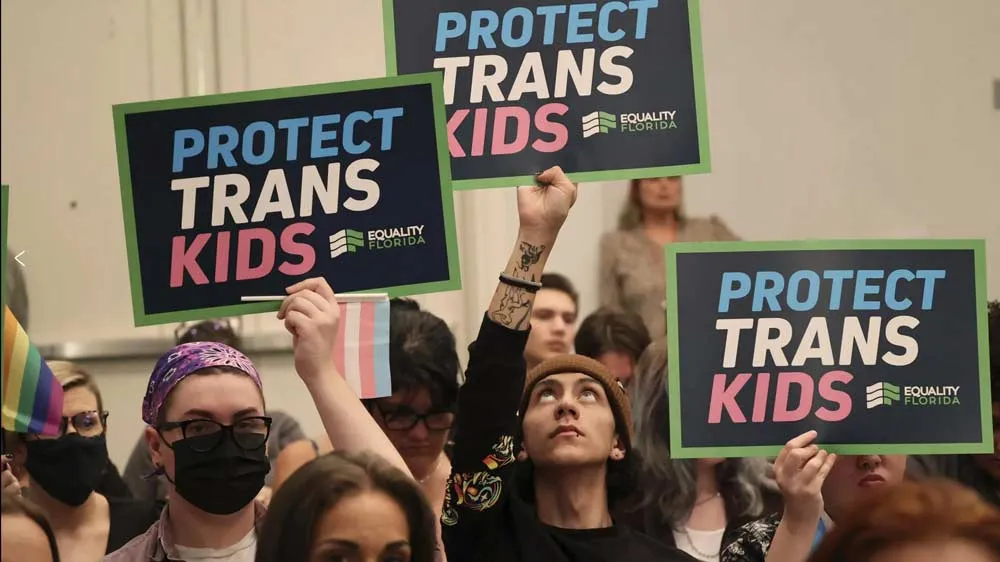 Critics Twist California Bill that Would Weigh Gender-identity Support in Custody Cases
Angelo Fichera
READ TIME: 4 MIN.
Democratic California lawmakers have approved a bill that would instruct courts to consider, among many other factors, whether a parent affirms a child's gender identity when making custody and visitation decisions.
But critics online are claiming that the measure goes much further, and means any parent who doesn't support their kid's desire to pursue gender-affirming surgery will lose custody.
Legal experts and the bill's sponsor say that's not the case. Here is a closer look at the facts.
CLAIM: A California bill, AB-957, would "require parents to 'affirm' the 'gender transition' of any child," including surgery, or else lose custody.
THE FACTS: The bill, which the state Senate and Assembly approved last week and is awaiting Gov. Gavin Newsom's signature, says nothing directly about surgery. It's specific to custody cases and instructs judges to consider a parent's support of a child's identity in addition to other factors already weighed. It doesn't require a judge to side with an affirming parent, nor does it bar a non-affirming parent from accessing the child.
The bill "does not announce any bright line rules forbidding the judge to award custody to a denying parent or mandating that the judge award a child to an affirming parent," said Scott Altman, a family law professor at the University of Southern California.
Widespread posts on social media reacting to the bill's passage, however, claimed it would mean that a parent unsupportive of a child's "gender transition" would inherently lose custody of their children.
"Breaking: California Senate has PASSED #AB957, the most dangerous law facing California parents in decades, which will require parents to 'affirm' the 'gender transition' of any child–any age, any gender, every family, every time, social or medical transition, no limits–or else lose custody," reads one post on X, the platform formerly known as Twitter, shared across platforms. It adds: "Non-affirming parents will be deemed UNSAFE."
Similarly, X owner Elon Musk claimed: "What it actually means is that if you disagree with the other parent about sterilizing your child, you lose custody."
The bill is not nearly so absolute.
The legislation would amend existing state law to say that a court's consideration of "the health, safety, and welfare" of the child should include "among other comprehensive factors, a parent's affirmation of the child's gender identity or gender expression."
While the bill signals California's stance that affirming is generally better than denying a child's gender identity, it doesn't mark a dramatic legal shift, said Altman, the University of Southern California professor.
Courts have long been tasked with resolving custody disputes involving LGBTQ+ children, he said in an interview. And judges already consider multiple factors, such as the nature and level of contact with each parent and any history of abuse.
A state Senate analysis of the legislation also noted that the "bill does not compel the court to come to a particular outcome" based on a parent's affirmation or overrule the court's discretion about what is in the child's best interest overall.
While some posts imply that parents risk losing access to their children, California courts are largely deciding where a child primarily resides and how much time they spend with each parent – not stripping one parent of all access or decision-making power – experts said.
"California favors joint legal custody when parents agree and can cooperate in decision-making," said Jan Costello, a Loyola Marymount University professor emerita with expertise on children and the law, who called the social media posts about AB-957 "alarmist and misleading."
Altman also said that there is "certainly nothing here to suggest that a parent could have their parental rights terminated for a good-faith disagreement about medical treatment" for a transgender child.
Bill sponsor Assemblymember Lori Wilson's office emphasized the same to The Associated Press. "The bill does not take someone's child away," Taylor Woolfork, Wilson's chief of staff, added in an email.
It's true that the bill's language leaves vague the meaning of "affirmation." It states: "Affirmation includes a range of actions and will be unique for each child, but in every case must promote the child's overall health and well-being."
Wilson previously told the AP that affirmation could include letting children play with toys associated with their gender identity, getting their nails painted or wearing their hair at a length that feels comfortable. The bill does not lay out specific requirements related to gender-affirming surgeries, which minors in California cannot undergo without a parent's consent.
While the bill leaves plenty of leeway for judges to continue to use their discretion, Altman said, it could be clearer.
"By refusing to say anything about what sorts of things do or don't count as affirmation, I think it fuels anxiety among people who fear the worst about this bill," he said.
___
This is part of AP's effort to address widely shared misinformation, including work with outside companies and organizations to add factual context to misleading content that is circulating online. Learn more about fact-checking at AP.
---