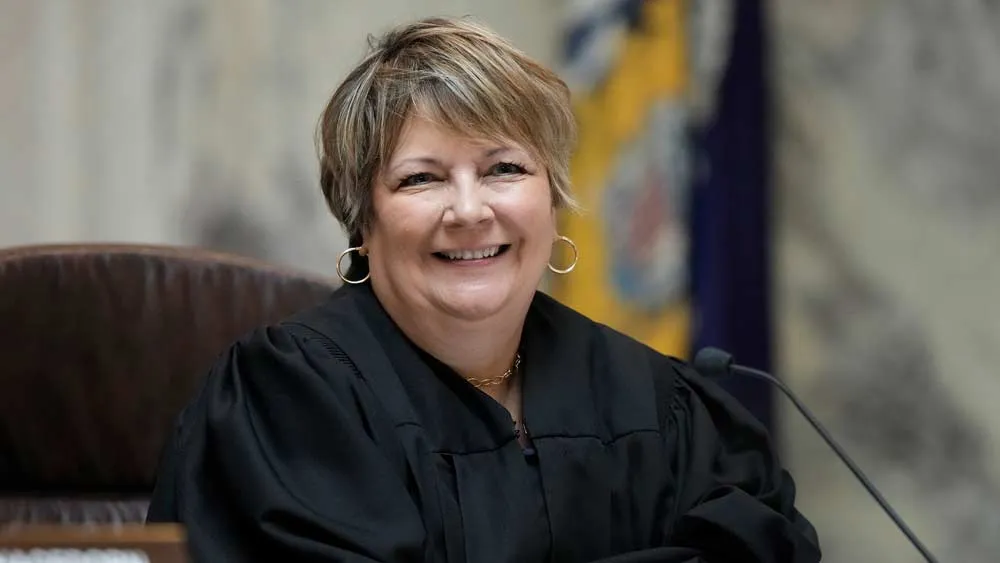 Wisconsin Supreme Court Candidates often Speak Out on Hot Topics. Only One Faces Impeachment Threat
Christine Fernando and Harm Venhuizen
READ TIME: 6 MIN.
The Wisconsin Supreme Court justice who Republicans are threatening to impeach over comments she made on the campaign trail about abortion and redistricting isn't the first member of the court to offer public opinions about major issues of the day.
One conservative justice frequently spoke out in favor of gun rights during her campaign, even producing a political mailer showing her brandishing a shotgun and wearing a hat promoting the NRA. Another had previously called Planned Parenthood, a frequent litigant in abortion cases, a "wicked organization."
And a former conservative justice faced a barrage of criticism after a campaign filled with misleading information about crime that raised questions about whether he could be impartial in cases involving criminal defendants.
An Associated Press review of previous campaigns and public statements by Wisconsin Supreme Court candidates reveals that both conservatives and liberals have weighed in on topics that could come before the court, sometimes in strikingly strong language. Despite that record, this is the first time Republicans who have controlled the state Legislature for a dozen years have proposed impeaching a justice.
They are threatening to remove Justice Janet Protasiewicz, who was elected earlier this year with a strong statewide majority, if she does not recuse herself from a redistricting case that could cost Republicans their outsized majorities in the Legislature. Her election flipped control of the court to a 4-3 liberal tilt after 15 years of a conservative majority.
"It's self-serving, selective outrage," Jay Heck, director of Common Cause of Wisconsin, a nonpartisan government watchdog group, said of impeachment. "Where was their outrage and their demands for recusal when conservatives in the past have weighed in about their values?"
On Monday, a former candidate for Supreme Court representing two Protasiewicz voters asked the Wisconsin Supreme Court to order the Legislature not to move ahead with impeachment proceedings. The lawsuit argues impeachment is not warranted and would be unconstitutional.
The state's judicial code prohibits justices and judicial candidates from making promises or commitments to ruling a certain way on any issue, and Protasiewicz adhered to that during her campaign. Earlier this year, the state commission that investigates complaints against judges dismissed ones it had received related to her comments on redistricting.
Trying to campaign for office while not appearing to prejudge any future case has been an increasingly difficult line for judicial candidates to walk. That is especially true in more recent years as state supreme court races have become highly politicized and attract millions of dollars in campaign cash.
The Wisconsin high court is officially nonpartisan, but both liberal and conservative candidates have tried to signal to their base supporters how they view some of the hottest topics of the day. Sometimes their comments have raised alarms and questions about whether they could remain impartial in certain cases.
During her 2016 campaign, conservative Justice Rebecca Bradley called herself "a strong supporter of the Constitution, including the Second Amendment" when speaking on radio shows about her endorsement by the National Rifle Association. In mailers, she posed with a shotgun, orange hunting vest and baseball cap with the NRA logo in an implicit appeal to gun-owners.
Bradley has since invoked the Second Amendment in court, including during a dissent to a 2021 decision that upheld the conviction of a Madison man who was intoxicated while carrying a firearm through his apartment and arguing with his roommates.
She also came under fire for columns she wrote in the 1990's for Marquette University's student newspaper that bashed gay people, feminism and abortion rights. One column compared abortion to murder, the Holocaust and slavery. In another, she wrote she had no sympathy for AIDS patients.
Conservative Justice Brian Hagedorn drew criticism for his comments on abortion and homosexuality. In blog posts beginning in 2005, Hagedorn compared homosexuality to bestiality, called Planned Parenthood a "wicked organization" that was more devoted "to killing babies than to helping women," and wrote that "Christianity is the correct religion."
The blog posts do not appear to continue during the time he was campaigning for a state Supreme Court seat in 2019, but he criticized the outcry over his comments as an attack on his Catholic faith and refused to recuse himself in related cases.
A former conservative justice, Michael Gableman, faced an ethics investigation by the state Judicial Commission over an ad campaign that attacked his opponent as being soft on crime during his 2008 run for a high court seat. One television commercial in particular that accused Gableman's opponent of freeing a convicted child molester who assaulted another child was widely criticized by watchdog groups for its negativity and inaccuracies.
"He had made a lot of statements during his campaign that were perceived as very anti-criminal defendant," said Chad Oldfather, a professor at Marquette University Law School.
The Judicial Commission action against him was dismissed after the state Supreme Court deadlocked 3-3 on whether to discipline him. After winning the seat, Gableman rejected calls to recuse himself from criminal cases.
Experts acknowledged that Protasiewicz was more vocal about her opinions while on the campaign trail than candidates in most previous elections. Republican lawmakers say she went a step further than previous candidates by centering her campaign around her positions on hot-button issues.
Her win, by 11 percentage points, boosted hopes among Democrats that the court would overturn the state's 1849 abortion ban and throw out legislative maps that have helped Republicans maintain control of the Legislature, even as Democrats have won all but one statewide executive office.
"What Justice Protasiewicz did was clearly not the norm and is clearly outside of what is and was expected out of races for the Supreme Court," said former state Republican Party Chair Brandon Scholz, who has run several judicial campaigns in the state.
Protasiewicz could have found ways to talk about existing laws and the court's role in interpreting them, Scholz said, but instead she voiced her own political opinions.
Two lawsuits challenging the gerrymandered maps as unconstitutional were filed the first week after Protasiewicz was seated, though the court has yet to decide whether it will take either case.
In 2017, the state Supreme Court – then with a conservative majority – quashed an effort to strengthen recusal standards following a petition from a group of 54 retired jurists, citing freedom of speech.
"I want to emphasize the irony that it was the Republican Party that pushed to allow judges to make clear their broad positions on these kinds of controversial issues," said Herbert Kritzer, a law professor at the University of Minnesota who previously taught at the University of Wisconsin-Madison.
In a campaign the year after the court's recusal decision, Madison attorney Tim Burns labeled himself a Democrat and openly shared his political opinions. While his approach to running for a seat on the Supreme Court was uncharacteristic and ultimately unsuccessful, Burns said voters should be informed of what judges think about the issues that affect them.
Burns filed a lawsuit Monday with the Supreme Court arguing that proceeding with impeachment would violate the constitutional rights of voters who cast their ballots for Protasiewicz. It also argues that the reasons stated by lawmakers for why they are considering impeachment don't meet the constitutional standard for taking that action. The Wisconsin Constitution limits impeachment only to those who have engaged in corrupt conduct in office or committed crimes.
The lawsuit asks that the court order the Legislature not to proceed with impeachment against any justices without a ruling by a majority of the court that the constitutional standards for impeachment have been met.
Charles Franklin, a law professor and director of the Marquette Law School Poll, said the issue arises from an inherent contradiction in state supreme courts: They are meant to be nonpartisan, but also require candidates to campaign in politicized elections.
"How does a candidate communicate to voters who they are and why they should be supported by the voters?" Franklin said. "We're in an era where candidates are struggling to find ways to be explicitly clear about their values and positions, while still trying to stay clear of that notion that they have prejudged cases."
___
Researcher Jennifer Farrar in New York contributed to this story.
---