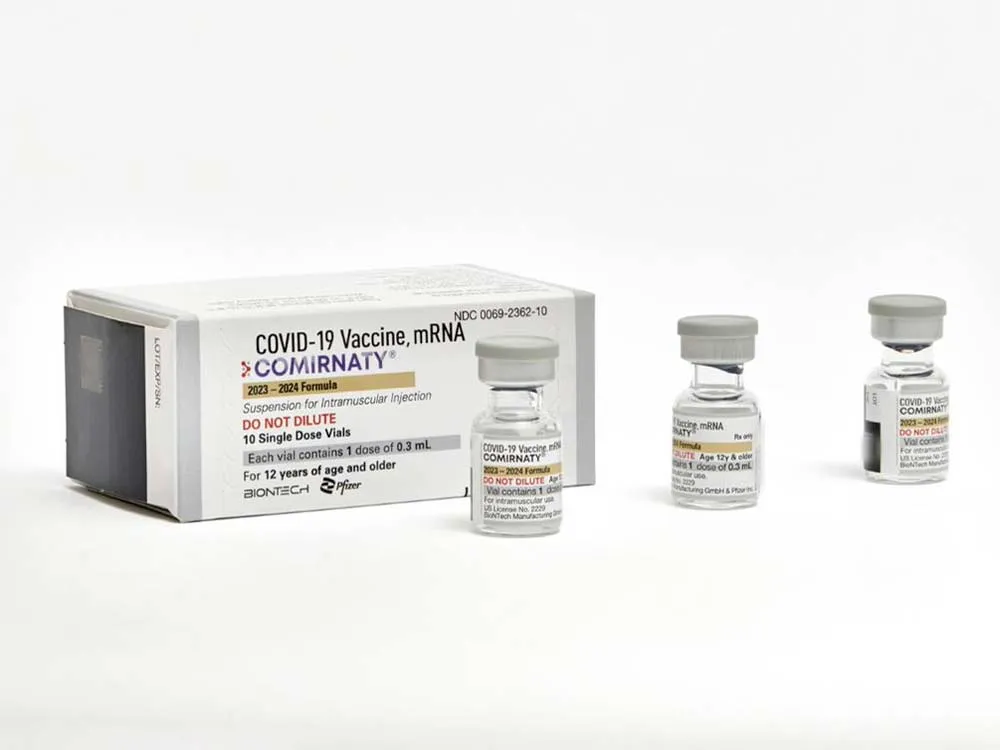 Americans Can Now Get an Updated COVID-19 Vaccine
Mike Stobbe and Lauren Neergaard
READ TIME: 3 MIN.
Most Americans should get an updated COVID-19 vaccine, health officials said Tuesday.
Advisers to the Centers for Disease Control and Prevention endorsed the new shots for everyone 6 months and older and the agency's director quickly signed off Tuesday on the panel's recommendation. That means doses should be available this week, some as early as Wednesday.
The severity of the COVID-19 pandemic has faded, but there are still thousands of hospitalizations and hundreds of deaths in the U.S. each week. Hospitalizations have been increasing since late summer, though the latest data indicate infections may be starting to level off, particularly in the South.
Still, experts worry that immunity from previous vaccinations and infections is fading in many people, and a new shot would save many lives.
According to a survey last month that CDC cited, about 42% said they would definitely or probably get the new vaccine. Yet only about 20% of adults got an updated booster when it was offered a year ago.
Doctors hope enough people get vaccinated to help avert another "tripledemic" like last year when hospitals were overwhelmed with an early flu season, an onslaught of RSV, or respiratory syncytial virus, and yet another winter coronavirus surge.
Here is what you need to know about the new COVID-19 shots:
Who Should Get the Updated Vaccine?
The Food and Drug Administration approved the updated shot s from Pfizer and Moderna for adults and children as young as age 6 months. FDA said starting at age 5, most people can get a single dose even if they've never had a prior COVID-19 shot. Younger children might need additional doses depending on their history of COVID-19 infections and vaccinations.
The CDC decides how best to use vaccines and makes recommendations for U.S. doctors and the general public. The agency's panel of outside exerts recommended the updated COVID-19 shots by a vote of 13-1. The no vote came from a panel member who had argued that the new shots should initially be recommended only for older people and others at greatest risk of severe illness. But other panel members said all ages could – and should – benefit.
"We need to make vaccination recommendations as clear as possible," said one panel member, Dr. Camille Kotton, an infectious diseases doctor at Massachusetts General Hospital.
Where Can I Get a Shot?
The new vaccine will be available at pharmacies, health centers and some doctor offices. Locations will be listed on the government's vaccines.gov website. The list price of a dose of each shot is $120 to $130, according to the manufacturers. But federal officials said the new COVID-19 shots still will be free to most Americans through private insurance, Medicare or Medicaid. For the uninsured or underinsured, the CDC is working with health departments, clinics and certain pharmacies to temporarily provide free shots.
On Tuesday, a Pfizer official said his company expected to have doses available at some U.S. locations as early as Wednesday.
Why More COVID-19 Shots?
Similar to how flu shots are updated each year, the FDA gave COVID-19 vaccine makers a new recipe for this fall. The updated shots have a single target, an omicron descendant named XBB.1.5. It's a big change. The COVID-19 vaccines offered since last year are combination shots targeting the original coronavirus strain and a much earlier omicron version, making them very outdated.
Pfizer, Moderna and Novavax all have brewed new supplies, and the FDA on Monday approved shots from Pfizer and Moderna. Novavax's updated vaccine is still under review.
Will They be Effective Enough?
Health officials are optimistic, barring a new mutant. As expected, XBB.1.5 has faded away in the months it took to tweak the vaccine. Today, there is a soup of different coronavirus variants causing illness and the most common ones are fairly close relatives. Recent lab testing from vaccine makers and other research groups suggest the updated shots will offer crossover protection.
Earlier vaccinations or infections have continued to help prevent severe disease and death but protection wanes over time, especially against milder infections as the virus continually evolves. The FDA did allow seniors and others at high risk to get an extra booster dose last spring. But most Americans haven't had a vaccination in about a year.
Can I Get a Flu Shot and a COVID-19 Shot at the Same Time?
Yes. The CDC says there is no difference in effectiveness or side effects if people get those vaccines simultaneously, although one in each arm might be more comfortable. The CDC urges a yearly flu shot for pretty much everyone ages 6 months and up. The best time is by the end of October.
___
The Associated Press Health and Science Department receives support from the Howard Hughes Medical Institute's Science and Educational Media Group. The AP is solely responsible for all content.
---