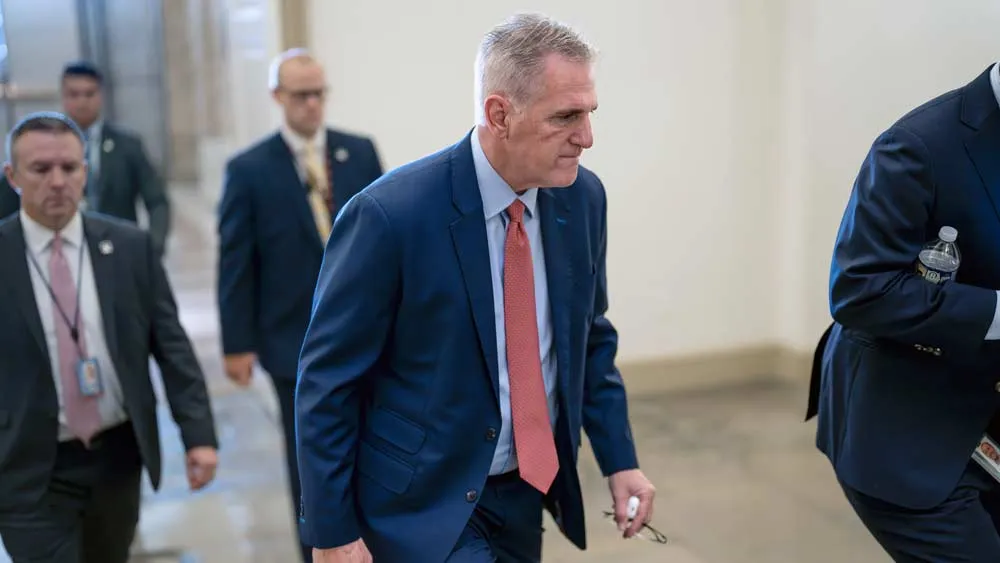 Speaker McCarthy Directs the House to Open an Impeachment Inquiry into President Biden
Lisa Mascaro
READ TIME: 4 MIN.
Speaker Kevin McCarthy announced Tuesday he is directing the U.S. House to open an impeachment inquiry into President Joe Biden over his family's business dealings, launching historic proceedings ahead of the 2024 election.
McCarthy said that House investigations so far "paint a picture of a culture of corruption" around the Biden family as Republicans probe the business dealings of the president's son, Hunter Biden, from before the Democratic president took office.
"These are allegations of abuse of power, obstruction and corruption, and they warrant further investigation by the House of Representatives," McCarthy, R-Calif., said at the Capitol, announcing he was directing the House led by the Oversight Committee "to open a formal impeachment inquiry."
The White House shot back, calling the action in the midst of the presidential campaign "extreme politics at its worst."
"House Republicans have been investigating the president for nine months, and they've turned up no evidence of wrongdoing," said spokesman Ian Sams.
Acting on his own, the Republican speaker McCarthy faces mounting pressure from his right flank to take action against Biden or risk being ousted from his leadership job – while he also is struggling to pass legislation needed to avoid a federal government shutdown at the end of the month.
McCarthy is launching the inquiry without a House vote, and it's unclear if he would even have enough support from his slim GOP majority. Some lawmakers have panned the evidence so far as not reaching the Constitution's bar of "high crimes and misdemeanors."
The White House and others pointed to McCarthy's past statements when he insisted a speaker acting unilaterally to launch an impeachment inquiry would have no legitimacy. McCarthy "flipflopped because he doesn't have support," Sams said.
An inquiry is a step toward impeachment, which used to be rare, and McCarthy essentially outlined the potential charges ahead. With Donald Trump now the Republican front-runner to challenge Biden in next year's election, GOP allies are working to detract attention from the indicted former president's legal challenges and turn a negative spotlight on Biden.
The inquiry will be led by Oversight Committee Chairman James Comer, in coordination with Judiciary Committee Chairman Jim Jordan and Ways & Means Chairman Jason Smith. They are heading across the Capitol Wednesday to brief the Senate.
Senate Republican leader Mitch McConnell has warned House Republicans off the effort, but said Tuesday, "I don't think Speaker McCarthy needs advice from the Senate."
House Democratic Leader Hakeem Jeffries called it an "illegitimate impeachment inquiry" and said Democrats will defend Biden "until the very end."
"There is not a shred of evidence that President Joe Biden has engaged in wrongdoing," Jeffries said. "President Joe Biden is a good man. He's an honest man. He's a patriotic man."
The Republican speaker is once again at a political crossroads – trying to keep his most conservative lawmakers satisfied and save his own job. It's a familiar political bind for McCarthy, who is juggling the impeachment inquiry and a government shutdown threat with no clear end game.
Government funding is to run out on Sept. 30, which is the end of the federal fiscal year, and Congress must pass new funding bills or risk a shutdown and the interruption of government services.
Minutes after McCarthy spoke a chief Republican critic stood on the House floor deriding the inquiry as merely "a baby step" and reviving the threat of ousting the speaker. "We must move faster," said Rep. Matt Gaetz, R-Fla.
The White House has insisted Biden was not involved in his son's business dealings. And Democrats are stepping up to fight against what they view as unfounded claims against him ahead of the 2024 election as Republicans attempt to blur the lines with Trump.
Former President Trump was twice impeached by the House but acquitted by the Senate. He now faces more serious charges in court, indicted four times this year, including for trying to overturn the 2020 election Biden won.
House Republicans are probing the business dealings of Hunter Biden but so far have not produced hard evidence linking them and the president. They have shown a few instances, largely during the time the elder Biden was Barack Obama's vice president, when he spoke by phone with his son and stopped by dinners his son was hosting with business partners.
An impeachment inquiry would provide more heft to the House investigation, especially as the Oversight Committee battles in court for access to Biden family financial records.
Republicans contend the Justice Department has not fully probed the allegations against Hunter Biden, and say he received preferential treatment in what they call a sweetheart plea deal that recently collapsed. The Department of Justice has appointed a special prosecutor in that probe.
"We will go wherever the evidence takes us," McCarthy said.
Comer, the Oversight chairman from Kentucky, is digging into the Biden family finances and is expected to seek banking records for Hunter Biden as the panel tries to follow the flow of money.
On Tuesday, Comer demanded the State Department produce documents about the work Biden did as vice president during the Obama administration to clean up corruption in Ukraine. Comer wants to understand the State Department's views of former Ukrainian prosecutor Viktor Shokin, whom Biden and many Western allies wanted removed from office because of allegations of corruption.
As a government shutdown looms, conservatives who power McCarthy's majority want to slash spending, and the hard right is unwilling to approve spending levels the speaker negotiated with Biden earlier this year.
McCarthy is trying to float a 30-day stopgap measure to keep government running to Nov. 1, but conservatives are balking at what's called a continuing resolution, or CR, as they pursue cuts.
Rep. Marjorie Taylor Greene, R-Ga., said late Monday exiting McCarthy's office she has "red lines" against any new money being spent for COVID-19 vaccines or mandates or the war in Ukraine.
And Gaetz, a top Trump ally, said if McCarthy puts a continuing resolution up for a vote, he will face blowback from conservatives with a motion to vacate the chair and oust him from office.
At the start of the year, Gaetz and other Republicans secured agreements from McCarthy as he struggled to win their votes to become House speaker, including a House rule that allows opponents to call a vote to try to remove him from the speaker's position.
___
Associated Press writers Stephen Groves, Kevin Freking and Mary Clare Jalonick contributed to this report.
---