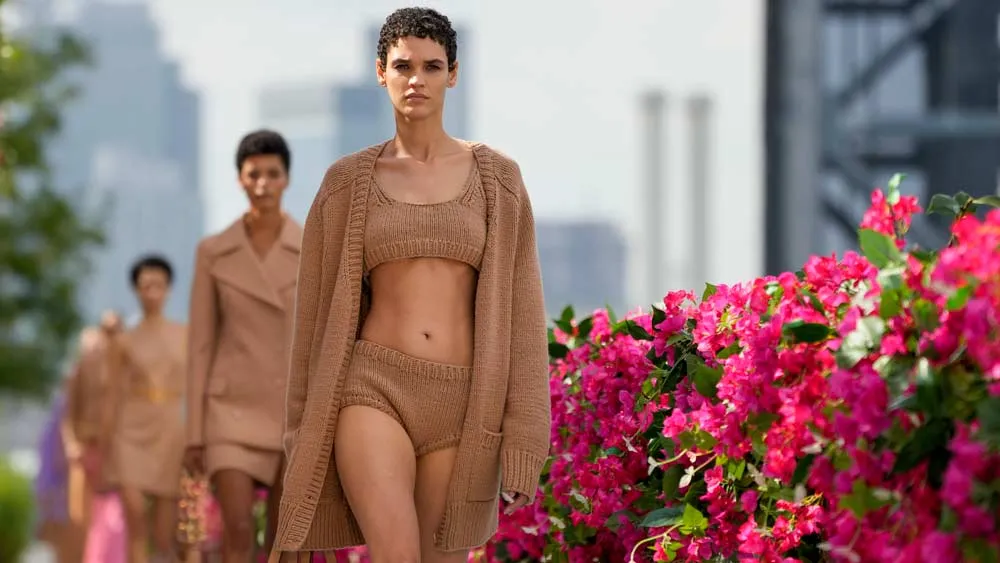 Michael Kors Pays Tribute to Late Mother with Waterfront Runway Show Set to Bacharach Tunes
John Carucci
READ TIME: 2 MIN.
On a waterfront promenade lined with pink flowers and facing Manhattan's majestic skyline, designer Michael Kors paid tribute to his late mother with a show honoring the travels the two enjoyed together.
As always, Kors was joined by a slew of celebrities at the picturesque venue along the East River in Brooklyn's Domino Park, under the Williamsburg Bridge. Actors Halle Berry, Blake Lively, Tiffany Haddish, Ellen Pompeo, Olivia Wilde, Jenna Dewan and many more were in attendance.
"All of us dream of holidays," the designer said before the show, explaining the inspiration for a collection projecting a beach-going vibe, with Burt Bacharach favorites like "What the World Needs Now" and "Promises, Promises" on the soundtrack. "I wanted to have this sort of barefoot glamour."
But the designer was thinking most of all about his mother, the late Joan Kors, who died in August at 84. A former Revlon model, she was a strong influence on her son throughout his life, he has said.
"My mother truly was my ultimate muse, my ultimate supporter," Kors said. "She and I traveled the world together and I have so many incredible memories of holidays with her. And she was a woman who broke the rules. She wore hot pants to the office. I think she always had fun with fashion and she really knew herself."
The runway was heavy on looks one imagined Kors' mother might have worn in the '60s and '70s, including some very short minidresses and chiffon sundresses. Many items were in cotton and cashmere crochet or in lace.
Asked about his hefty celebrity contingent, Kors noted he was a big fan of movies, theater and music. Although he outfits many of them for red carpets, he added he felt extra satisfaction when he saw celebrities dress in his designs in more routine settings. "The biggest compliment is when someone wears something of mine on everyday sort of basis." he said.
Kors also addressed changes to his business. Tapestry, parent company of Coach and Kate Spade, recently announced it was buying Capri Holdings, owner of Michael Kors as well as Versace and Jimmy Choo, for about $8.5 billion – making it one of the world's largest luxury companies and putting it in position to compete with European rivals like LVMH and Kering.
"We're excited at the prospect of joining forces with Tapestry," Kors said of the consolidation, "and combining and pooling our resources and knowledge to accelerate the growth. I think it's fantastic."
---