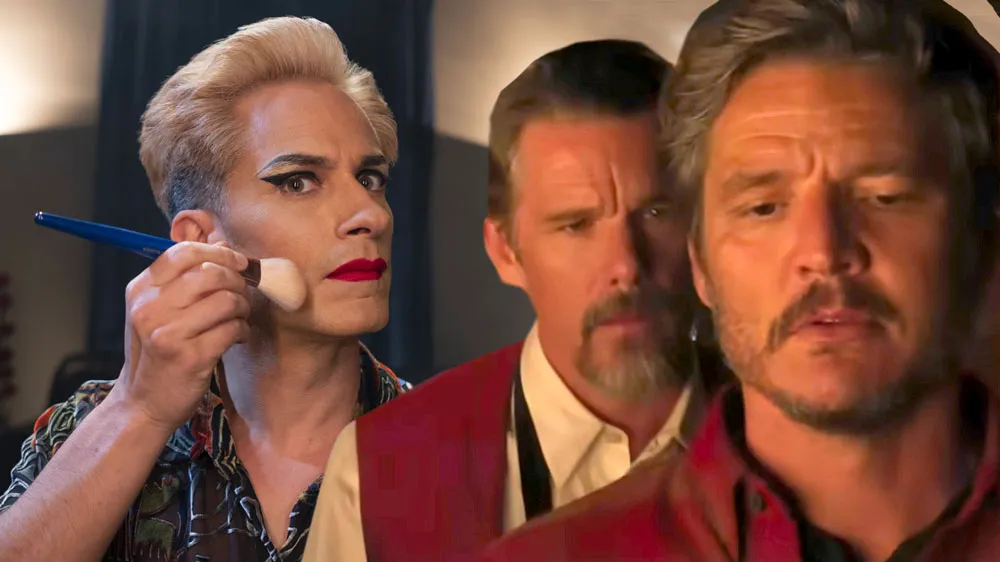 Fall Movie Preview – 'Cassandro,' 'Dicks,' & an Almodóvar Western
With the sun edging closer to the horizon and the nights getting longer, it's time to start thinking about the autumn's new crop of LGBTQ+ movies. This year promises a bumper harvest of queer takes, not to mention a slate of films that, while not overtly gay, will still appeal to LGBTQ+ audiences.
Here are few of the standouts from the coming Fall Season in Film.
Aristotle & Dante Discover the Secrets of the Universe
Called "inspiring" and "enchanting" by EDGE's own Frank J. Avella, this story of young love "between two Mexican American teens," set in 1987 Texas, "is a sweet love story that turns refreshingly dark, and boasts terrific performances, gorgeous cinematography (by Akis Konstantakopoulos), and a thought-provoking script about love and the damage hate and self-hate causes," Avella wrote. – In theaters Sept. 8
My Animal
A lesbian take on the werewolf genre, "My Animal" traces the sweetly unfolding attraction between two young women in a snowy Canadian community. But even as love between the lycanthropic Heather (nonbinary actor Bobbi Salvör Menuez) and talented figure skater Jonny (Amandla Stenburg) waxes, so does the moon... not to mention the jealousy of Jonny's toxic boyfriend. Rage, betrayal, and revenge become the order of the day, and when the beast within finds her way out, all bets are off. – In theaters Spt. 8
Rotting in the Sun
Sebastián Silva's gay, sexually explicit dark comedy is a Hitchcockian thriller that plays like "Stranger by the Lake" with an outlandishly morbid sense of fun. Silva, playing a version of himself, ventures to a gay beach where, among a veritable orgy of male flesh, he meets social media influencer Justin Firstman (also playing a version of himself). The two consider a professional collaboration, but then things get weird – and deadly. In theaters Sept. 8.
A Haunting in Venice
Kenneth Branagh dons the big, boisterous mustache and the Belgian accent for a third time, portraying Agatha Christie's detective Hercule Poirot in a movie based on Christie's 1969 mystery novel "Hallowe'en Party." The story takes the sleuth into the realm of the supernatural... and, of course, murder. – In theaters Sept. 15
Cassandro
Amazon Studios bring this biopic of the openly gay Lucha Libre star Saúl Armendáriz to theaters for a brief awards-qualifying run before streaming it on Prime Video. The film is already being hailed as a fun smackdown, with the exótico bringing some "poetry" to the wrestling ring by way of his unapologetically gay – and fun – performance style. The Associated Press declares that star Gael García Bernal (also an executive producer) "gives one of his best performances" in a film helmed by documentary filmmaker Roger Ross Williams, making his first narrative feature. The always-hot Raúl Castillo costars. – In theaters Sept. 15; streams on Amazon Prime starting Sept. 22
Drive-Away Dolls
Pedro Pascal and Matt Damon co-star with Margaret Qualley, Colman Domingo, and Beanie Feldstein in director Ethan Coen's comedy about a Jamie (Qualley)'s post-breakup road trip after splitting with her girlfriend, and the bad boys she and her friend Marian (Geraldine Viswanathan) encounter. - In theaters Sept. 22
Dicks: The Musical
Separated at birth, two identical twins – now grown, and in an adversarial relationship – find out the truth about their origins and hatch a "Parent Trap"-style scheme to bring their estranged mother and father back together again. Nathan Lane, Megan Thee Stallion, Megan Mullally, and Bowen Yang (as God!) make for a star-studded cast. In theaters Sept. 29.
Strange Way of Life
Pedro Almodóvar's half-hour short film – his answer to "Brokeback Mountain," which he famously turned down a chance to direct – comes to theaters with the story of two gay men and former lovers in the wild west: One (Ethan Hawke) a sheriff, and the other (Pedro Pascal) willing to walk on the far side of the law in order to save his son.– In theaters Oct. 6; streaming on Mubi Oct. 20
Eismayer
This drama from writer-director David Wagner, based on a true story, peers behind the macho mask – and beneath the uniform – of a career military man, the titular Sgt. Eismayer (Gerhardt Liebmann), an officer in the Austrian army. When a new, openly gay recruit comes under his command, Eismayer begins to realize there's more to life than barking orders and pretending to be something he's not. – In theaters Oct. 6
The Exorcist: Believer
The horrormeisters at Blumhouse set their sights on revitalizing another venerable horror franchise: After a classic first outing and numerous sequels of varying quality, the "Exorcist" series gets a new installment that brings old foes (one demonic, one played by Ellen Burstyn) back together for one more epic clash between good and evil. But there's a fresh twist: This time, Team Inferno ponies up not just one, but two holy terrors. David Gordon Green directs. – In theaters Oct. 6
Taylor Swift – The Eras Tour
There's really nothing more to say about this concert film, except, "it might get loud." It might also reduce you, and millions of others, to a screaming wreck.– In theaters Oct. 13
Killers of the Flower Moon
Martin Scorsese directs yet another epic, this time spending three and a half hours on the true crime story of a series of murders that took place in the 1920s among the Osage tribe. The film adapts the book by David Grann, and brings Robert De Niro ("The Irishman") and Leonardo DiCaprio ("The Wolf of Wall Street") back before Scorsese's camera. In theaters Oct. 20
Priscilla
Sofia Coppola turns her lens to Priscilla Presley, the wife of "The King," Elvis. Calling this take on the Presleys "far more restrained and subtle" than last year's Baz Luhrman hit, "Elvis," the AP notes that the book is based in part on Priscilla Presley's own memoir, and she also serves as executive producer. Possibly of even greater interest, though, is that Jacob Elordi plays The King. He just might give Austen Butler, who starred in Lurhman's epis, a run for his money. – In theaters Oct. 27
Nyad
Annette Bening (in the title role) and Jodie Foster lead in biopic about the lesbian athlete who tried – and tried again – to swim from Cuba to Florida – In theaters Oct. 20; streaming on Netflix Nov. 3
Rustin
Sidelined by history for being gay even though he was a major voice in the civil rights struggle and the architect of the 1963 March on Washington, Bayard Rustin finally gets his due in this historical drama from Netflix, with out actor Colman Domingo in the title role. – In theaters Nov. 3; streams on Netflix Nov. 17
The Hunger Games: The Ballad of Songbirds & Snakes
There's no Katniss Everdeen in this prequel, just a (very) pre-Donald Sutherland, (very) hot, young Coriolanus Snow (Tom Blyth). Arriving eight years after the film series wrapped up with its two-part finale, this new excursion into mythical future history delves into the dystopian world of Panem once again. – Nov. 17 (Theatrical release)
Maestro
Forget "Nosegate"; Bradley Cooper, who writes, directs, and stars, has transcended the risible "controversy" of the facial prosthetic and won early accolades for a film that looks at gay composer Leonard's Bernstein's 25-year-long marriage to Felicia Montealegre. With Carey Mulligan in the role of Motealegre, how could we blame him? – In theaters Nov. 22; streams on Netflix Dec. 20
Napoleon
Just who was the short guy with the hand stuffed into his shirt who conquered Europe, spread the Enlightenment, and then went Imperial, before suffering exile and a brief return to greatness? It would take a director of Ridley Scott's stature and an actor of Joaquin's commanding screen presence to address that question. Luckily, this biopic has both. –
Saltburn
Barry Keoghan plays gay – or at least curious – in a thriller that, with shades of "Brideshead Revisited," follows Felix (Jacob Elordi), an aristocratic fellow Oxford student, home for the summer. Rosamund Pike and Richard E. Grant also star, along with Carey Mulligan.– In theaters Nov. 24
---
Kilian Melloy serves as EDGE Media Network's Associate Arts Editor and Staff Contributor. His professional memberships include the National Lesbian & Gay Journalists Association, the Boston Online Film Critics Association, The Gay and Lesbian Entertainment Critics Association, and the Boston Theater Critics Association's Elliot Norton Awards Committee.