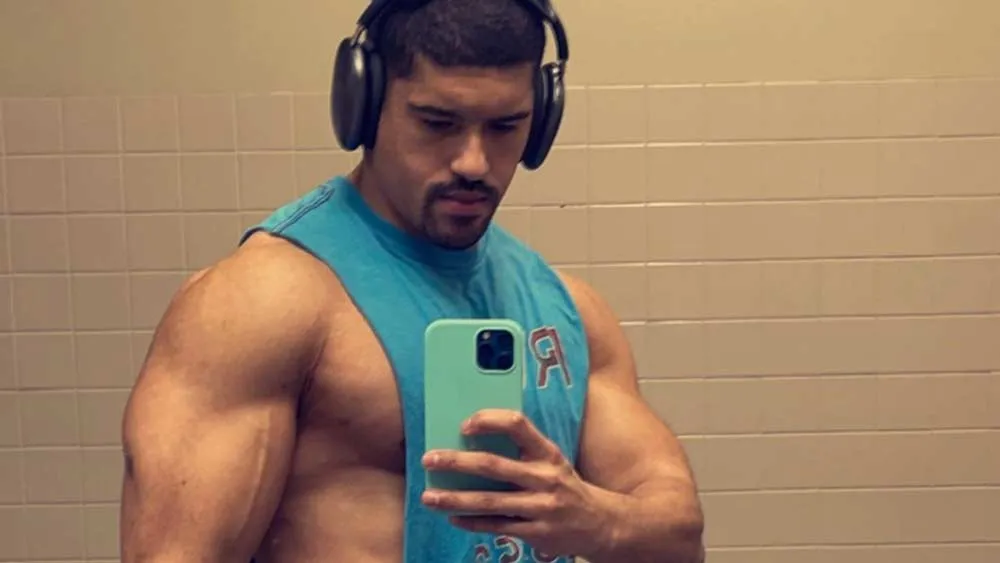 Out Wrestler Anthony Bowens Sets his Sights on World Champion Title
Who's ready for an openly gay wrestling world champion? Anthony Bowens, for one – and his legions of fans along with him. Bowens has all but conquered All Elite Wrestling with his signature scissor move and charismatic appeal. Now he means to conquer the world.
Bowens and his straight partner Max Caster comprise the AEW team The Acclaimed. The duo has become "one of the most popular tag teams in AEW," Ringside News notes. "Bowens, in particular, has the kind of infectious energy that fans can't get enough of.
"Now," the publication adds, "it appears Bowens wants to be AEW's first gay World Champion."
The wrestling champ made no bones about his ambition in an interview with Out Magazine that was published only a couple of weeks after The Acclaimed, together with wrestling icon Billy Gunn, triumphed at the AEW World Trios Championships.
"As much as I hope The Acclaimed, the tag team I'm a part of, stays forever, I would love to become AEW's first gay World Champion," Bowens told Out. "I got the Tag Team titles checked off the list, but there hasn't been a gay World Champion.
"I would also like to be a Grand Slam champion, too, which is where you win every title once."
Bowens gave credit to higher-ups in the wrestling world who stood out of the way to allow him and other LGBTQ+ stars the freedom to bring their authentic selves to the ring.
"Thankfully we don't have to exist anymore being stereotypes or being the fodder in the story," Bowens said. "We're presented as credible athletes and champions like myself or [Nyla Rose].
"Wrestling has come a long way with the presentation of queer athletes, which is why I'm particularly happy I'm signed to [All Elite Wrestling]. Tony Khan and the company allow us to be us and whatever that may be, whether it's Sonny Kiss, who is genderfluid, or Nyla Rose, or myself" – he added with a laugh – "who now has straight people scissoring each other."
Asked about a "pivotal moment" in LGBTQ+ acceptance in the wrestling world that took place last June, when QTV reporter Heather Cameron came onto him in the ring and the arena full of fans started chanting "He's gay!," Bowens noted, "I never said the words 'I'm gay' on television because my form of activism is to go out every week and exist successfully. I'm visible and I represent people.
"I don't like to shoehorn things in there," Bowens explained. "I want it to be natural, not forced. I never found the right time to implement it and when it was presented to me, I felt this would resonate with a lot of people and we didn't know what to expect."
Bowens went on to add: "To have a full arena standout and give a standing ovation, it's one of my favorite moments since joining AEW because it was such a cool, genuine moment for everyone in the arena and in the ring too. I turned to Billy and he said this was amazing and incredible. My tag team partner was excited too.
"Especially on X (formerly Twitter) these days where there's so much anti-LGBTQ+ rhetoric going on, I expected the platform to be bombarded with a ton of negativity," Bowens marveled, "but it was filled with so much positivity."
Out Magazine noted that despite the progress Bowens and other out athletes have made, it's a certainty that there are pro wrestlers who remain in the closet.
Bowens acknowledged that not everyone has the privilege of being open and authentic, saying that it might not do much good for him to encourage "a person who lives down south and may get hurt for it" to come out. Such an outcome, Bowens said, could be "similar to the incident that occurred with O'Shae Sibley, who was voguing in New York City and was having the time of his life and ended up getting killed.
"It gets very hard for me to give advice because I have to take everything situationally," the champion added, "but what I will say is there are people, like myself and other athletes, trying to pave the way and open doors for you to make sure the future is a lot brighter and have avenues to be whomever you want to be.
"There are people out there working for you trying to make the world a better place so keep hope and stay positive."
Check out some of the thirsty pics Bowens has posted at his Instagram:
---
Kilian Melloy serves as EDGE Media Network's Associate Arts Editor and Staff Contributor. His professional memberships include the National Lesbian & Gay Journalists Association, the Boston Online Film Critics Association, The Gay and Lesbian Entertainment Critics Association, and the Boston Theater Critics Association's Elliot Norton Awards Committee.