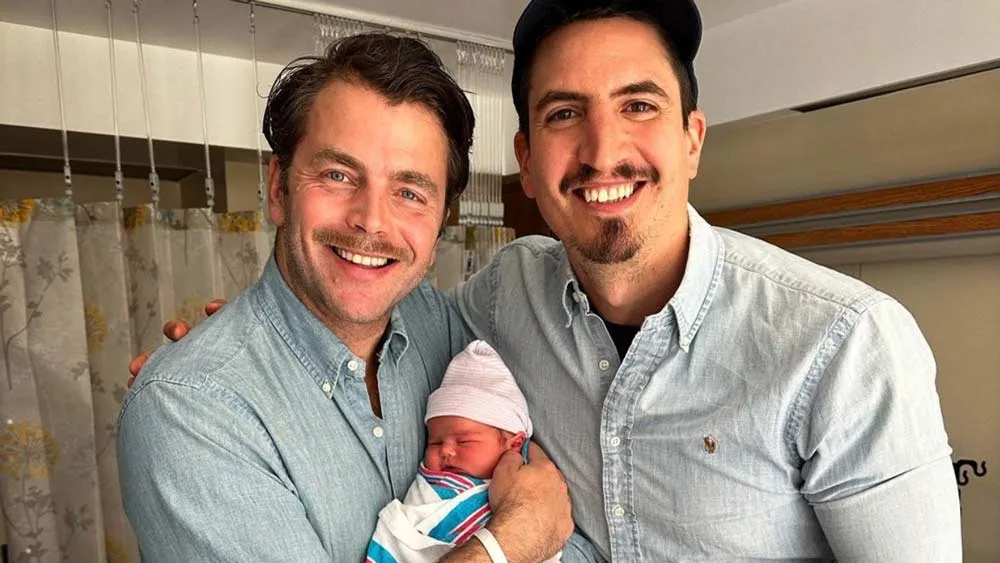 Elle Hungary Stands Up to Country's Homophobic Laws, Covering Gay Dads and Their Daughter
The Hungarian edition of Elle Magazine has taken a courageous and principled stand for same-sex families by putting two gay dads and their baby daughter on the cover in defiance of "no homo promo" laws. The publication has also stated its support for "rainbow families" on social media.
"Revealed on Tuesday, September 5, the artwork shows restaurateur Hubert Hlatky Schlichter and his neurosurgeon husband Dr. Laszlo Szegedi holding and kissing their baby daughter Hannabelle, with the tagline 'Born from love' displayed beneath," GCN reported.
Elle featured its bold cover in an Instagram post where the publication declared, "Every child deserves to grow up in a safe, caring and supportive environment and no one can prevent this based on their parents' gender identity or sexual orientation."
The magazine introduced its slogan for the image and the story that goes with it: Born from Love, "because families, regardless of their structure, are rooted in deep, unconditional love."
Elle promoted the story as a testament from the couple about the hardships and discrimination they must navigate living in a country beset by relentless attacks against LGBTQ+ people and their families.
The couple, too, have posted about their family journey on instagram.
The 13-year rule of hard-right Prime Minister Viktor Orbán has been characterized by laws that target and smear gay people, lumping them untruthfully with "pedophiles" and requiring that publications showing or dealing with LGBTQ+ themes and issues be hidden from view – literally, by being covered in wrapping, ostensibly to "protect" children.
"The Prime Minister's government also proposed an amendment to the constitution to define families as 'based on marriage and the parent-child relation [whereby] the mother is a woman, the father a man,'" GCN detailed, "which was then passed by the National Assembly."
"Additionally, same-sex marriage and abortion are illegal in Hungary, as is gender change on official documents for trans, non-binary and intersex people."
As if that cavalcade of assaults on the freedoms and dignity of LGBTQ+ people were not enough, "Orbán's government also proposed a bill that, if made law, would have enabled citizens to report LGBTQ+ families to authorities," GCN noted.
"However, the move was vetoed by the country's president, Katalin Novák, usually an ally of the Prime Minister."
---
Kilian Melloy serves as EDGE Media Network's Associate Arts Editor and Staff Contributor. His professional memberships include the National Lesbian & Gay Journalists Association, the Boston Online Film Critics Association, The Gay and Lesbian Entertainment Critics Association, and the Boston Theater Critics Association's Elliot Norton Awards Committee.