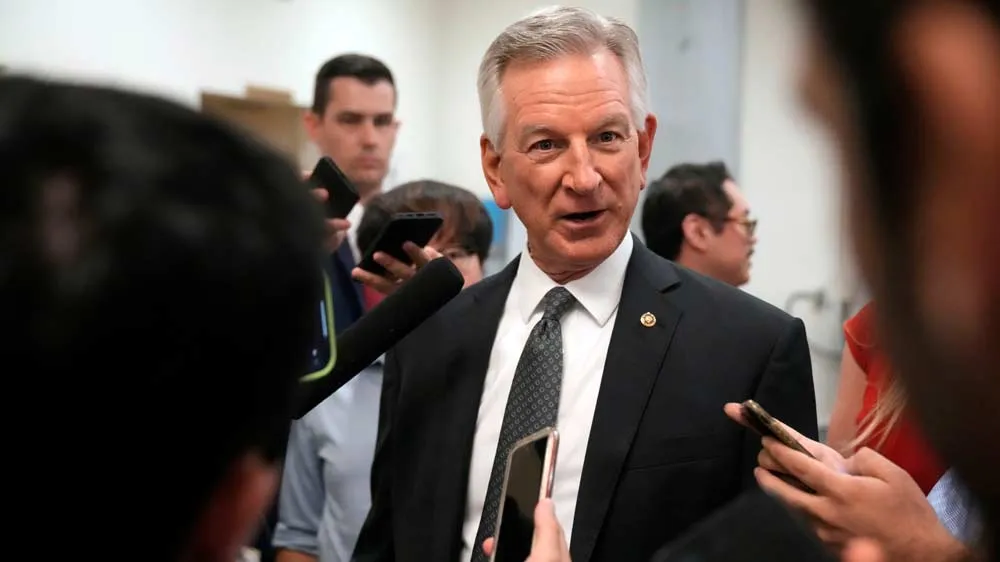 Hundreds of Military Promotions are on Hold as Republican Senator Demands End to Abortion Policy
Kevin Freking and Tara Copp
READ TIME: 5 MIN.
Top defense officials are accusing Alabama Sen. Tommy Tuberville of jeopardizing America's national security with his hold on roughly 300 military promotions, raising the stakes in a clash over abortion policy that shows no signs of easing.
Tuberville brushed off the criticism, vowing he will not give in. "We're going to be in a holding pattern for a long time," he said, if the Pentagon refuses to end its policy of paying for travel when a service member goes out of state to get an abortion or other reproductive care.
It's a classic Washington standoff with rippling effects across the country, placing the lives of servicemembers effectively on hold as they await what has traditionally been routine Senate approval for their promotions.
Frustration mounting, the secretaries of the Navy, Air Force and Army wrote an op-ed in the Washington Post this week saying Tuberville's efforts were not only unfair to the military leaders and their families but also "putting our national security at risk."
They noted that three military branches – the Army, Navy and Marine Corps – have no Senate-confirmed chiefs in place. Those jobs are being performed without the full range of legal authorities necessary to make decisions that will sustain the U.S.'s military edge, they wrote.
In a CNN interview, Secretary of the Navy Carlos Del Toro accused Tuberville of "playing Russia roulette with the very lives of our servicemembers by denying them the opportunity to actually have the most experienced combat leaders in those positions to lead them in times of peace and in times of combat."
Looking ahead, the secretaries said in their op-ed that prolonged uncertainty and political battles over military nominations "will have a corrosive effect on the force."
"The generals and admirals who will be leading our forces a decade from now are colonels and captains today," they wrote. "They are watching this spectacle and might conclude that their service at the highest ranks of our military is no longer valued by members of Congress or, by extension, the American public."
Tuberville took umbrage with the three defense secretaries. He said they should have spoken with him first "if you're gonna run your mouth in the paper."
"I have not heard from any of them," he said.
If they were truly worried about readiness at such a dangerous time for the world "you would think they would be calling, 'Coach, let's work this out.' Zero," Tuberville said.
However, there have been multiple attempts by both the department's top civilian leaders and its top uniformed personnel to try and show Tuberville how the holds are doing harm, a senior military official and defense official said.
A senior military official familiar with previous meetings with Tuberville said that despite telling the senator about the real-world and personal challenges that his hold has created on servicemembers, Tuberville has not seemed willing to change his position.
Tuberville said that during the August break, he visited six states, and "I didn't have one negative comment from anybody. I had questions, but I didn't have any negative comments."
He insisted that he would lift his hold on the military nominations only after the Pentagon rescinds the policy that Defense Secretary Lloyd Austin put into place in October, after the Supreme Court ended the constitutional protections for abortion that had been in place nearly 50 years.
Once the Pentagon returns to pre-memo policies on travel reimbursement, Democratic leaders could bring up for a Senate vote whatever replacement policy they want to enact, he said.
"Move it back," Tuberville said of the current reimbursement policy. "And then have them write up what they want to vote on, and I will accept whichever way it goes. The holds are off. Let's go to work."
Tuberville's blockade is unique because it affects hundreds of military nominations and promotions. Democratic leaders would have to hold roll call votes on every single one to get around the hold, an unwieldy and time-consuming process in a chamber that already struggles to finish its basic business.
It's a decades-long tradition for the Senate to group military nominations and approve them by voice vote, avoiding lengthy roll calls and reserving valuable floor time for other important issues.
But, while unusual, Tuberville's office notes that lawmakers from both parties have threatened holds on military promotions over the years. What's truly unprecedented is the length of time it has gone on with Tuberville.
Austin has called Tuberville three times about the holds, the last time was on July 18, and the Pentagon's legislative affairs staff continues to engage with him, a defense official said on the condition of anonymity because they were not authorized to discuss the issue. Also, Defense Department staff met with Senate Armed Services Committee staff in July to go over the details of DOD's reproductive healthcare policy.
The Pentagon to date has not provided data on the number of service members who have relied on the new policy to get access to an abortion, citing privacy issues. It emphasizes that the new policy was in response to the Supreme Court's Dobbs decision, which created a situation where federal troops serving in one state may not have access to the same type of reproductive services available in others.
As many as 650 nominations could be affected by the end of the year if the impasse continues. But if Republican leaders are pressuring Tuberville to end his holds, they are not doing so publicly.
"I'm hoping that the conversations that occur this week and the conversations that Senator Tuberville has had with the military leadership will lead to a breakthrough at some point," said Sen. John Thune, the No. 2 Republican in the Senate.
The Pentagon said the number of promotions on hold in the Senate has reached 98 in the Air Force, 91 in the Army, 86 in the Navy, 18 in the Marines and 8 in the Space Force.
Some Republicans have suggested that Senate Majority Leader Chuck Schumer, D-N.Y., could hold votes on some of the most critical nominations. But Schumer rejected that approach.
"The bottom line is this is a problem created by Republicans and it's up to them to solve it," Schumer said.
Sen. Lindsey Graham, R-S.C., said he would like for Schumer to schedule a vote on the Pentagon reimbursement policy, but if it fails, which it most assuredly would, "it's now time to get these people promoted."
"I'd like to vote to rescind the policy, but I'm not going to hold the military up in perpetuity," Graham said.
Sen. Roger Wicker, the ranking Republican on the Senate Armed Services committee, was asked if he had any recommendations or guidance for Tuberville that could resolve the impasse.
"I'm out of ideas," Wicker said.
---