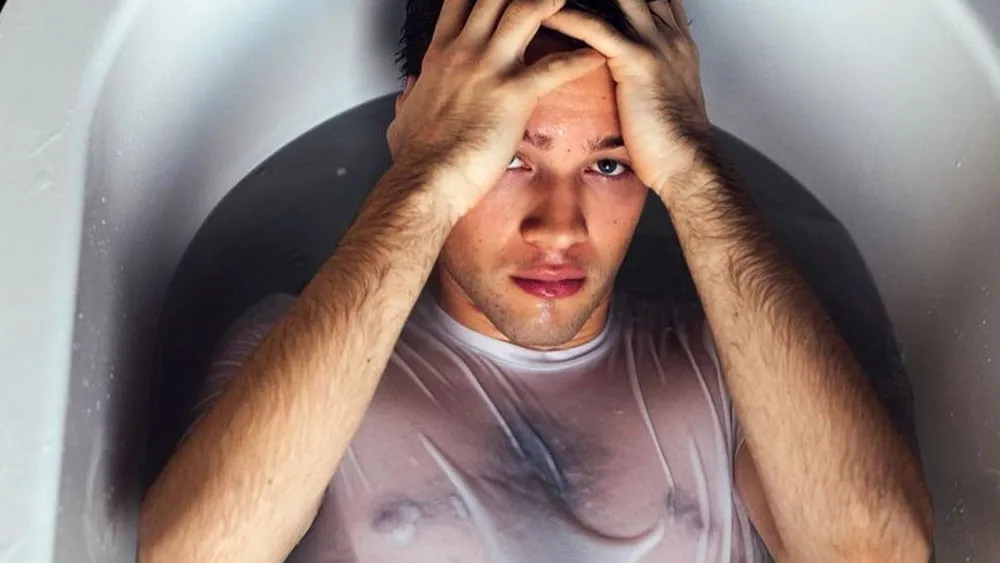 10 Insta-Reasons We Love Rising Out Actor Connor Jessup
It's time to get acquainted with one of the truly genuine, openly gay rising star actors in Hollywood today: Connor Jessup.
This hunk has a varied filmography in his young career, ranging from roles in horror flicks to science fiction TV shows and several projects in between. His first break came as the middle son on the TNT apocalypse drama "Falling Skies." Jessup's second big role on television came in the second season of the anthology drama "American Crime," where, in Season 2, he played Taylor Blaine, a man trying to win a sexual assault case against his perpetrator. Even though he didn't open up about his sexuality until 2019, Jessup was playing queer roles in films such as "Closet Monster." In 2018 he directed a short documentary on out Thai filmmaker Apichatpong Weerasethakul ("Memoria," "Uncle Boonmee Who Can Recall His Past Lives") for FilmStruck and The Criterion Collection.
He constantly does photo shoots and supports his fellow actors in the LGBTQ+ community. It's time to look at Jessup's IG post and learn a bit about his life!
Since coming out, Jessup has featured prominently in other queer artists' lives, making friends with some of our favorite LGBTQ+ actors working today. Here Jessup shows his friendship with "Heartstopper" stars Joe Locke and Sebastian Croft. Locke plays the lead role, Charlie Spring, and Croft plays the school bully, Ben Hope. As the teenagers in this show are younger than Jessup, perhaps he serves as a big sibling figure for them as they navigate fame and fortune in the spotlight.
You always have to love it when celebrities pull us into their childhoods, allowing us to share in the nostalgia of a time in the past. Jessup gives us a throwback to his younger years hanging out with a horse, replete with a caption about his goofy haircut. Who among us really had decent trims atop our scalps before adulthood? Not many!
https://www.instagram.com/p/CXeA5jWMc3g/?img_index=1
Jessup looks stylish and sexy in this photoshoot from American Studies magazine. Colorful shoes and a peek at Jessup's armpits are some of the highlights in this spread of pictures. He made sure to credit all of the lovely people who made the magazine come to life, such as the stylist and photographer.
Jessup is inspiring in his ability to support his fellow queer fans and actors, here promoting an organization he founded with Sebastian Croft, Queer Was Always Here. The main product sold through the charity is an adorable t-shirt with gay dinosaurs on the front, symbolizing the long history of LGBTQ+ people around the world. This helps to educate people who believe the queer movement is a recent development; there have always been millions of non-straight individuals throughout human history.
Jessup shows his appreciation for international cinema by posing in this awesome photo with Tilda Swinton and openly gay Thai director Apichatpong Weerasethakul. They're promoting the 2021 film "Memoria," here where Swinton plays a Scottish woman living in Colombia and is haunted by a loud noise that sends her on a metaphysical journey. Jessup loves photography when he's not acting, and his collage of photos from the set of the movie is both fascinating and fun!
No caption or added context here, just a photo of Jessup being sexy and sophisticated in a black sweater and blue jeans. Jessup sports a beard here, something he doesn't usually do. It certainly adds to his maturity and makes him even more handsome!
One year after his coming out, Jessup celebrates National Coming Out Day with a throwback to when he was 13 years old, performing in the play "Macbeth," a Shakespearean staple in middle and high school productions. Jessup eloquently articulates all of the feelings and emotions that come with deciding when to come out and encourages his closeted fans to take all the time they need to accept and love themselves.
Jessup shows off his good looks and body on the cover of Attitude magazine. The interview with consists of Jessup's thoughts about a year after coming out on social media, along with some promotion for his work on the Netflix horror series "Locke & Key." We especially love the pink ensemble in this collection!
Jessup shows a fun memory on the set of "Falling Skies" while welcoming his on-screen father from the show, Noah Wyle, to the social media platform. Wyle played protagonist Tom Mason for five seasons, while Jessup played Ben Mason, the middle son of three.
Jessup's original coming-out post from June 2019 is full of inspiring insights and relatable tidbits that every queer person will nod in agreement with. One of our favorites is Jessup discussing the internalized homophobia you feel before coming out, even when you know your family and friends will accept you. Accepting yourself is the hardest hurdle to overcome.
---