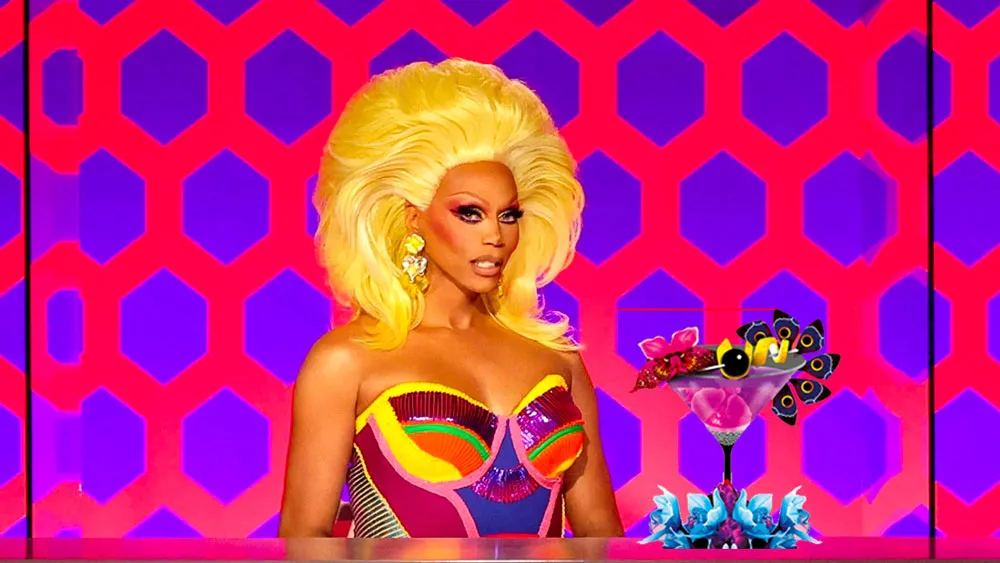 Cocktails Inspired by Drag Legends – Talking with Greg Bailey on 'Dragtails'
The criteria to succeed on "RuPaul's Drag Race" rests of four words: charisma, uniqueness, nerve, and talent (whose acronym gives new meaning to a derogatory term). But how can they be applied to cocktails?
That is the challenge that Greg Bailey and Alice Wood faced when coming up with mixing options that reflect drag stars, both living and dead. "Just as raucous, ravishing and brimming with camp as the drag stars who inspired them, these 50 cocktails are destined for the spotlight," reads a press release.
"With a foreword by drag legend and Drag Race superstar Raja Gemini, Dragtails will add a spring to your step, a bounce to your weave and a shimmer to your lip gloss.
"Each Dragtail is brought to life with an inventive illustration that echoes the charisma, uniqueness, nerve and talent of the particular queen that inspired it. Along with ingredients and methods, an ode to the artist explains the inspiration for the drink."
Amongst the drag greats featured are Divine ("Baltimore Mud Pie"), Monet X Change ("Sponge Queen"), RuPaul ("PB and Slay"), and Juno Birch ("Absolutely Alien").
Plus many more cocktails inspired by legendary queens such as: Danny La Rue, Lawrence Chaney, Manila Luzon, Meatball, Peppermint, Shea Coulee, Jinkx Monsoon, Raja Gemini, The Vivienne, Bianca del Rio, Blue Hydrangea, The Boulet Brothers, Brooke Lynn Hytes, Coco Peru, Victoria Scone, Detox, Cherry Valentine, Tayce, Katya, BenDeLaCreme, Courtney Act, , Ginny Lemon, Pangina Heals, Priyanka, Adore Delano, Cheddar Gorgeous, Chi Chi Devayne, Choriza May, Envy Peru, Lady Red Couture, Hot Chocolate, Liquorice Black, Miss Toto, Nicky Doll, Bimini Bon Boulash,and Alexis Saint-Pete (amongst others).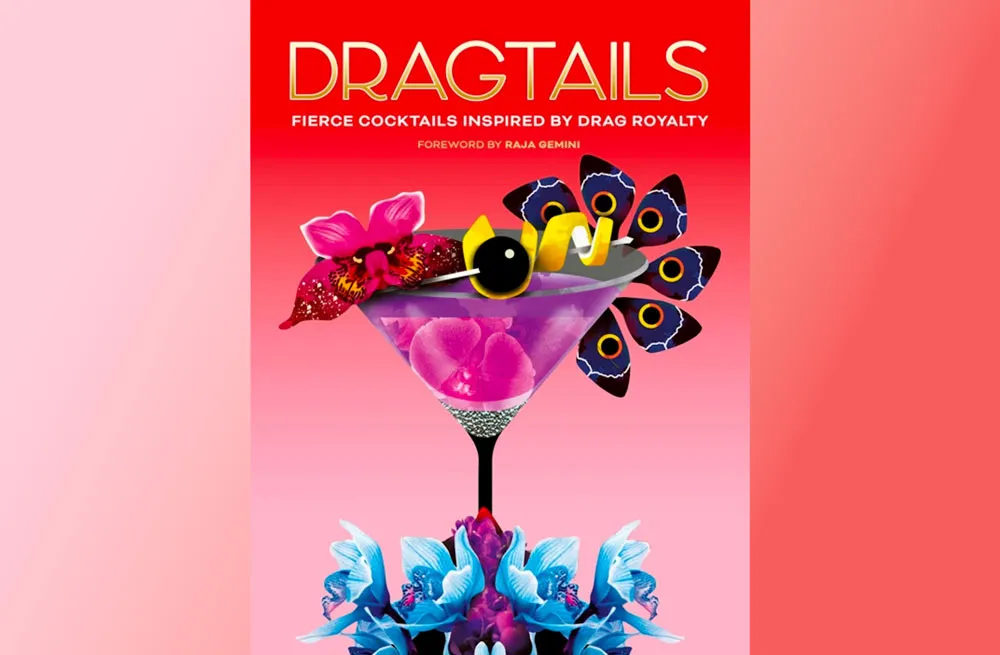 As a photographer and writer, Bailey has been chronicling the drag world for some time. In 2018 his book "Alright Darling?: The Contemporary Drag Scene," featuring original photos by Bailey was published. Since then, he has developed the Alright Darling" podcast with hairdresser Daniel Leo Stanley. For more on Bailey's photography, visit his website.
But for the book, Bailey does not provide photography, instead worked with illustrator Ruth Moosbrugger to capture the essence of each drag star and their cocktail. Moosbrugger is an illustrator who has worked for Vogue, GQ and Glamour magazines. Ruth uses collage to create illustrations that mix a host of different influences, from leaves to lipstick, money to microphones.
EDGE spoke to Bailey as to how the book came about and his love of drag.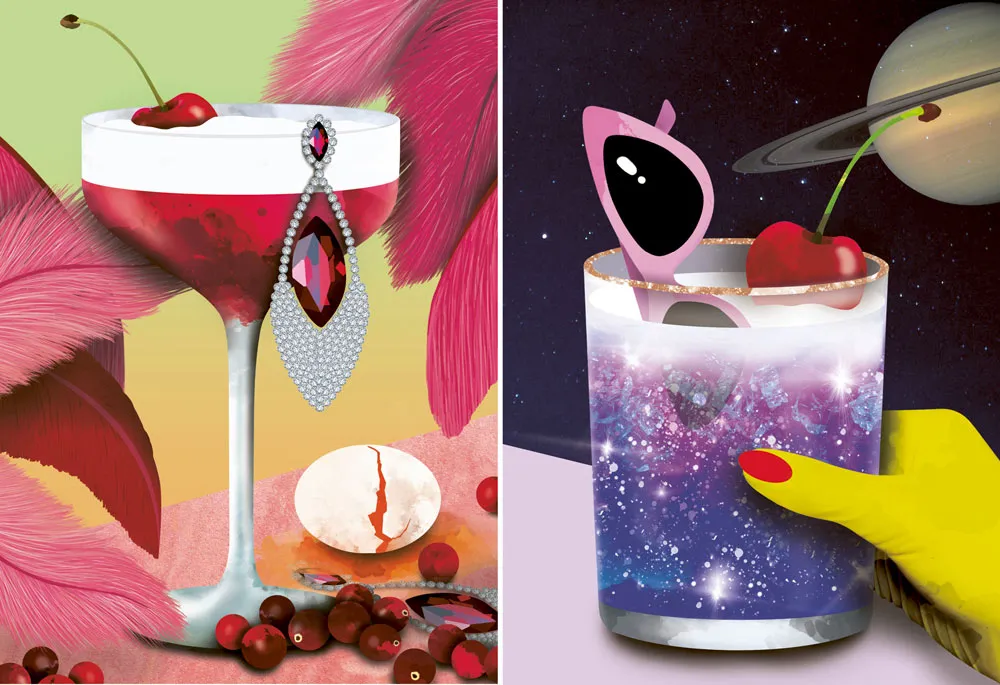 EDGE: How did the idea for "Dragtails: Fierce Cocktails Inspired by Drag Royalty" come about?
Greg Bailey: Actually, the idea came from Andrew Roff, editor, at Quarto Publishing. He and I have worked together on my book, Alright Darling?: The Contemporary Drag Scene and a couple of card games for Lawrence King Publishing. When he moved over to Quarto, we just carried on working with each other. I loved the idea and was glad to work with him again and meet some new creative people. Plus, I just love working on and creating drag related stuff.
EDGE: What made Alice Wood the perfect collaborator?
Greg Bailey: I was partnered with her. She wasn't someone I found, but getting to work with her was brilliant. She clearly knows exactly what she's doing. For every drag performer that I picked, I gave her a rundown on who they were and their aesthetic. She just got it.
EDGE: I would imagine it was tough to choose who to include. How did you make your choices?
Greg Bailey: I wanted to make sure they were diverse and inclusive group, but I also picked my favorites. People I love and connect with. A lot of them are my friends as well.
EDGE: What was the process for creating the dragtail to perfectly match its namesake?
Greg Bailey: After I chose who was going to be included, I spoke to Alice and suggested the alcohols. Originally, we were just going to use the drag artist's name, but Quarto wanted us to come up with drink names for each dragtail. So, me and Alice worked on that together. Sometimes she would suggest an ingredient, and sometimes it would work and other times I didn't think it really suited the person. We would then send our creations to Andrew, and he would let us know if it sounded delicious. We were trying to create something brand new, but also wanted to put a twist on the classics, so there's a familiarity there and people would connect with the drinks as well.
EDGE: Which cocktails in the book are your favorite?
Greg Bailey: I actually haven't tasted any yet. I really wanted to include Cheddar Gorgeous, but I thought how am I going to create a cocktail inspired by cheddar? I didn't want a cheesy cocktail that would be disgusting. I thought what's a great compliment to cheese, or a cheese platter or charcuterie board – Quince. That would be a really good flavor because it's something that pairs well with cheeses. We came up with Quince Charming," which is a half a teaspoon of honey, quince vodka, port, and fizzy apple juice. It just sounds so good. I can't wait to make it.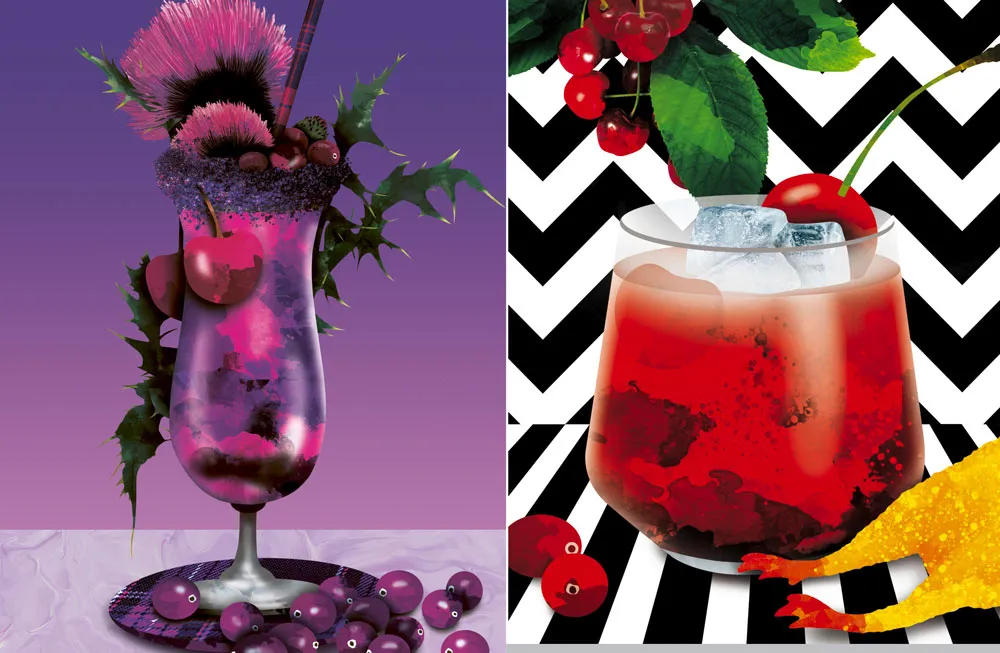 EDGE: Have you made the dragtail for its queen?
Greg Bailey: Not yet, but I have run the idea past nearly all of them. There were a few queens who I've run the idea for their drinks and asked if they like the idea. Alexis St. Pete told me her favorite vodka, so I made sure to include that in her inspired drink. Choriza May, who has a song called, "My Pussy is a Peach," so I included peach in her drink, and she loved the idea. I do want to create some content soon where me and my podcast co-host make some of these cocktails with their namesakes.
EDGE: What's the most underrated cocktail ingredient?
Greg Bailey: I don't know if it would be considered underrated, but it was one that I was confused by, and vegans won't like it. There's a drag performer named Meatball. I did an interview with her a while back and asked why her name was Meatball. She told me when she lived in New York and when she and her friends were finishing a night out, they would go to their favorite restaurant named Nino's Pizza and get a meatball sub. For her drink, we decided to create our take on a Bloody Mary. It's called Late Night Snack and it is just so extra. To make it, you will need vodka, tomato juice, lemon juice, horseradish sauce, Worcestershire sauce, tabasco sauce, black pepper, sea salt, celery stick, pickles, olives. The most interesting ingredient is beef stock. Beef stock in a cocktail is so unique and probably underrated. So, beef stock would be my answer.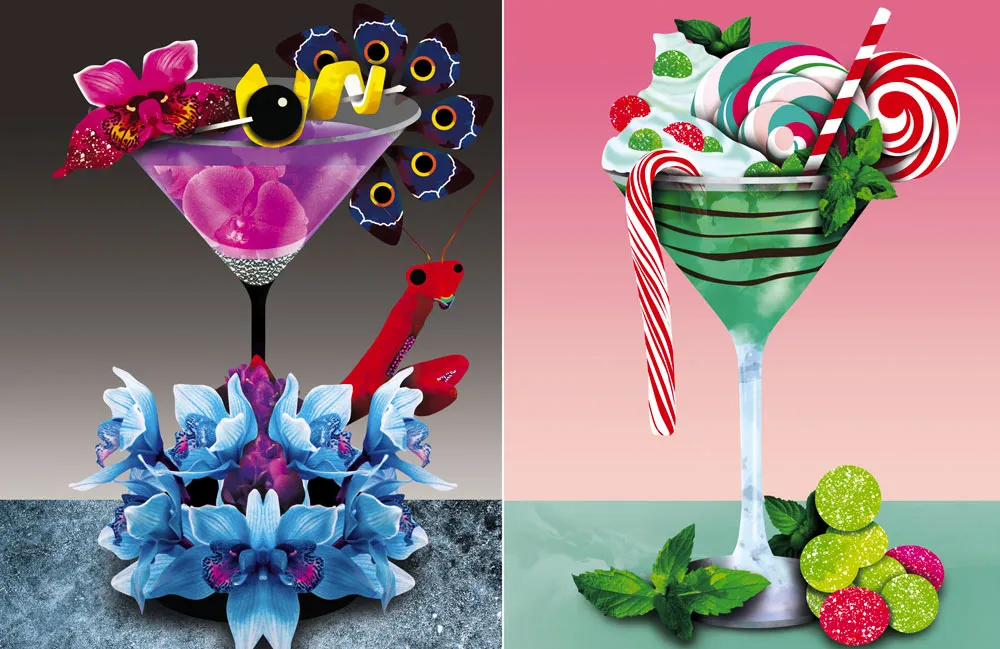 EDGE: If a dragtail was created for you, what would it be named?
Greg Bailey: Oh geez. It would probably be a take on a Jack Daniels and Coke. I like a double Jack Daniels and Coke, or a Long Island iced tea. I suppose it would have to play on my photographer job, so it would be called Sexy Voyeur.
EDGE: How come artwork was used instead of photographs of the dragtails?
Greg Bailey: That's exactly one of the questions I had when I got approached with this project. I thought I would have been photographing them. Ruth Moosbrugger is an illustrator that Quarto wanted to work with for a very long time and she has done some brilliant illustrations of cocktails in the past. It really turned out to be a nice collaboration between a big group of people. At first, I questioned it, but to be honest, once Ruth got started, I was glad I wasn't doing it. I was making my suggestions on the drawings, but it was quite nice to just focus on my part of the book.
EDGE: Tell us about your podcast "Alright Darling."
Greg Bailey: I started the podcast about three years ago. The idea originated from my magazine called Alright Darling. I then turned it into a book that and I wanted to keep it going – to find its next progression. I thought a podcast would be the next logical step. I love talking and being stupid and silly. I love talking about all things queer. My best mate, Dan, who lives literally 10 doors down from me is my cohost. We are on a bit of hiatus at the moment because we've both got a lot going on, but we will get back to it soon.
For more on "Dragtails," follow this link. For more on Greg Bailey, visit his website
---