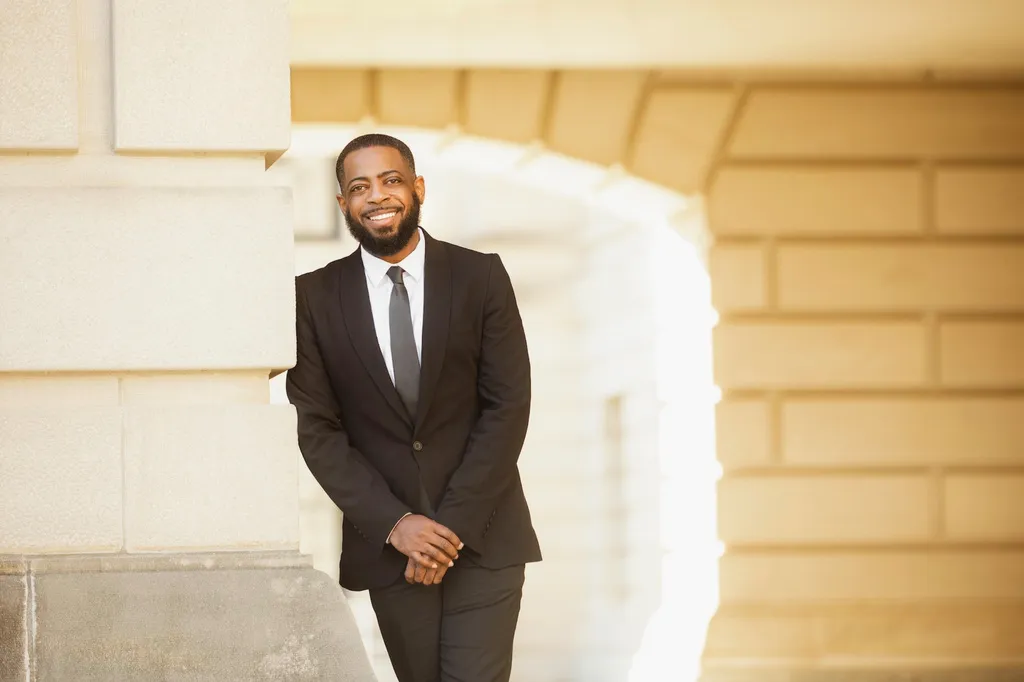 Mississippi Democrat Wins Primary, Set to Become the State's First Openly Gay Lawmaker
Michael Goldberg
READ TIME: 3 MIN.
Mississippi will have its first-ever openly gay state legislator after a House candidate won his Democratic primary election runoff Tuesday.
Fabian Nelson, a 38-year-old realtor from Byram, prevailed over Roshunda Harris-Allen, an education professor at Tougaloo College and alderwoman in Byram. The race to represent the House district in the south Jackson metro area was decided in a runoff after neither Nelson nor Allen received a majority vote in the Aug. 8 primary. A local pastor finished a distant third and did not advance to the runoff.
Nelson's victory comes on the heels of a historic wave of restrictions passed by Republican-controlled legislatures targeting the rights of transgender people. LGBTQ+ advocates say they've seen a record number of measures aimed at their community in 2023. In February, Mississippi enacted a ban on gender-affirming hormones or surgery for anyone in the state younger than 18.
Republicans did not field a candidate for the general election, so Nelson will go on to represent the district. He will be sworn in before the next legislative session in January. His win marks the fulfillment of a goal he's had since visiting the Capitol on an elementary school field trip and telling his teacher he'd sit on the House floor one day.
"I still think I'm in a dream. I'm still trying to process it and take it in," Nelson said in an interview Wednesday. "It's still shocking to me, I have to be honest."
Nelson was endorsed by the Human Rights Campaign, the nation's largest organization devoted to LGBTQ+ rights. In June, the organization declared a state of emergency for LGBTQ+ people in the U.S., pointing to the passage of bills it deems discriminatory.
"It sends a real message in a time when we are seeing attacks legislatively and through violence against the LGBTQ+ community that the majority of people reject that kind of animus," Rob Hill, state director of the Human Rights Campaign's Mississippi chapter, said in an interview after Nelson's victory. "I think a lot of youth around the state who have felt like their leaders are rejecting them or targeting them won't feel as lonely today."
The Hinds County district includes Southwest Jackson and part of Byram, Salem and Terry. Nelson said he connected with voters by relying on his deep local ties. In office, he wants to increase health care access for low-income people by pushing for Medicaid expansion.
"Don't get me wrong, it's great being first, but ultimately what won this campaign is the fact that I'm in touch with my community and the issues my community is facing," Nelson said.
He also wants to be a voice against policies that harm marginalized communities, he said.
"At the end of the day, I put my suit on the same way every other person who walks in that statehouse does," Nelson said. "I'm going to walk in there, and I'm going to be a sound voice as to why things like this can't continue to go on in the state of Mississippi."
In a statement, Annise Parker, president of the LGBTQ+ Victory Fund, said Mississippi is "one of the last two states to achieve the milestone of electing an out LGBTQ+ lawmaker. "
"Voters in Mississippi should be proud of the history they've made but also proud to know they'll be well-represented by Fabian," Parker said.
One of the authors of Mississippi's ban on gender-affirming care for minors, Republican Rep. Nick Bain from Corinth, was trailing Wednesday in a nail-biting primary runoff in north Mississippi. The race still had not been called Wednesday, but Bain trailed fellow Republican Brad Mattox, who owns a gun shop called Big Bang Trading Company.
In south Mississippi, Felix Gines, a Biloxi City Council member first elected as a Democrat, lost a Republican runoff to Zachary Grady, a former police officer.
Rodney Hall, a recent aide to GOP Congressman Trent Kelly and former Army veteran, won the Republican primary in a northeast Mississippi district and faces no opponent in November. He is set to become the first Black Republican elected to the state Legislature since the 1890s.
---