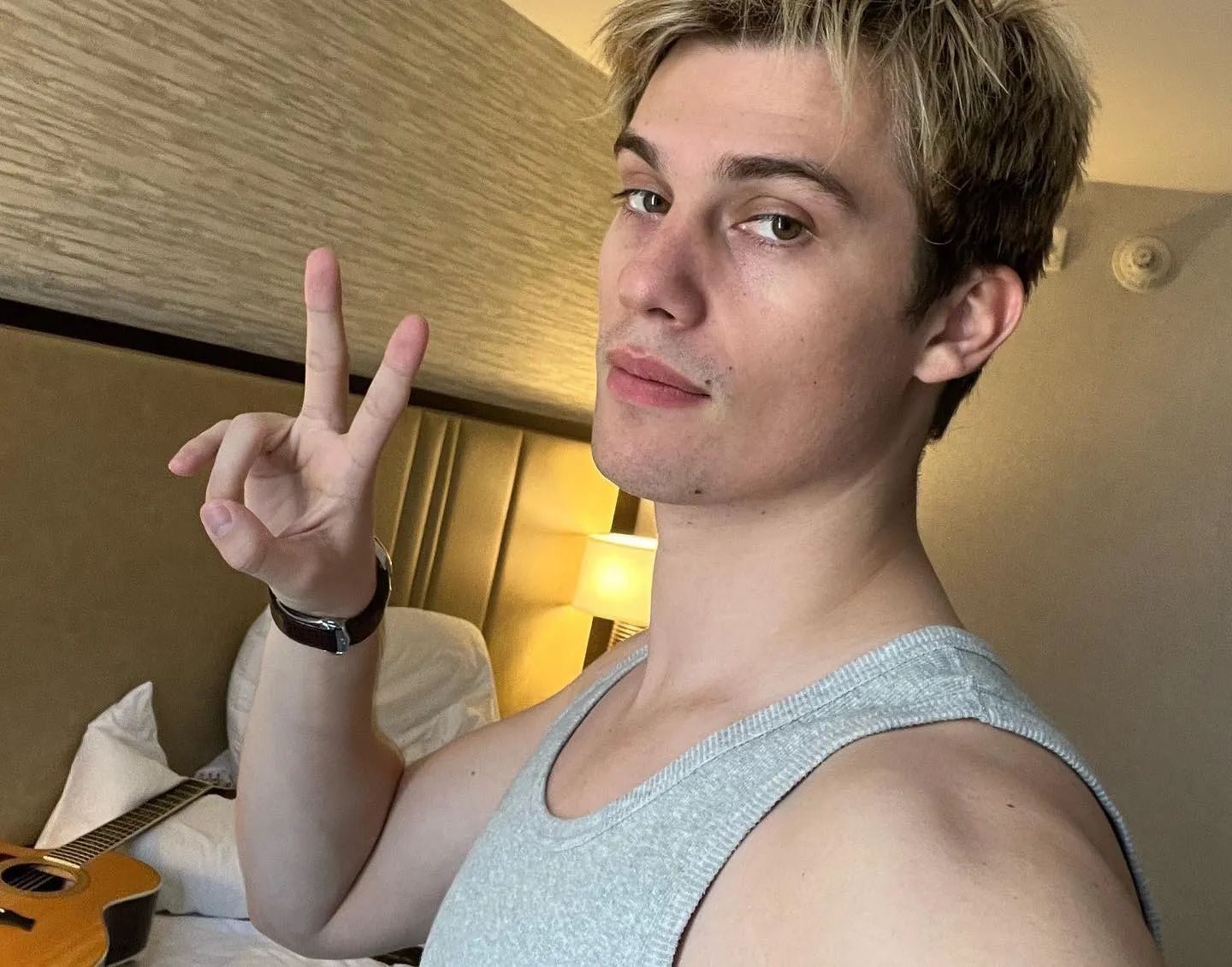 10 Insta-Reasons We Love 'Red, White & Royal Blue' Star Nicholas Galitzine
Amazon Prime Video's newest gay rom-com, "Red, White & Royal Blue," has definitely taken Gay Twitter and the Internet at large by storm. Based on the Casey McQuiston novel about a romance between the prince of England and the first son of the United States President, the love story has all the usual corny trappings of a good rom-com but is told through a very horny LGBTQ+ lens. Lead actors Taylor Zakhar Perez and Nicholas Galitzine have a clear chemistry that makes the story shine. We already covered the hot and sexy posts of Taylor Zakhar Perez (who plays Alex Claremont-Diaz), so now we turn our attention to his castmate, Nicholas Galitzine.
This 28-year-old British hunk has several movies under his belt, including playing opposite to Sofia Carson in a Netflix romantic film titled "Purple Hearts" in 2022. His upcoming appearance in the hotly anticipated queer comedy "Bottoms" will put him in a supporting role next to Rachel Sennott ("Bodies, Bodies, Bodies," "The Idol") and Ayo Edebiri ("The Bear").
We thought we would go over some of Nicholas Galitzine's social media posts so you can better get to know his career and personality.
Galitzine is starting to become a mainstay in LGBTQ+ shows and movies, here coronating his time working on queer historical drama "Mary & George." Galitzine will play George Villiers, 1st Duke of Buckingham. Villiers was one of King James VI's lovers during the 16th and 17th centuries. Galitzine talks about how much fun it was working with the cast and crew and getting to do activities resembling those from that time period.
Galitzine takes the cover of GQ magazine with Taylor Zakhar Perez to promote "Red, White & Royal Blue." The actors not only look sexy, but they also share a unique bond after filming the hit film. Fans in the comments section love seeing the duo share the cover of the magazine.
There's no way to prove it, but it feels like actors who get along great off the screen are able to capture that same affability in the film. Galitzine and Perez have an awesome friendship vibe, demonstrated in this fun video of them taking a friendship quiz for GQ. Many of the questions have to do with the contrasting lifestyles of living in the United States and England, and both men seem to know quite a bit about the other's home country.
Galitzine shares more on-set photos with co-star Julianne Moore on the aforementioned "Mary & George." The legendary Moore will play Mary Villiers, Countess of Buckingham, the mother of Galitzine's character in the British drama. Mary's relationship with George will be documented in the show, demonstrating her influence on the eventual romantic partnership of King James VI and George Villiers. We're excited to see the chemistry between Moore and Galitzine.
Galitzine is definitely thirst-worthy and has fans swooning in this selfie from his dressing room in January 2023. The British hunk is very handsome with his real-life black hair (contrary to the blonde from "Red, White, and Royal Blue"), and the open shirt and earrings are also enough to be fans hot and bothered.
Galitzine shares the privilege of being on the cover of Esquire in December 2022. The actor is wearing a fashionable green sweater with black pants, and "Red, White, and Royal Blue" co-star Rachel Hilson and "Never Have I Ever" actress Poorna Jagannathan complimented his suave, sexy look in the photoshoot and cover picture.
Galitzine is overwhelmed by the billboard showing him and co-star Sofia Carson in "Purple Hearts." It's always very touching to see actors appreciate the privilege they get to perform in front of the world, and we're definitely rooting for more successful roles for Galitzine.
Galitzine shows a photo from the final day working on "Red, White & Royal Blue." The post is from August 2022, almost exactly a year before the film's release this month. It must be exciting and excruciating waiting so long to see the finished product you worked on finally get released in front of audiences.
It looks like Prince Henry's piano skills are shared by Galitzine in real life! Here he shows off some piano and sings for fans, much to the satisfaction of the impressed commenters below the post.
Galitzine's photo dump from March 2022 shows some time spent with friends, enjoying a pizza parlor, and meals with adorable doggos. We love seeing Galitzine living his best life!
---