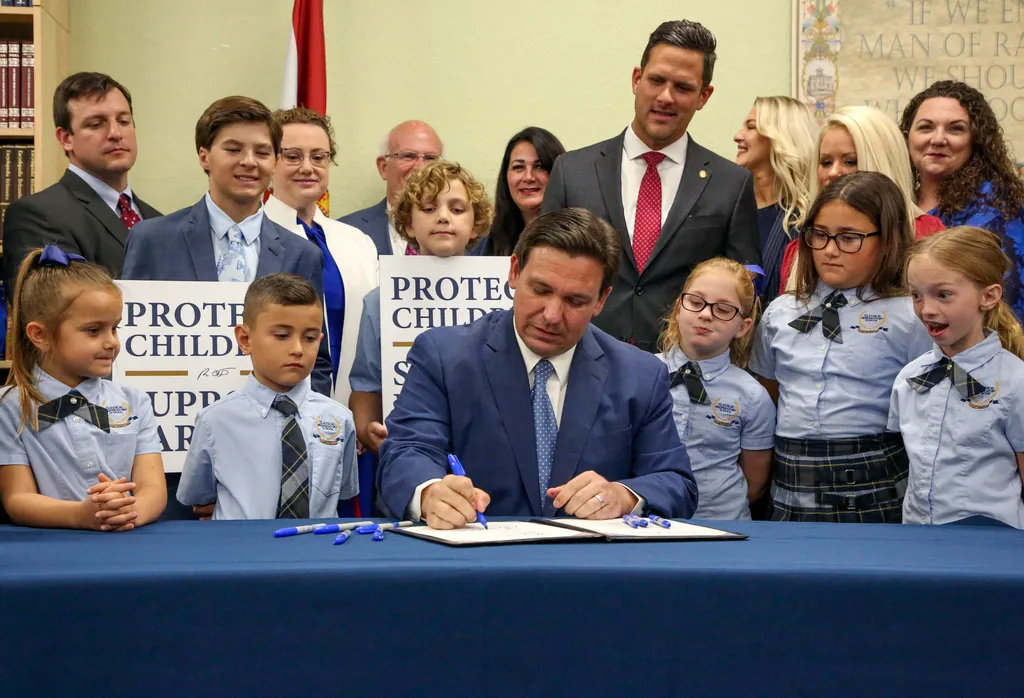 How Ron DeSantis Used Florida Schools to Become a Culture Warrior
Jocelyn Gecker
READ TIME: 5 MIN.
Ron DeSantis' path to national prominence started in Florida's classrooms, where he harnessed culture war passions and deployed them in education policies.
In the name of "parental rights," the Republican governor has banned instruction on sexual orientation and gender identity and limited what Florida schools can teach about racism and U.S. history. He has exercised control over the pronouns and bathrooms students use. Tenured professors now must undergo regular reviews, as part of sweeping reforms to police "left-wing ideology" and "indoctrination" in higher education.
His policies have faced wide criticism from civil rights leaders and educators, among others, but they also have paid off politically. As DeSantis prepares for the first GOP presidential debate on Wednesday night, he is one of the country's most popular Republican politicians and a top contender for the party's nomination.
Policy and education experts say DeSantis' agenda on education has influenced what it means to be a viable Republican candidate. It's likely to drive some of Wednesday's debate, too.
"A good way to win a Republican primary these days is to be pro-voucher, anti-woke, anti-DEI and anti-LGBTQ," said Doug Harris, an expert in education policy and economics chair at Tulane University.
How Ron DeSantis Became an Education Leader
DeSantis was not always a culture warrior. Experts who follow DeSantis' policies say after he was elected to his first term in 2018, by a slim margin, there was no sign education policy or courting controversy would become his hallmarks.
Then, during the COVID-19 pandemic, he seized on discontent with school shutdowns and mask mandates. After initially closing schools, as all governors did in March 2020, DeSantis issued an executive order that July mandating that schools reopen for in-person instruction, ignoring objections from teachers and unions. He threatened to withhold salaries from superintendents who defied a ban on mask mandates.
"The pandemic was clearly a turning point for DeSantis," said Carol Weissert, a professor emerita of political science at Florida State University. "He pitted himself against schools and aligned himself with parents."
It was the beginning of many policies that made DeSantis a leader in the conservative push for ' parents' rights.' The theme was hammered also by Virginia Gov. Glenn Youngkin, a Republican, in his successful 2021 campaign.
"Our school system should be about educating kids, not indoctrinating kids. And that means we have gone on the offensive against toxic ideologies," DeSantis said shortly after announcing his presidential bid in May. "I can tell you this, I have only begun to fight."
From Critical Race Theory to Math
A major theme of DeSantis' tenure has been a pledge to banish critical race theory from classrooms, following the lead of former President Donald Trump, who banned federal agencies in 2020 from offering diversity training on racial and gender biases.
Trump's ban was rescinded by President Joe Biden, but critical race theory became a lightning rod for conservatives. The theory is rarely taught in K-12 schools, but the term has become a catchall for systemic racism. Conservatives say it's used to make white people believe they are inherently racist.
Critical race theory has made its way into proposed legislation of 44 states, including 18 that have passed laws, said Robert Kim, executive director of the Education Law Center. Florida was a frontrunner.
"These laws are inducing chaos and confusion in public schools, and that may be part of the point," Kim said. He said culture war policies have coincided with school voucher policies as part of what he calls a "multi-pronged attack on public education." DeSantis' campaign did not immediately respond to a request for comment.
The DeSantis administration has steadily enforced its law. The state education department initially blocked more than 40% of math textbooks that were submitted by publishers to the state for review last year, saying they violated the ban on critical race theory. The department later showed examples that state reviewers had flagged with references to "prohibited topics" like racial bias or social-emotional learning.
Many DeSantis education policies seem to target what resonates with conservative voters, said Jon Valent, director of the Brown Center on Education Policy at the Brookings Institution. "They are not grounded in any kind of theory of school reform at all," he said. He noted the influence of Christopher Rufo, a conservative activist and architect of the right-wing outrage against critical race theory, who has become a key DeSantis ally.
"He'll keep going back to these ideas as long as they continue to help create an identity for him politically that he thinks is going to benefit him in a presidential campaign," Valent said.
Removing Library Books
One of DeSantis' most controversial policies has been the "Parental Rights in Education" bill, dubbed "Don't Say Gay" by opponents. It banned instruction on gender identity and sexual orientation in Florida classrooms "in a manner that is not age appropriate or developmentally appropriate." But its impact, combined with other legislation, has rippled to the books schools offer students.
New laws in Florida have prompted schools to pull books from their shelves, according to the free-speech organization PEN America. Florida ranks second, behind Texas, as the state with the highest number of book removals, according to an April report by PEN, which tracked school book bans from July to December of 2022.
Teachers and librarians across the state say laws on discussion of race, gender and sexual orientation are so open to interpretation that they feel compelled to pull books that touch on those subjects.
DeSantis has dismissed reporting on book bans as a "hoax," and parents who have advocated for removal of books say literature with sexually explicit passages should not be freely available to teens.
Rewriting History Standards
DeSantis also has taken several steps to regulate the teaching of Black history – which other conservative leaders have emulated.
In January, he rejected a new Advanced Placement course on African American studies, saying it was not "historically accurate" and violated the Stop Woke Act – a 2022 Florida law that limits the way gender and race are discussed in classrooms and workplaces.
Following Florida's lead, Arkansas officials announced objections to the course earlier this week, but several school districts have pushed back, saying they still plan to offer the AP course. North Dakota, Mississippi and Virginia said earlier this year they plan to review the course material before deciding if it can be taught in their schools.
In July, guidelines announced by Florida's Board of Education for teaching African American history ignited criticism from educators and historians. The standards say middle schoolers should be taught that "slaves developed skills which, in some instances, could be applied for their personal benefit," a rewriting of history that drew wide rebuke.
Ahead of the return to classes, Florida also became the first state to approve the use of videos in its classrooms produced by the Prager University Foundation, a media company named for conservative radio host Dennis Prager. The company makes videos to "promote American values," according to its website.
One video depicts slavery abolitionist Frederick Douglass saying that while slavery was wrong and evil, it was a compromise the Founding Fathers had to make to "achieve something great."
The Republican primary will reveal much about the direction of the conservative agenda on education, Valent said.
"A lot of that is going to be about whether or not DeSantis' quote-unquote anti-woke agenda, resonates in other states," he said. "I think we're going to see either a lot of copycat or we'll see people pulling back away from that."
---