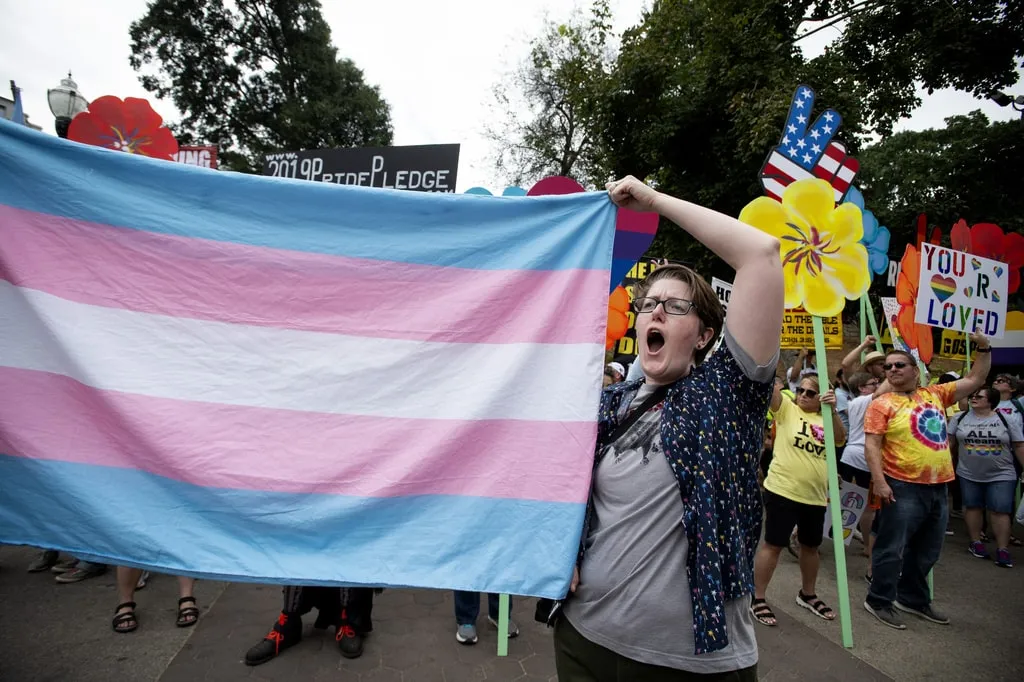 Judge Blocks Georgia Ban on Hormone Replacement Therapy for Transgender Minors
Sudhin Thanawala
READ TIME: 3 MIN.
A federal judge has blocked the state of Georgia from enforcing part of a new law that bans doctors from starting hormone therapy for transgender people under the age of 18.
In a ruling issued Sunday, U.S. District Court Judge Sarah Geraghty granted a preliminary injunction sought by several transgender children, parents and a community organization in a lawsuit challenging the ban.
"The imminent risks of irreparable harm to Plaintiffs flowing from the ban – including risks of depression, anxiety, disordered eating, self-harm, and suicidal ideation – outweigh any harm the State will experience from the injunction," the judge wrote.
Geraghty said her ruling will block enforcement of the ban on hormone replacement therapy until a further court order or a trial.
"We are disappointed in the judge's decision and plan to immediately appeal to protect the health and well-being of Georgia's children," said Kara Richardson, a spokeswoman for Georgia Attorney General Chris Carr.
The Georgia law, Senate Bill 140, allows doctors to prescribe puberty-blocking medications, and it allows minors who are already receiving hormone therapy to continue.
But it bans any new patients under 18 from starting hormone therapy. It also bans most gender-affirming surgeries for transgender people under 18. It took effect on July 1.
Geraghty's ruling was an "incredible victory for Georgia families," attorneys for the plaintiffs said in a statement. The American Civil Liberties Union of Georgia, the Southern Poverty Law Center, the Human Rights Campaign Foundation and the law firm O'Melveny & Myers are representing the plaintiffs.
"This law unapologetically targets transgender minors and denies them essential health care," they said. "The ruling restores parents' rights to make medical decisions that are in their child's best interest, including hormone therapy for their transgender children when needed for them to thrive and be healthy."
At least 22 states have now enacted laws restricting or banning gender-affirming medical care for transgender minors, and most of those states face lawsuits. A federal judge struck down Arkansas' ban as unconstitutional, and federal judges have temporarily blocked bans in Alabama and Indiana as well.
The plaintiffs in the Georgia lawsuit did not ask to immediately block the surgery ban, which remains in effect.
Doctors typically guide kids toward therapy or voice coaching long before medical intervention.
At that point, puberty blockers and other hormone treatments are far more common than surgery. They have been available in the U.S. for more than a decade and are standard treatments backed by major doctors' organizations including the American Medical Association.
During two days of hearings earlier this month, Geraghty heard conflicting testimony about the safety and benefits of hormone therapy to treat adolescents with gender dysphoria – the distress felt when people's gender expression does not match their gender identity.
Experts for the families said the benefits of gender-affirming care for adolescents are well-established and profound. State government experts raised concerns about the risks of hormone treatment and the quality of studies establishing its effectiveness.
In her ruling, Geraghty said witnesses for state health officials set a very high bar for evidence of hormone therapy's benefit and a low bar for evidence of its risks. She noted that experts agreed that prolonged use of puberty blockers was harmful to a person's health and inadvisable.
For the transgender children in the suit, "time is of the essence," she wrote, and SB 140 could cause them to suffer heightened gender dysphoria and unwanted and irreversible puberty.
___
Associated Press legal affairs writer Denise Lavoie in Richmond, Va. contributed to this report.
---