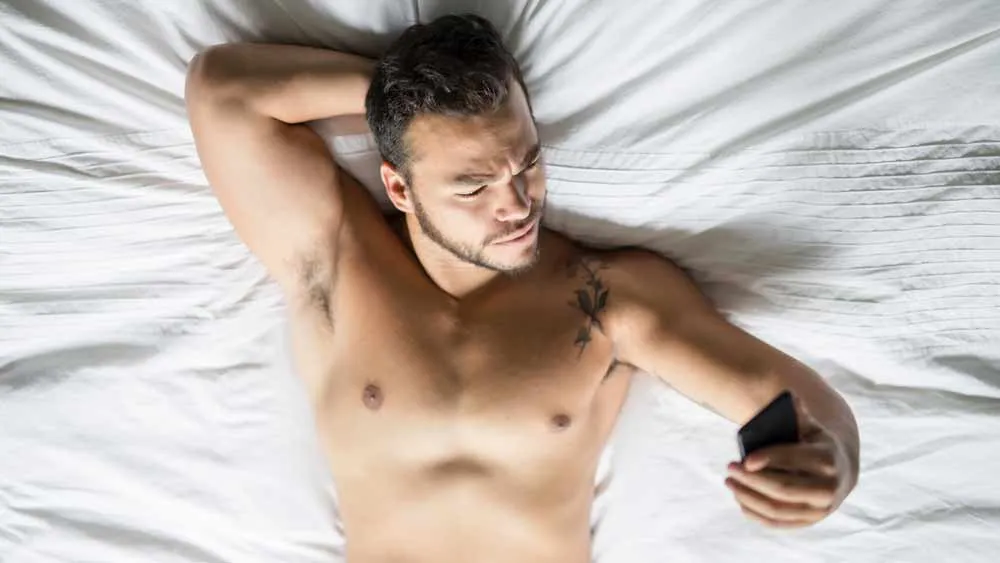 What Do Gay Birthday Boys Want? Pictures of Friends... In Their Birthday Suits
You won't have to buy gift wrap for these birthday presents. In fact, it's fair to say that what some gay men are asking for is totally unwrapped: nude pictures of their friends.
The New York Times reported on the trend, in which "a certain class of extremely online gay man" is now looking to add to intimate photos. As one fellow, David Dulin, told the paper, when his birthday approaches he makes no bones about what he'd like from his followers on X, formerly known as Twitter: "OK, Cash App and nudes: Drop them!"
"In recent years, many queer men have begun sending and receiving nude selfies on social media for their birthdays," the Times recounted. "Variations on 'It's my birthday, send nudes' have been uttered so frequently online that it has become something of a meme (or, at the very least, a generic way for a gay man to announce his birthday, whether or not he actually expects to receive any explicit images). The practice has become so normalized that the request is sometimes simplified to, 'It's my birthday – you know what to do.'"
Genderqueer choreographer Brandan Drake, a 36-year-old Los Angeles resident, "said he had made the request so often that this year on his birthday he received nudes from friends without even having to ask," the article detailed.
"It's almost like it was expected," Drake mused.
Bryant University Professor Tim Roach told the publication that the trend among gay men for asking to be gifted with intimate selfies "speaks to the unique nature of gay friendships," the article explained.
"I think they're doing it to be provocative, to be like, 'Look at how shamelessly sex-positive I am!'" Roach said. The level of intimacy suggested by this particular kind of birthday greeting might not be so surprising, the article noted, since "many gay friendships begin as casual sex encounters." The common practice of swapping explicit images on hookup apps like Grindr also plays a role in the trend, Roach noted.
"In addition to cellphone cameras making it far easier to quickly snap and send a racy photo, social media apps like Instagram and X – the platform formerly known as Twitter – allow users to curate private lists of 'close friends,'" the Times said.
"For many gay men, the feature can be used to ensure that an open call for birthday nudes reaches only a carefully selected audience – one excluding straight friends and colleagues."
32-year-old sex columnist Zachary Zane, who identifies as bi, told the Times that swapping the intimate snaps makes one "feel sexy, you feel affirmed, you feel validated and loved by your friends. It's not an invitation to hook up; it's more so us actually just supporting each other and showing each other love."
The practice may have gotten a bump in popularity thanks to the COVID-19 pandemic, which interrupted many norms of social interaction and prompted people of all sexualities to find ways to adapt.
Those adaptations can prove enduring even as the world continues to open up in the wake of the pandemic. "There's next to no chance I will ever see this person in-person," 32-year-old Jake Niemeyer, who has shared nude photos with men in other countries, told the Times. "But still, I find them attractive, they say they find me attractive and that's kind of a nice feeling. It's a safe way for both of you to have a micro sexual interaction."
---
Kilian Melloy serves as EDGE Media Network's Associate Arts Editor and Staff Contributor. His professional memberships include the National Lesbian & Gay Journalists Association, the Boston Online Film Critics Association, The Gay and Lesbian Entertainment Critics Association, and the Boston Theater Critics Association's Elliot Norton Awards Committee.