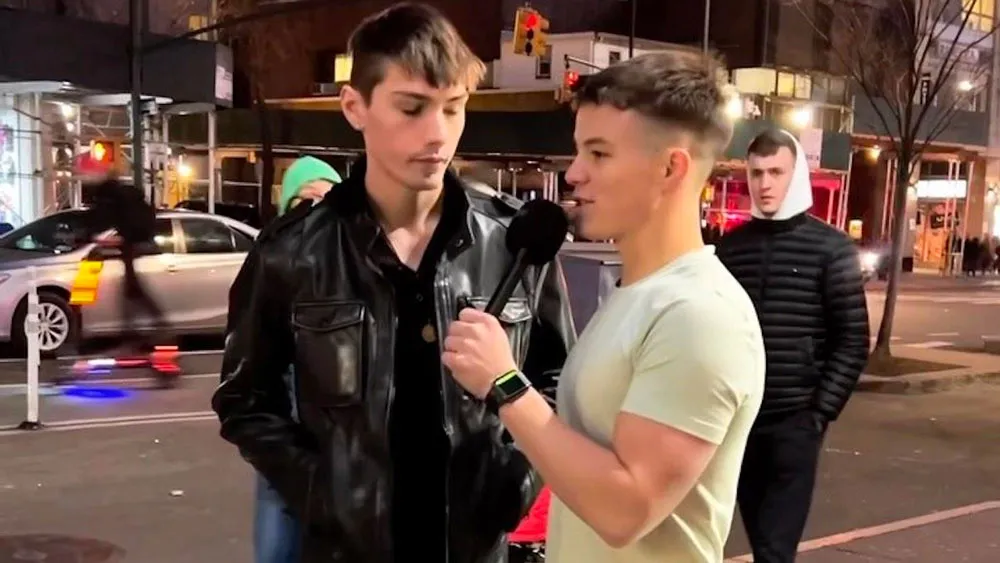 Get to Know Rising Out TikTok Star Michael Doherty
There's something about a man-on-the-street style sidewalk interview that captivates audiences. Asking random strangers about their personal lives or about pop culture trivia is a fun and light-hearted exercise in entertainment for the audience and interviewer alike.
We've already highlighted a couple of other LGBTQ+ influencers who specialize in this type of social media, StanChris and Art Bezrukavenko, but their friend Michael Doherty might just be the biggest rising star of them all. Doherty, who has nearly 315,000 followers on TikTok and 200,000 on Instagram, basically keeps all of his content exclusively related to various interview segments, always asking interviewees if they are gay before going into a rundown of questions related to LGBTQ+ culture. Here are some of his best skits on IG and TikTok!
Doherty interviews a sidewalk guest who claims his name is "Easy" (this may have been a pun or a hint at something else, in our opinion), and they play a game of "Truth or Dare". The guest admits what the freakiest thing he had ever done to someone was, but not before anxiously asking what reward he would get after spinning the wheel!
Doherty gets this guest to rate how political affiliations, such as being Democrat or Republican, would affect an otherwise perfect man. The guest also admits that someone who does OnlyFans would bring his attractiveness level down several notches, much to the dismay of Doherty (who has an OnlyFans).
Doherty takes a break from interviews to show some personal time with family in Poland. From nice restaurants to drinks and more, it's cool to see our favorite influencers getting to enjoy vacations just like the rest of us! The thirst trap at the beginning is certainly a persuasive start to the slide show.
Doherty fits right in with StanChris and Art Bezrukavenko in this funny clip of them mocking sexual positions. Top, bottom, or verse is certainly one of the hottest questions fans ask of their favorite gay celebrities, but we don't actually know if the trio is telling the truth!
This Columbian interviewee gives shares about his family's acceptance of his sexuality, followed by describing the type of guy that he'd love to date. Not shockingly, the descriptions sounded a lot like Michael Doherty...
Doherty interviews a hairstylist who has had the pleasure of working on celebrities like Johnny Depp and Priyanka Chopra. He tells Doherty that his haircut deserves an eight out of 10. Maybe this man can show us how a truly great haircut is done in another TikTok. We need the sequel!
This guest seems very chill, talking about how trans rights are the most controversial and pressing topic that remains in the news and giving a little commentary on Republican gays. He ends with choosing kiss when prompted in a game of "Kiss or Slap."
Doherty gets the honor of interviewing a trans woman who has lived openly since 1960. Loretta is an inspiration to us all, and finding out that she is 82 years old makes how lively she looks even more impressive. She's seen a lot and come out the other side as her authentic self!
Doherty plays his game of spin the wheel with a fan who proves he follows him on Instagram. The wheel lands on "Kiss or Slap," to which the guest has Doherty give him a nice patt on the butt before the video ends!
Doherty plays it flirtatious with StanChris, although the video plays out like the friends don't know each other. Chris feels Doherty's chest and rates him a nine out of 10. The video is a lot funnier when you know the relationship between the two men.
Doherty has some fun with a guest from London. They talk about what the sexiest accent is, followed by the pairs funniest impersonations of their favorite accents, such as French and British ones!
Doherty has to convince this Brazilian guest that he only gets one kiss or slap, but the interviewee didn't seem to want to take no for an answer. Hopefully, Doherty didn't feel too uncomfortable during the video, but I suppose that's what comes with the territory. You meet all kids out on the street!
Doherty has to take one on the chin when this contestant decides to pass on him in a question of "Smash of Pass." The comments thought the refreshing honest from the interviewee was shocking and funny.
---