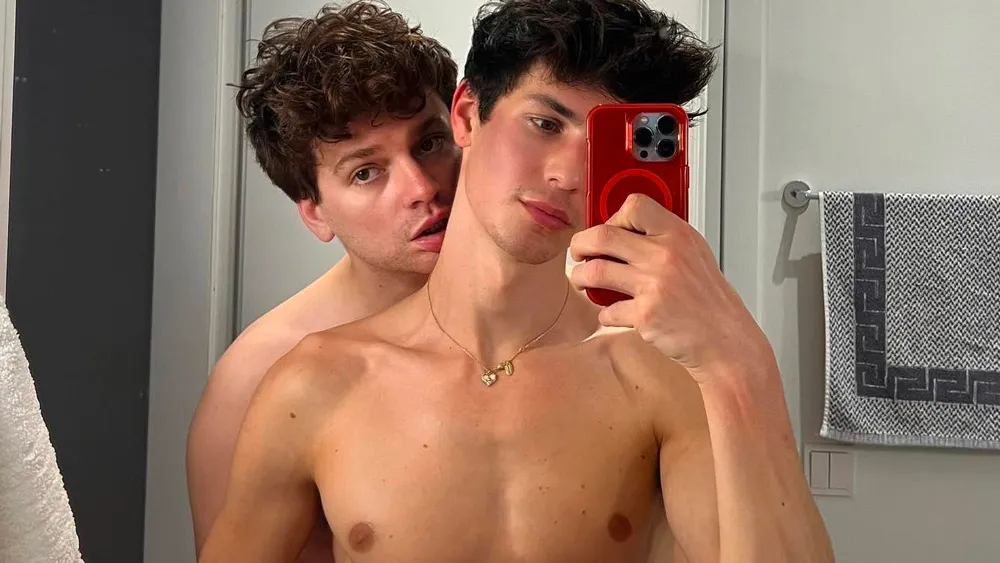 Getting to Know Adorable TikTok Couple Xander & Jay
Not every influencer has to have a specific claim to fame. Sometimes people gain traction just because they have natural charisma, incredible energy, and deep chemistry with their audience. In the case of Xander & Jay, a TikTok couple from Scotland, all of the above has helped them to garner nearly 200,000 followers on the platform. They also have (all NSFW)Instagram, Twitter, and OnlyFans accounts. We want to let you get to know Xander & Jay more through their TikTok, though.
The Scottish couple started using YouTube a little bit more often to give more personal deep dives into their relationship, and this video where they explain how they met is certainly a great place to start. The 11 minutes fly by, with fans learning that the adorable Scots were actually never supposed to meet one on one, but as intermediaries with a third partner. Love always finds a way to develop, though, and we think it's great they're still together years later!
Xander & Jay like to make videos on TikTok that joke about their personal lives with one another, especially romantically and sexually. Here Xander decides to joke around while Jay is sleeping, hitting him with a booty to the face right after he awakens from a deep nap. The playful video helps to show their fun relationship and how they're light hearted with one another.
Xander & Jay show their affection for one another with this kissing video on TikTok. Commenters were enamored with their cozy, loving partnership, saying they wish they had their own gay relationship like this one. We certainly agree that the two lads make for a handsome, envy-inducing pairing.
The two TikTok influencers respond to claims that they spend too much time together by playfully showing that they do, indeed, spend every second awake with the other person. From brushing their teeth to...more intimate activities, Xander & Jay are a perfect match made in heaven!
Many couples love cooking together. Food has always been something people bond over, and with more access to cooking videos it seems newbies are trying their best to get in the kitchen. Xander & Jay joke here about how one person is often doing the heavy lifting when they tell others that they're cooking with each other. Someone's gotta eat the finished product, right?
Xander & Jay discuss the different ways they have to behave around different sets of parents, with one family being much more comfortable with public displays of affection. As long as their relationship is still accepted by all families, hopefully there are no further issues.
We all have that moment as LGBTQ+ children when it clicks that we may not be attracted to the people society tells us to be. For me, it was seeing Hayden Christensen wake up in the middle of a sweaty nightmare in a shirtless tizzy in "Star Wars." For Xander, it was seeing a classmate roll over during a sleepover. The gay awakening is a universal event for all of us it seems!
The couple joke about the age gap in their relationship with a TikTok sound from "Family Guy." Dating someone younger than yourself can definitely bring about frustrations over maturity and roles in the relationship.
Xander & Jay react to a viral video of two boxers who share an intimate moment during the pre-fight weigh-ins before the match kicks off. Even though the athletes are presumably straight, it doesn't hurt to daydream about them together, something the influencers aren't afraid to have fun with.
Xander & Jay play a game of smash or pass with randomized Disney male lead characters. It's quite adorable to see the reactions of Xander as Jay chooses which fictional men are most desirable to him.
The couple emulates the famous pottery scene from the movie "Ghost" starring Patrick Swayze and Demi Moore. Their take on the moment is both hilarious and cute.
Xander & Jay lament the lack of acceptance towards LGBTQ+ couples while on vacation in a foreign country. This is something straight people don't ever have to think about when they travel with their heterosexual partner.
The couple play a fun TikTok game in which they point to the partner that better fits the narrative description being asked. You can tell how much they love each other and that their chemistry is strong because so many of their answers are in sync with the other!
---