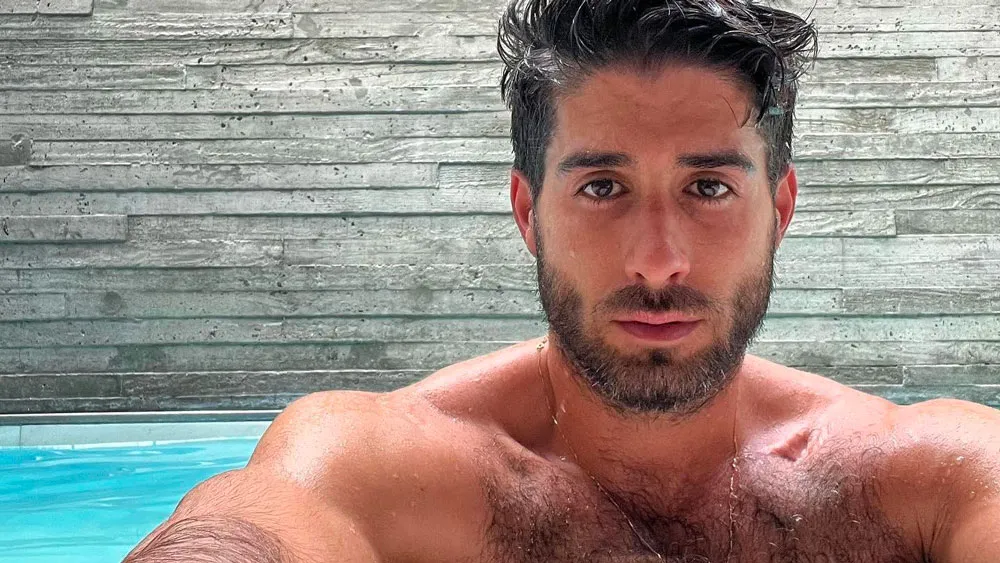 With Charming 'Swiping America' Cameo, Here are 10 of Diego Sans's Hottest Insta Posts
Gay adult star Diego Sans is looking for love in Miami on the new Max dating reality show "Swiping America," however he isn't using his stage name. In the show, he is identified as Luiz Faria; a match from a dating app right-swiped by Kris Kelkar, one of the show's featured singles.
We aren't going to spoil anything about what happens between Luiz and Kris, but it's an interesting interaction.
Luiz arrived in America from Brazil in 2009. After obtaining his green card, but was unsure about the direction he should take professionally. He decided to break into the gay adult entertainment industry. It wasn't long before producer Randy Blue made him a part of his adult video brand.
Luiz is of Portuguese, Italian, and Lebanese descent. His gorgeous smile, hirsute body, and, at one time, long gorgeous hair made him look like a cover model for a classic romance novel. Perhaps playing the lead in the porn parody of Tarzan is the closest he came to that.
His status as an actor says "active" on his profile at Porn Base Central, but IMDb lists his last adult film as being made in 2022. But luckily for us, he still updates his social media pages, and below are some noteworthy --- and eye worthy --- posts.
One of the great things about Diego is his awesome physique. In this series of photos, he is giving his best art studio model poses that highlight his near-perfect muscle contour. Although having a Latin heritage doesn't mean you will have a hairy body, the odds are that you will, and here, Diego is proving that body hair is sexy and erotic.


It's been established that Diego is follicly blessed when it comes to hair growth. But what happens when he decides to shave it off? Nothing. Whether his tresses are shoulder-length or shaved this star is gorgeous, proving that he is one of the best-looking actors in the business.
Contrary to the previous photo, in this snapshot, Diego is letting his black mane do all the work. When you are in the adult film industry it is important to create a fantasy. This look definitely invokes his King of the Jungle Tarzan energy which might appeal to almost anyone. His scorching stare seems to indicate a primal desire to have his way with you. Now the only question is: which way?
In this pinup pose Diego is making great use of the wooden background. This picture was taken a few years ago just before the Str8up Gay Awards where he was nominated for his lead role in "Tarzan: A Gay XXX Parody." Although he didn't win that prize, he took home a statue for his performance in "Naughty Houseguest 3."
Away from the set Diego loves his dog(s) and this picture shows them in a cuddly moment. In fact, if you scroll through Diego's feed there are several pictures of him posing with his animals. Diego's birthday is March 31 which makes him an Aries. That sign loves all animals equally even though a lot of astrologists will tell you they favor cats the most.
Grey sweatpants season is a real thing. It's a time, usually during the fall, when men put away their summer shorts and opt for something warmer to wear. But it's also a time when "bird watchers" take notice because gray shows off the contours of male genitalia through the fabric. Even if you are the most avid Diego fan and already know what he has packin,' this pic might entice those who haven't to seek out his body of work.
This photo set is from five years ago, but it's worth a look to see three icons in one bed together. Joining Diego on this shoot are adult film star Calvin Banks and underwear model Kyle Goffney. Calvin and Diego have worked together before, and it is nice to see them reunited in this relaxed scenario.
In this playful shoot with photographer Diego Villagra Motta, the guys are having some fun. With a full beard, Diego Sans is barely recognizable, especially in the first snap wearing those oversized pilot sunglasses. But it's his t-shirt that reads "Sit on my Face" that brings it all back to reality and the cuteness of the shower scene is an example of why he is so successful in the business.
This photo shoot with José Ferrero (aka @paranoiaviva) and Diego is hot! Boots! Diego is giving his best Greek god pose in the appropriate briefs while José, in his signature stiletto boots, seems ready for anything. Ferrero is also an adult entertainer who mostly uses content subscription services as his moneymaker.
The last photo in this slideshow is the picture Kris looks at first on "Swiping America" before meeting with Diego (Luiz) on a blind date. Although Kris seems unfamiliar with who his date is, Diego informs him shortly after the two sit down for drinks. You will have to watch the show now streaming on Max to find out the outcome.
You can catch Diego in a small cameo as a blind date in "Swiping America," now streaming on Max.
---