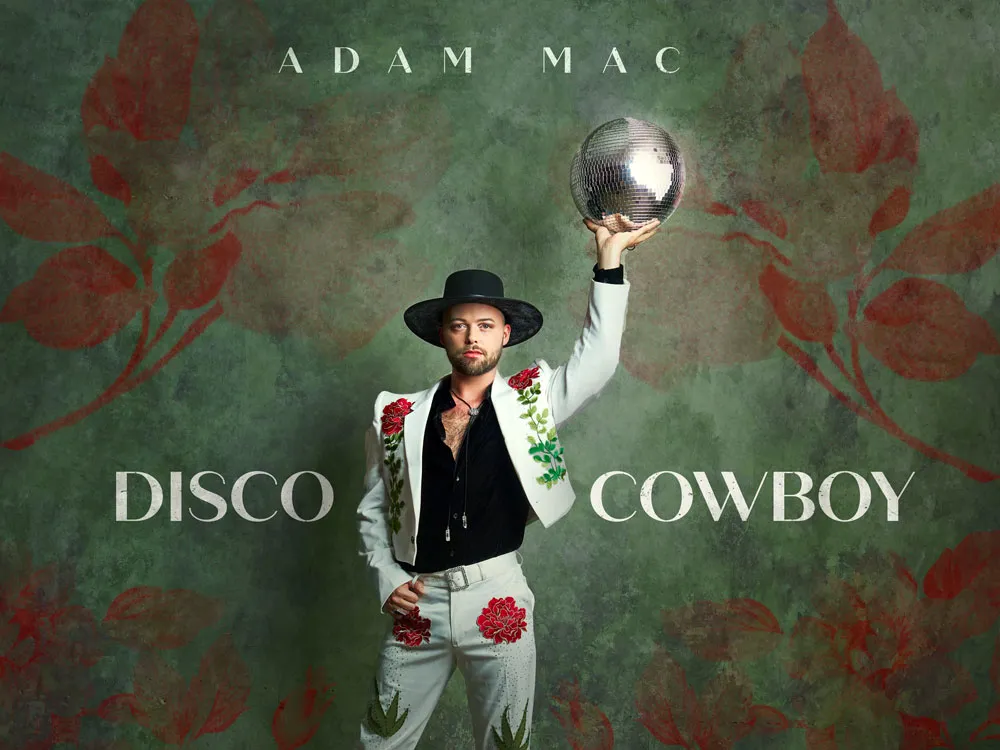 How About 'Disco Cowboy' with Out Country Artist Adam Mac?
Out country artist Adam Mac released his brand new double album "Disco Cowboy"earlier this year. The 16-song project finds Adam at his most empowered, with each track offering up a unique yet relatable story told through masterful songwriting and memorable melodies.
"This album feels so special to me. It's certainly the most candid, personal and open I have ever been about who I am and what it took for me to get here," Adam shared. "You'll wanna dance, you'll maybe wanna cry (if no one is looking), but I hope more than anything you feel the love that was poured into it! In so many ways it's a love letter to the people who've helped guide me along my journey of self discovery and acceptance."
Always authentic to who he is, Adam spent the past two years crafting a collection of songs to reflect different sides of him that blend together effortlessly. Aptly named "The Disco" and "The Cowboy," the two sides comprise eight songs each that inspire spontaneous dancing and hometown pride, respectively. With horns and synths, Adam's fun-loving and uplifting "disco" side is prevalent on songs such as "Genesis" and "I Just Wanna Dance." On the other hand, heavy hitting and deeply personal tracks such as "Honestly" and "That Ain't Country" represent his "cowboy" side, where he lyrically brings to life not only his own personal journey as a queer man, but as an artist in the ever-evolving country genre.
The collection of songs has already earned Adam many accolades. The music video for the fan-favorite title track, "Disco Cowboy," premiered exclusively with CMT and went on to take the No. 1 spot on CMT's 12 Pack Countdown for four weeks, and his most recent release, "Chapel" with Jenna DeVries, has spent the last two weeks at No. 1. His previous singles, "New Vibration" and "Take Myself Home," both earned high praise from People Country. Adam also garnered viral success on TikTok with a snippet of the album showstopper, "Boy Like Me." The emotional tribute to his mom received over 200K views in less than 24 hours, and received many touching comments.
Last month Adam had a historic performance at the Country Music Hall of Fame for "Country Proud," alongside Shelly Fairchild, Sonia Leigh, and Angie K. He's set to kick off Pride Month in June at CMA Fest with a performance on Friday, June 9 at 11:35am on the official Hard Rock Stage. In the meantime, Adam will celebrate the release of "Disco Cowboy" with a show at The Eighth Room in Nashville on Saturday, May 20 at 8 pm. Tickets are available for purchase here.
The Russellville, Kentucky native was raised on '90s country and gospel music, often being bribed by his mother to sing during Sunday service. His sound has also been heavily influenced by pop legends such as Michael Jackson and Amy Winehouse, who changed the trajectory of his style and desire to perform. Adam had always had a love of words and poems growing up, but not until the passing of his best childhood friend at 18 did he learn the power of songwriting. It's these influences, alongside his rural Kentucky upbringing, that have shaped the "Disco Cowboy" album into a timeless piece of artistry that captures Adam's journey thus far. From start to finish, Adam's ability to capture an incredible range of emotions with complete clarity and cohesion further cements his spot as a mainstay in the genre.
Watch Adam Mac sing "Black and White":
Check out posts from Adam's IG:
---