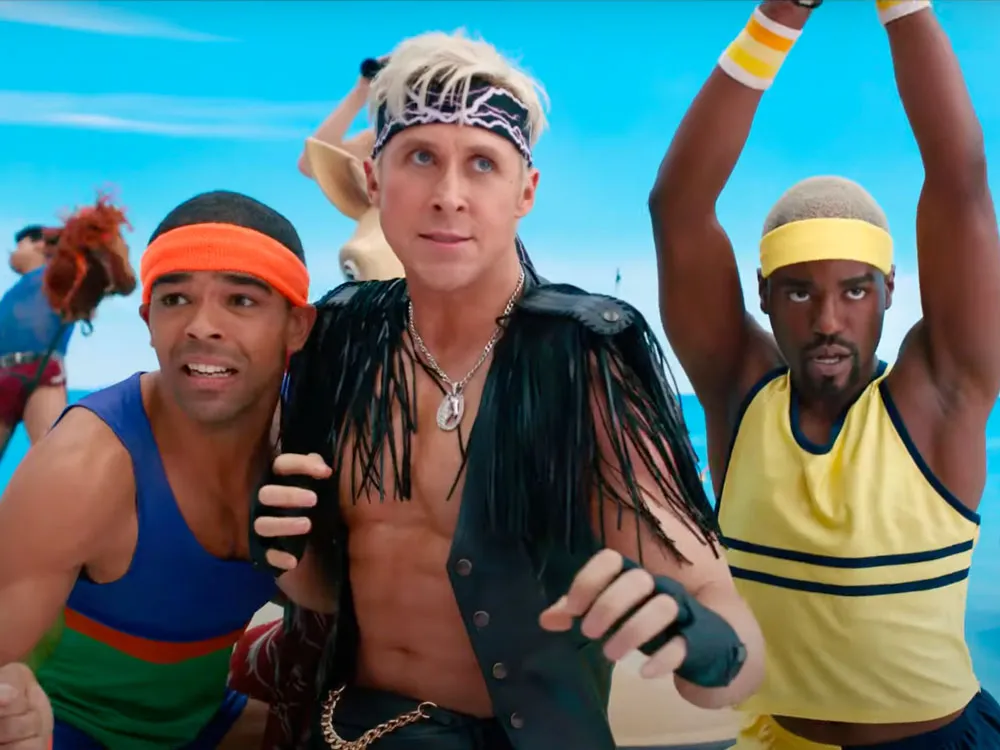 7 Blockbusters Queer Audiences Need to Check Out this Summer
As the summer months are quickly approaching and blockbuster films are headed to theaters everywhere, we thought it might be time to profile some of the movies coming out that queer audiences could enjoy. Most major studios and independent production companies seem to be gearing up for a star-studded summer. A-listers like Melissa McCarthy, Ben Affleck, Michael Keaton, Kate McKinnon, Scott Evans, Stephanie Hsu, Ben Platt, Margot Robbie, Ryan Gosling, Dan Levy, Jamie Lee Curtis, Tiffany Haddish, Rachel Sennott, and LaKeith Stanfield are all making moves to ensure this summer will be one for the record books.
Here is a list of some of the queer and queer-friendly movies we are looking forward to this upcoming summer:
"The Little Mermaid"
It's a tale as old as time for Disney in recent years: Rebooting a live-action version of well-received animated projects straight from the Disney vault. In the past, audiences have been treated to B-list live-action versions of "Beauty and the Beast," "The Lion King," and "Aladdin." All of them have had their fair share of great qualities and have succeeded at the box office, but often left audiences wanting more.
To kick off the summer movie season, Disney is unveiling "The Little Mermaid," a live-action remake of the 1989 animated feature originally inspired by the works of Hans Christian Andersen. Out director Rob Marshall is at the helm of this latest film, with singer Halle Bailey playing Ariel opposite Melissa McCarthy's soon-to-be-iconic Ursula. Fans of the 1989 iteration know well that the character of Ursula was modeled after the late drag queen Divine. McCarthy recently noted to Entertainment Weekly that she used drag queens to influence her version of the sea witch character at a time when performing in drag has become a controversial topic in many local governments. Great casting can go a long way, and that's why we are really excited to see what Disney has in store with such a diverse set of performers this time around.
"The Little Mermaid" will splash into theaters on May 26, accompanied by new songs from Alan Menken and Lin-Manuel Miranda, and performances by Jonah Hauer-King as Prince Eric, Daveed Diggs as the crab Sebastian, Awkwafina as Scuttle, Javier Bardem as King Triton, and Jacob Tremblay as Flounder.
"The Flash"
Actor Ezra Miller has created controversy for several years behind the scenes, amounting to a flood of fans on social media asking DC Studios to recast the character of Barry Allen/The Flash with a different performer. Alas, DC Studios and Warner Bros. haven't budged, and they have clearly seen something in Miller's performance as the titular superhero that begs for this movie to be seen by global audiences. It is the first solo project for the actor (who uses they/them pronouns) after costarring in a string of DC films as The Flash alongside Ben Affleck's Batman and Gal Gadot's Wonder Woman.
This time around, "The Flash" will show Barry Allen traveling in time in an attempt to stop his mother from being murdered, getting stuck in an alternate universe in the process. DC's answer to the multiverse context currently engulfing the rival Marvel Cinematic Universe, "The Flash," will feature performances by Sasha Calle as Supergirl, queer actor Kiersey Clemons as love interest Iris West, Michael Shannon as the villainous General Zod, and various iterations of Batman from superstars Ben Affleck and Michael Keaton.
"The Flash" hits theaters on June 16.
"Joy Ride"
Coming off of a stellar world premiere at South by Southwest, "Joy Ride" might be a leap forward for Asian representation at the movies. Directed by "Crazy Rich Asians" screenwriter Adele Lim in her feature film directorial debut, the movie centers around a group of friends who trek around China to find one of their friend's birth mothers. Produced by Seth Rogen and Evan Goldberg, the film has received universal praise from critics who had a chance to attend the world premiere at SXSW last March.
"Emily in Paris" standout Ashley Park and bisexual actor Sherry Cola star as childhood best friends Audrey and Lolo. They are accompanied on their journey through China by Audrey's former roommate Kat ("Everything Everywhere All at Once" performer Stephanie Hsu) and Lolo's cousin Deadeye (non-binary actor Sabrina Wu). Showcasing a primarily Asian cast in a film distributed by a major studio, "Joy Ride" is a demonstration for LGBTQ+ actors getting their shot in lead roles written and directed by women.
"Joy Ride" will be released in theaters on July 7.
"Theater Camp"
Directors Molly Gordon and Nick Lieberman's film, "Theater Camp," starring out actor Ben Platt and Gordon as summer theater camp counselors, is set to become a new LGBTQ favorite upon its release in theaters this year. The movie follows campers-turned-teachers' adventures at an upstate New York theater camp for children. When the camp is threatened with permanent closure due to the new owner's financial ignorance, it's up to the camp's staff to make sure this is the most unforgettable summer of performances their campers have ever delivered.
"Theater Camp" initially debuted at the Sundance Film Festival before screening at South by Southwest this year. It is styled as a mockumentary that offers a satirical look at the dynamics of a theater camp full of aspiring thespians, similar to what director Christopher Guest did with "For Your Consideration" and "Best in Show." Much like Guest's work, a strong ensemble help lifts "Theater Camp" to humorous heights, with appearances by Amy Sedaris, Jimmy Tatro, Ayo Edebiri, and Noah Galvin.
"Theater Camp" will take its curtain call in theaters on July 14.
"Barbie"
Social media has been buzzing about Greta Gerwig's upcoming fantasy comedy, "Barbie." From its pink-laced colorful trailer to the already quotable use of various Kens sprawled about in a "Wizard of Oz" type of environment, the movie is the must-see comedy of the summer. The term campy is an understatement when describing what this film will undoubtedly be once it is released to the general public, with no shortage of guesses as to what this fish-out-of-water tale might entail.
As the first live-action film to feature the Mattel doll, "Barbie" will star Margot Robbie as the titular toy, with Ryan Gosling as just Ken. Opening on the same day as Christopher Nolan's "Oppenheimer" about the famed father of the nuclear bomb, audiences can choose between a historical biopic and make-believe in one weekend of spectacular cinematic quality. We expect to witness greatness in "Barbie" with differing sets, Barbie's dream house, eccentric dance numbers, and pink everything.
"Barbie" seems to keep adding to its cast as each new trailer drops, with colorful artwork accompanying each actor's portrait. The film will costar Simu Liu, Kingsley Ben-Adir, Issa Rae, Michael Cera, Will Ferrell, and America Ferrera, as well as queer actors Kate McKinnon, Scott Evans, Alexandra Shipp, and trans model Hari Nef.
"Barbie" is set to be released in theaters on July 21.
"Haunted Mansion"
One wouldn't usually believe that Disney would make it on a list of upcoming summer movies that queer audiences should look out for, yet here we are! "Haunted Mansion" is precisely what it sounds like, a reimagining of the 2003 flick that starred Eddie Murphy, based on the theme park ride popularized at Walt Disney theme parks around the world. The film will serve as a supernatural comedy that sees single mother Gabbie (Rosario Dawson) enlisting the help of a paranormal tour guide (LaKeith Stanfield), a priest (Owen Wilson), a psychic (Tiffany Haddish), and a historian (Danny DeVito) attempting to exorcise ghosts out of her mansion.
"Haunted Mansion" is helmed by gay director Justin Simien, known for his work on the 2014 film "Dear White People." The movie is aided by an ensemble cast that includes "Schitt's Creek" alum Dan Levy, gay icon and newly minted Oscar winner Jamie Lee Curtis, Winona Ryder, comedian Hasan Minhaj, and sexy Jared Leto as the famed Hatbox Ghost. This one is guaranteed to be entertaining and perhaps even a bit campy.
"Haunted Mansion" will hit theaters on July 28.
"Bottoms"
"Bottoms" is a comedy directed by Rachel Sennott and Emma Seligman, known for their work on 2020's "Shiva Baby." The movie draws inspiration from previous teen comedies like "Not Another Teen Movie" and "Superbad" and is being hailed as the new "Mean Girls" for Gen Z.
The plot follows two queer students, played by Sennott and Ayo Edebiri, who create a fight club to pursue their love interests, the cheerleaders. The film is delightfully exaggerated, set in a fictional world where rules don't exist, teachers condone violence, and football is the only topic of conversation.
"Bottoms" premiered at South by Southwest and was nominated for the Audience Award. The movie features a talented supporting cast, including Kaia Gerber, Havana Rose Liu, Punkie Johnson, and athlete Marshawn Lynch. It is almost sure to be a new cult classic, primarily due to its queer context and the dark comedy elements of its presentation.
"Bottoms" is set to be released in theaters on August 25.
---