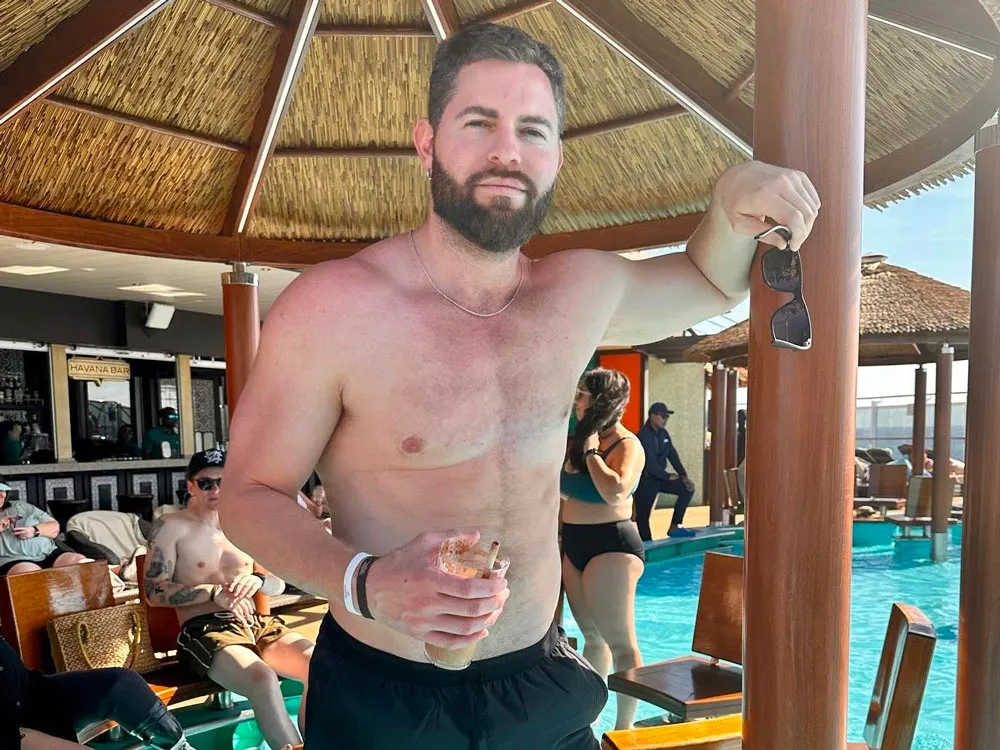 Getting to Know Out Actor and Reality Star Jaymes Vaughan with 10 IG Posts
Jaymes Vaughan is probably a name you've heard quite a few times if you're plugged into the world of queer celebrities. Vaughan is married to actor Jonathan Bennett, best known for his role as Aaron Samuels in "Mean Girls," and the two have formed one of the most adorable unions in Hollywood.
Beyond that, Vaughan has also appeared in several different productions as an actor. He is a venerable reality TV star, having gotten his start on the program "Reality Relapse." He's gone on to make appearances in "The Amazing Race," "Celebrity Page" and most recently "The Real Friends of WeHo."
Today, we want to focus on Vaughan's Instagram page to learn more about his active lifestyle and the vacations he takes with husband Jonathan Bennett!
Like many of the photos on Jaymes Vaughan's Instagram, this post shows both Vaughan and Jonathan Bennett enjoying each other's company on a vacation. This couple are in Sorento, Italy here; one of the most romantic countries on the planet. Both men are enjoying some spaghetti together and sharing it in homage to the famous Disney film "The Lady and the Tramp." We really love seeing the little moments like these that show off the love the men have for each other.
Vaughan shares a shirtless selfie back in Miami after returning home from a reprieve, according to his caption. Vaughan teases about the stereotypical gay male activities such as getting an iced coffee and enjoying a walk on the beach. Sometimes tranquil activities such as these can bring the greatest joy in life.
Another vacation picture from Vaughan and Bennett shows the couple relaxing in the sunshine in front of the Taj Mahal Palace Hotel in India. The Taj Mahal is one of the world's premiere architectural marvels. Add in the great weather and a loving partner and you have a great vacation spot!
Paris is called the City of Love by many tourists and natives due to its rich history, unique food, influx of wine, and landmark spots like the Eiffel Tower. This collection of photos from Jaymes Vaughan shows off his trip with husband Jonathan Bennett to the famous French city in December of 2022. Nothing like ending the year on a positive note!
There's nothing as fun as looking at the large variety of Halloween costumes donned by celebrities during the spooky season of October. Vaughan and Bennett decided to dress up like Elphaba and Fiyero from the theatrical production of "Wicked" during this past Halloween! We're not shocked considering Bennett is on "Halloween Wars" and has shown to really love this holiday!
Getting older can be scary for those in the gay community. Looks are sometimes held to unrealistic standards. Therefore it's nice to see Vaughan show off his frosted silver tips here and ask fans whether they enjoy the color job. Funny enough, Vaughan's husband Bennett responds with a resounding "Nooooo" in the comments section!
Pride month is an important part of the queer experience, and Vaughan decided to get in on this vital event by taking a cruise during a Pride parade through Amsterdam, France, and Germany! Talk about an untraditional, yet incredible experience to celebrate being out and proud! Many of the fans from Amsterdam talked in the comments section about how happy they were that Vaughan got to try out this special parade event.
Vaughan celebrates his happy place out on the water, looking stunning with his patriotic glasses along with his full beard. Here, he shows off his body for his 200,000 followers while enjoying the beautiful weather.
We love a couple who knows how to wear matching shirts! Just a week after getting married in March of 2022, Vaughan and Bennett donned tees that both claim they're each other's trophy husbands. We wonder what other witty outfits they might wear in the future!
Vaughan shares this cute pic of his furry dog outside on a nice day at Exploration Peak Park in Nevada. Vaughan and his pup are matching tongues, and they couldn't be more adorable if they tried!
Vaughan celebrates his birthday in style with this fashionable ensemble of pink and an open jacket to show off some chest hair. The gold chain is a nice addition to the outfit. His many fans were eager to wish him a happy birthday in the comments section.
Vaughan is very proud to display his full beard in this IG post. He jokes in the caption that his husband may not like the beard, though, so we better appreciate it when it makes an appearance. We agree that the scruffier Vaughan looks, the better!
---