Top Story
At the Tour, long gone are the days when bold riders would launch long-range attacks and foil the sprinters at the finish line.
The top finance officials of the Group of Seven rich democracies are arriving at Chantilly, in a chateau north of Paris, at the start of a two-day meeting aimed at finding common ground on how to tax technology companies and other issues.
The CES gadget show is cracking down on its dress code, introducing more sessions focused on women and minorities and creating a new "sex tech" category after a debacle over a robotic personal massager for women.
It took 400,000 people to put Apollo 11's Neil Armstrong and Buzz Aldrin on the moon a half-century ago, including engineers, scientists, mechanics, technicians, pilots, divers, seamstresses, secretaries and more who worked tirelessly behind the scenes.
Big Tech faced tough questions Tuesday as federal lawmakers focused on issues of potentially anticompetitive behavior by technology giants and expressed bipartisan skepticism over Facebook's plan for a new digital currency.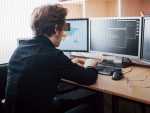 The kind of attacks more commonly reserved for banks and other institutions holding sensitive data are increasingly targeting school systems around the country.