Top Story
Police in Serbia briefly clashed with far-right supporters who tried to prevent a gay pride parade attended by the country's openly gay prime minister on Sunday.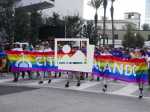 What a beautiful day for a celebration! The crowds came out to show their Pride and to support the LGBTQ community as they enjoyed this year's Come Out With Pride.
Called by some the "gay Olympics," World Pride is one of the LGBTQ+ community's fastest growing event. In 2023, Sydney, Australia will play host in a huge victory for the community down under. Read more about the upcoming event here.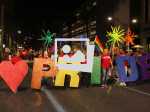 Downtown Las Vegas celebrated its largest Pride yet, with a fabulous nighttime parade and a day and a half of festival fun.
Gay Pride Around the World