For its 22nd year, the event is expected to attract more than 30,000 LGBT park-hoppers from California and all over the country. They will enjoy Disneyland in a way that it can only be experienced during Gay Days.
The Provincetown Business Guild (aka the Guild), one of the oldest LGBTQ business organizations in the country, has announced the schedule of the 41st annual Carnival, August 17—25, 2019.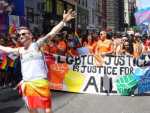 2019 has been a great year for Pride festivals and parades nationwide, many of which commemorated the 50th anniversary of the Stonewall Uprising. Check out our roundup of EDGE coverage and photo albums from this year's events so far!
Life Ball 2019 welcomes celebrities including Alan Cumming, Lea DeLaria, Amanda LePore, Keala Settle and more for Europe's biggest HIV/AIDS fundraiser.
RuPaul's DragCon LA celebrated their fifth year with panels, parties and signings by RuPaul and many of the shows contestants and judges. A family friendly affair with a popular kids zone and over 300 vendors; this year's convention was a huge success.
We have so much in store for One Magical Weekend 2019, and we hope you can come on a magical journey with us at Walt Disney World! Here is a list of items for you to help see everything we have ready for your visit to Orlando.
Sarasota County's annual LGBTQ-friendly festival returns as a safe-haven for expression through life and art.
The longest-running gay pool party in Las Vegas — Temptation Sundays at Luxor Hotel and Casino — returns for its 10th sizzling season each Sunday beginning May 12 through September 1.
Organizers of the LGBTQ+ events during Gay Disney — KindRED Pride Foundation, Girls in Wonderland, One Magical Weekend, and Tidal Wave Party - will provide buy one get one free (BOGO) event tickets to members of the LGBTQ military and veteran community.
Swedish Electro Pop duo Icona Pop, whose breakout hit "I Love It" (featuring Charli XCX) topped charts around the world in 2013, will perform as the headlining act at Miami Beach Pride.