Gay Miami: The Latest
Much of what makes Washington, DC an attractive destination for members of the LGBTQ community to call home also makes it an ideal getaway for LGBTQ travelers — here are some of their favorite picks.
Transgender weightlifter Laurel Hubbard made her mark by competing in the women's weightlifting at the Tokyo Olympics, but couldn't complete a lift.
An unreleased Wu-Tang Clan album forfeited by Martin Shkreli after his securities fraud conviction was sold last week for an undisclosed sum.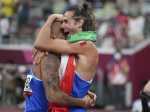 The first hints that this was Italy's year came when Italian band Maneskin won the popular Eurovision Song Contest in May.
A day after it recorded the most new daily cases since the start of the pandemic, Florida on Sunday broke a previous record for current hospitalizations set more than a year ago before vaccines were available.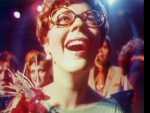 Marc Heustis' eccentric and campy film 'Whatever Happened to Susan Jane' embodies the early 1980s of New Wave, drag queens and wild characters through the misadventures of runaway Virginia housewife. Watch it free online.
Britain opened its borders to fully vaccinated travelers from the U.S. and European Union on Monday as travel industry leaders urged the government to further ease restrictions.
Ever wonder who cracked the cancel code? None other than blogger Joe Rogan, who maintains that queer people are the worst practitioners of cancel culture out of revenge.
Despite growing concerns over the delta variant, "Jungle Cruise" still drew moviegoers out to theaters during the film's opening weekend to sail atop the North American box office.
MTV is marking its 40th anniversary with a relaunch of its iconic image of an astronaut on the moon, with an MTV flag planted nearby.
The "Incredible Hulk" mask should not fool anybody. Raven Saunders has nothing to hide.
Rapper DaBaby was cut Sunday from Lollapalooza's closing lineup following crude and homophobic remarks he made last week at a Miami-area music festival.
The Walt Disney Company has joined other large companies in requiring employees to get vaccinated against COVID-19.
Privacy watchdogs — the human kind — warn that police are secretly rushing to buy the robots without setting safeguards against aggressive, invasive or dehumanizing uses.
The tattered myth that gays are generally better off than their heterosexual peers took another hit with a new study that reconfirms gay and bisexual men earn less than straight men do.
Several companies sell vehicle history reports, promising to reveal the past of any given vehicle. In this article, we'll take a look at the two largest vehicle history report providers.

Celebrity dermatologist Dr. Alex Khadavi was arrested and booked for felony criminal threats. The arrest came as a result of a homophobic rant that Khadavi made in a posh LA condo lobby on July 7.

The network that presents the Games has been forced to pivot, and the addition of Michael Phelps to its broadcast team turned into a master stroke for unanticipated reasons.
Nearly one in five flight attendants say they have witnessed physical incidents involving passengers this year, and their union is calling for criminal prosecution of people who act up on planes.

The idea that sexual desire might be understood as mere preference — like a favorite ice cream flavor — is reductive. "Just a preference" is a familiar and reflexive shield for what experts call racialized sexual discrimination.