Gay Miami: The Latest
Federal regulators are continuing to pursue large penalties against a few airline passengers accused of disrupting flights.
Ariana Grande is a newlywed!
Prosecutors on Tuesday are set to begin presenting evidence to a judge as they attempt to show "That '70s Show" actor Danny Masterson should stand trial in the rapes of three women.
Alabama Gov. Kay Ivey signed medical marijuana legislation Monday as conservative opposition to the issue gradually faded after decades of debate.
New York Gov. Andrew Cuomo disclosed Monday that he was paid a $3.1 million advance to write his COVID-19 leadership book last year and under his publishing contract will make another $2 million on the memoir over the next two years.
In agreeing to hear a potentially groundbreaking abortion case, the Supreme Court has energized activists on both sides of the long-running debate who are now girding to make abortion access a major issue in next year's midterm elections.
A gay duo offers up new takes on classic sitcom theme songs, the long-gone Billie Holiday is revived in a play with her music, and half a dozen trans performers go virtual.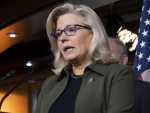 Kate McKinnon nailed Liz Cheney on "Saturday Night Live" this past weekend, and in doing so touched upon the bizarre embrace of the strongly conservative Wyoming lawmaker by leftist media following her losing her Republican committee chairmanship.
"Changing the Game" follows three transgender athletes in high school as they fight for inclusivity in the sports they love.
The story, set to be written and produced by Shonda Rhimes for Netflix, will reportedly follow a young Queen Charlotte, Violet Bridgerton and Lady Danbury from the "Bridgerton" series.
One researcher says medical providers often have trepidation about working with trans people, even if they recognize it is in the best interests of their patients to do so.
A 26-foot statue of Marilyn Monroe that has been placed outside a Palm Springs art museum in under fire. Critics say that the statue, a recreation of an iconic Monroe image from "The Seven Year Itch," is mooning the museum visitors.
AT&T will combine its massive media operations that include CNN HBO, TNT and TBS in a $43 billion deal with Discovery, the owner of lifestyle networks including the Food Network and HGTV.
Trying to figure out the sexuality of Pokémon may not be high on most people's agenda, but Boston-based comedian Connor Diddle is using his TikTok account to tell the world which characters of the popular Japanese game franchise are LGBTQ.
The CFPB's annual consumer response report reveals that credit report inaccuracies more than doubled during the pandemic. Here's how to check your reports, and ask for corrections.
The launch of Ford's Bronco, its highly anticipated Jeep Wrangler-like SUV, won't likely happen until late this year. But there is already a Bronco-badged alternative at dealer lots.
From sourdough to feta pasta, much of the last year at home has been food-focused. And one driver of these delectable fads is the social media platform TikTok.
The head of the Centers for Disease Control and Prevention on Sunday defended the decision to ease mask-wearing guidance for fully vaccinated people, stressing that increasing political pressure had nothing to do with the abrupt shift in guidelines.
Nearly seven in 10 Americans are yearning to escape from the people they've been quarantining with by taking a much-deserved road trip this summer, according to new research.
Their break-up may not have gotten the headlines that J-Lo and Arod may have gotten recently, but gay Manhattan was abuzz this week about the break-up of LGBTQ influencer Jack Mackenroth and adult star Dolf Dietrich that went very public this past weekend