Gay Miami: The Latest
Yesterday Kathy Griffin assured her fans that she had nothing to do with President Trump's exit from his press conference with three little words.
Several months after RuPaul deleted Twitter and scrubbed his Instagram clean, Page Six is reporting why the "Drag Race" host left social media.
A museum in Bangalore, India, is turning to a collective of transgender and female-identifying artists for its first-ever commission.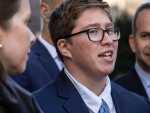 A Florida school district was wrong when it forced a transgender high school student to either use the girls bathroom or a single-stall gender neutral bathroom, a federal appeals court ruled.
Liberty University in Virginia announced Monday that its board had chosen an interim president to lead the school days after Jerry Falwell Jr. began an indefinite leave of absence after one of his posts on social media created an uproar.
For more than 50 years, Jerome Alexander has brought out the beauty in women by teaching them to become their own makeup artists. "The Man Behind the Makeup" documentary short film chronicles his life, career and how he changed the beauty world forever.
The family of a Florida man who disappeared in 1997 and who appeared on the hit TV series "Tiger King," has hired a lawyer and is offering $100,000 in exchange for information to help solve the case.
A politically charged episode of "black-ish" from 2017 that was shelved by ABC has found a home on Hulu, a corporate sibling of the Disney-owned broadcast network.
Chris Pratt and Katherine Schwarzenegger say they are "beyond thrilled" and "extremely blessed" after she gave birth to their first child together.
As coronavirus cases surge — and dire shortages of lifesaving protective gear like N95 masks, gowns and gloves persist — the nation's health care workers are again facing life-threatening conditions in Southern and Western states.
It took six months or so to get to 10 million cases after the virus first appeared in central China late last year. It took just over six weeks for that number to double.
A roundup of the best reactions, memes, and videos to Cardi B's new song "WAP," featuring Megan Thee Stallion.
McDonald's says it's suing Stephen Easterbrook, the CEO it ousted last year over an inappropriate relationship with an employee, alleging Monday that he covered up relationships with other employees and destroyed evidence.
JustForFans has become one of the web's leading sites for adult male performers to distribute their content to fans. But its founder, Dominic Ford, has been accused of inappropriate sexual behavior by two of his former models.
Numerous insurers across the country have announced plans to hike rates next year, though some have proposed cuts.
With interest rates at record lows, is it still worth leasing a new car? We took a look at the financial outcomes of buying and leasing to see how current finance trends might affect your decision.
A study of 2,000 females found fringe trims, leg waxing and applying eyelashes are among the things they have tried to carry out themselves.
The PGA just concluded its latest tournament, but where were the LGBTQ athletes? Here's a look at some of the sports' greats throughout history.
NJ has a reputation for being highly LGBT friendly. Here are some of the top things to do in NJ this summer that are inclusive of the LGBTQ community.
Provincetown Carnival attracts somewhere near 80,000 people to the town for the celebrations - something impossible in this year of COVID. The event was scheduled to begin this Friday. Here's a look back at carnival past - part 1 of 2.