McDonald's says it's suing Stephen Easterbrook, the CEO it ousted last year over an inappropriate relationship with an employee, alleging Monday that he covered up relationships with other employees and destroyed evidence.
A former producer of "The Ellen DeGeneres Show" spoke out against the titular talkshow host in an interview with "Inside Edition" and didn't hold back about her ex-boss.
A gay St. Louis County police lieutenant who settled a discrimination lawsuit against the police department for $10.25 million said Friday he is resigning from his job as commander of the department's new diversity and inclusion unit.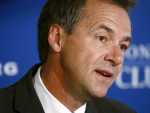 An aide to Montana Democratic Gov. Steve Bullock's senate campaign was fired Thursday after a history of racist, sexist and homophobic tweets surfaced.
"The Ellen DeGeneres" show is being internally investigated by its distributor WarnerMedia after "numerous accounts of workplace problems," according to a report from Variety.
A South Florida police chief has announced his retirement months after an investigation into alleged remarks he made about the coronavirus death of an openly gay Broward Sheriff's deputy.
As a veteran public health worker, Chantee Mack knew the coronavirus could kill. So she asked — twice — for permission to work from home. She was deemed essential and told no. Eight weeks later, she was dead.
People who've been laid off or furloughed from their jobs now have more time to decide whether to hang on to their employer-sponsored health insurance. Some health policy experts question the usefulness of the change.
Former employees of the "Ellen" show spoke with BuzzFeed this week about the talkshow's toxic workplace culture, sharing stories about their difficult time working for the program.
Out political columnist Andrew Sullivan announced Tuesday that this will be his last week at New York Magazine and that Friday will be his final column for the publication, where he will reveal why he decided to quit.