Gay Miami: The Latest
Bette Midler, Kathy Najimy, and Sarah Jessica Parker — the Sanderson sisters in the 1993 cult classic "Hocus Pocus" — will reunite for a sequel.
Champion figure skater Adam Rippon is developing a comedy series about figure skating at NBC.
It's been a few weeks since Ellen DeGeneres returned to the airwaves amid her toxic workplace controversy. And though the drama has quieted down, Ryan Phillippe isn't forgetting.
A Salt Lake City man accused of raping a lesbian woman and telling her that he was going to "fix the gay" has been released from prison without bail pending his next court date.
The Election is one week away, so we're pulling no punches on gay penguins and rainbow Oreos. Check out the latest episode of Slightly Used News!
Out news anchor Shepard Smith surprised viewers when he left Fox News in 2019, after 23 years on the network. He now has a news show at CNBC, but it's dwelling at the bottom of the ratings.
The setting: a rolling patch of Pennsylvania farmland, about 15 miles from the little town where "Night of the Living Dead" was filmed. The moment: Halloween season 2020, a moonlit Friday night.
Amy Coney Barrett's first votes on the Supreme Court could include two big topics affecting the man who appointed her.
One week until Election Day, Joe Biden is going on offense, heading Tuesday to Georgia — which hasn't backed a Democrat for president since 1992 — and pushing into other territory where President Trump was once expected to easily repeat his wins from 2016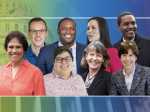 "Now that it's October, people are even more attentive, and LGBTQ voters, in particular, should find motivation to vote in their own best interests," says Sean Meloy, senior political director at the LGBTQ Victory Fund.
Deaths per day from the coronavirus in the U.S. are on the rise again, just as health experts had feared, and cases are climbing in practically every state.
Four episodes into her new YouTube show, "Stump Sohla," part of the expanding "Babish Culinary Universe" channel, Sohla El-Waylly has yet to be stumped by a food challenge.
Short-video app Quibi said it is shutting down just six months after its early April launch, having struggled to find customers.
U.S. government officials are putting an early end to a study testing an Eli Lilly antibody drug for people hospitalized with COVID-19 because it doesn't seem to be helping them.
If the Supreme Court throws out the Affordable Care Act, your finances and your future could pay the price.
Daimler, the maker of Mercedes-Benz luxury cars and Freightliner trucks, saw third-quarter profit rebound as the company clamped down on costs and auto sales recovered after the coronavirus lockdowns.
Antoni Porowski, the Emmy-nominated food and wine host of Netflix's "Queer Eye," has designed a "sustainably-minded new capsule collection" in collaboration with J BRAND.
Omari Hardwick ("Power" on Starz) isn't holding back in his daily workout. Take a look at how the TV star stays in shape — you'll be impressed with the results!
A solo trip to the Hudson Valley offers one writer the opportunity to ponder his queerness among cemeteries, towering sculptures and a stroll down Main Street.
Should the government pay bars, many restaurants and event venues to close for the winter? Some experts say yes.