Casting LGBTQ actors in queer roles only scratches the surface of the complexities behind the Hollywood business model, where talent is a commodity and the benchmark for success is a delicate balance of earnings and artistry.
A recent report reveals more than half of last year's top-selling books targeted kids or young adults. For LGBTQ authors and readers, the publishing industry exhibits slow progress in diversifying queer narratives.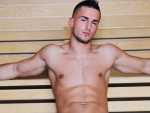 COVID-19 has upended life as we know it, and bathhouses facilitate two social needs that have been thrown into especially sharp relief: Sex and public health consciousness. Will they emerge post-pandemic?
Soon-to-open Camp Boomerang RV Park and Campground announced it would open this spring and cater exclusively to gay men, setting off a controversy about transgender guests that's reverberating through the queer camping community.
Transgender models continue to make inroads in the fashion industry, but not without risk. Now they're speaking up to advocate for fair and safe working conditions.
Want to smell strong like a man or sweet like a woman? Think again. The fragrance industry is finally catching up regarding outdated olfactory tropes.
From kaftans to lace shorts and peplum skirts, the future of men's fashion is undergoing a seismic shift.
Last year, Netflix's 'Love on the Spectrum' explored, in part, the romantic pursuits of LGBTQ people living on the spectrum, but their stories and lives are more complex than a TV series could capture.
LGBTQ seniors across the country continue to find ways to counter the devastating impact of COVID-19, but a delayed vaccine rollout along with fear and mistrust put our most vulnerable community in jeopardy.
After a chaotic administration that's been disastrous for LGBTQ rights, uncertainty and realism are tempering expectations for Biden-Harris results.