Review: 'Lady Sings the Blues" an Important Achievement of Black Cinema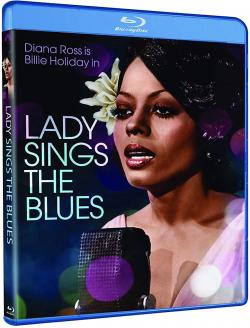 It is difficult to revisit Sidney J. Furie's "Lady Sings the Blues" without bringing Lee Daniels' "The United States vs. Billie Holiday" into the conversation. Certainly, it is important to contextualize and analyze the 1972 film on its own merits, but there is such a remarkable difference between two films that purport to be biopics of the same artist that it must be discussed.
First and foremost, Furie's film is completely devoid of any politics, while Daniels' film is all about how the icon was under surveillance and persecuted by the FBI because of her refusal to refrain from singing her song "Strange Fruit," which was all about a lynching and reminded people of just how racist the south was.
The Daniels work is an homage to the artist, and lead actress Andra Day does her best to honor Holiday in terms of her vocal sound (that rasp!), mannerisms, and attitude, as well as capture the spirit of the performer. Day's portrayal is edgy, and taps into Holiday's grit, perseverance, and defiance. She also manages to channel her sultry seductiveness.
In contrast, Diana Ross admittedly did not want to copy Holiday's sound (she sounds like Diana Ross), and doesn't do much in terms of her habits (no pun intended), either. "I made it my story, not Billie Holiday's story," she says in the "Behind the Blues" doc on the Blu-ray. Ross' Holiday is showy and indulgent. She embodies the victim and the addict, but never manages to seize upon why Holiday was such a mesmerizing performer. Of course, a lot of this is the fault of the deliberately distorted screenplay.
Finally, Barry Gordy, Motown titan, bought "Lady Sings the Blues" so his biggest star could make her film debut. His goal, besides showcasing Ross's talents (which seemed to be the main objective), was to tell a love story from the Black perspective, something that hadn't been done before in a big Hollywood film. While he achieved that goal, and the film can be seen as groundbreaking in that sense, what he also did, in essence, was rewrite Holiday's real history. Lady Day's knight in shining tuxedos, Louis McKay (a dashing Billy Dee Williams), is portrayed as a loyal, loving, and patient beau when in actuality McKay was a mob enforcer who was abusive to Holiday. Not surprising, McKay was a consultant on the 1972 film.
"LSTB" often feels like the Black version of "Funny Girl" with lots of heroin abuse to give it that raw quality. Both are rags-to-riches stories, and both singers fall for gorgeous, seemingly unattainable men. Oh, and the song "My Man" is prominent in both films.
Now, let's contextualize for a moment...
"Lady Sings the Blues" was made during a particularly tumultuous period in American history, with the civil rights movement reaching a boiling point in the late '60s into the '70s.
There were no Black love stories being made. And most Black actors were either relegated to stereotypical supporting parts or action hero starring roles (many in Blaxploitation pics), so showcasing Billy Dee Williams as a suave, debonair sophisticate allowed for a brand-new kind of screen role model for young black men.
Diana Ross, fresh off her chart-topping success with The Supremes, was just beginning what would become a smash solo career. She managed to follow in Barbra Streisand's footsteps by astonishing the world with a sensational performance, proving she had acting chops and was willing to go deep and immersive.
Until 1972, Dorothy Dandridge was the only Black woman ever nominated for Best Actress (for "Carmen Jones" in 1954). But in '72, history was made when both Ross and Cicely Tyson ("Sounder") were nominated - a huge step forward. Had it not been for Liza Minnelli's extraordinary work in "Cabaret," Ross would probably have won.
When I first saw "Lady Sings the Blues" on TCM over a decade ago, I was blown away by Ross. It was one of the few important '70s films I had yet to see, and I was really impressed. I knew a lot less about the real Billie Holiday then. In the interim, I've immersed myself in the icon's recordings, read a lot about her, and seen Audra McDonald's incredible turn in "Lady Day at Emerson's Bar & Grill" onstage. And, just recently, Andra Day's miraculous work.
Returning to "LSTB" via the pristine Paramount Blu-ray edition (the transfer is stunning), Ross still mesmerizes, but the musical scenes (and there really aren't that many) pale compared to Day in "USvBH," as they are pure Diana, with perhaps a hint of Holiday. "Strange Fruit" loses most of its potency, and the finale with Holiday's most popular hit, "God Bless the Child," is incredibly lackluster.
The film takes crazy creative liberties and is loaded with inaccuracies. Why they didn't simply make a fictional musical loosely based on Holiday's life is anyone's guess, because that's what it ends up being. The screenplay, by Suzanne de Passe, Chris Clark, and Terence McCloy, is chock full of cliches and archetype peripheral characters, and allows for too much awkward improv. The narrative meanders, often without focus, for its overlong 144 minutes, spiraling into a melodramatic mess.
The plot follows a basic biopic structure, opening in NYC in 1936 with a drugged-up Billie getting tossed into a padded cell, then flashing back to the protag as a teen in Baltimore, making ends barely meet as a drab cleaning gal in a whorehouse. She is soon horrifically raped by a drunk and then, via a quick cut, has become a glamorous prostitute. She soon gets a gig at a local watering hole. Enter, hero Billy Dee — I mean Louis, who sweeps her off her feet. Before you can say, "rags to riches," she is on the road with an all-white band, has become a successful singer... and has developed a terrible drug habit.
Canadian director Furie dwells way too much on Holiday's heroin addiction, and not enough on why she turned to the needle in the first place. He does capture gritty quite well, though.
The love relationship often takes center stage, with Ross and Williams sizzling the screen in a romance fabricated for celluloid.
Richard Pryor provides some laughs and a few poignant moments as Holiday's drummer and confidant. And the future "Jeffersons" star Isabel Sanford has an all-too-brief scene she easily steals.
There are also a few powerful moments, including a Klan attack on the tour bus.
The film was a box office hit in 1972, second only to "The Godfather," but the reviews were quite mixed, with Vincent Canby of The New York Times complimenting Ross but saying she was "trying to make a bad movie work." Roger Ebert echoed most critics in stating Ross had delivered, "one of the great performances of 1972." This remains true in a year where the impressive best picture lineup included "The Godfather," "Cabaret," "Deliverance," "Sounder," and "The Emigrants."
The film was nominated for five Academy Awards including Best Actress and, incredulously, Best Writing (Story and Screenplay Based on Factual Material)!
The Blu-ray disc looks amazing and sounds terrific, a definite upgrade from the DVD release.
The Special Features are carryovers from the Paramount DVD. Sadly, there is nothing new. They include a decent 23-minute "Behind the Blues" doc featuring Ross and Williams, and some interesting tidbits like the fact that Gordy and Furie often clashed. But most of it is very self-congratulatory. The seven Deleted Scenes actually explain a few plot and character questions, especially involving Billie's mama (Tony winner Virginia Capers). The Audio Commentary with Gordy, Furie and artist manager Shelly Berger is mostly a continuous tribute to Ross.
Pick up "Lady Sings the Blues" for an important achievement in black cinema, or to watch Ross dazzle in her screen debut, but realize you will not gain much insight into Billie Holiday, the artist or the person.

"Lady Sings the Blues" is available on Blu-Ray February 23, 2021, for
$14.99,
Frank J. Avella is a film and theatre journalist and is thrilled to be writing for EDGE. He also contributes to Awards Daily and is the GALECA East Coast Rep. Frank is a recipient of a 2019 International Writers Retreat Residency at Arte Studio Ginestrelle (Assisi, Italy), a 2018 Bogliasco Foundation Fellowship, a 2016 Helene Wurlitzer Residency Grant and a 2015 NJ State Arts Council Fellowship Award. He is an award-winning screenwriter and playwright (CONSENT, LURED, SCREW THE COW, FIG JAM, VATICAN FALLS) and a proud member of the Dramatists Guild.
https://filmfreeway.com/FrankAvella
https://muckrack.com/fjaklute
Comments on Facebook