Review: 'Shooting Midnight Cowboy' a Meticulous Deep Dive into an American Classic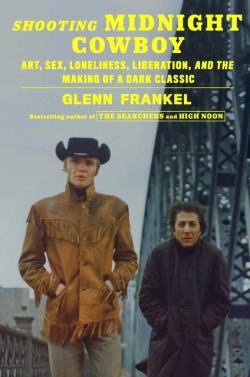 Despite an X rating, John Schlesinger's "Midnight Cowboy" won the 1969 Best Picture Oscar, won Schlesinger the best director award, and snagged nominations for stars Dustin Hoffman and Jon Voight.
The film is based on gay author James Leo Herlihy's story about a friendship between Joe Buck, a Texas hustler, and Ratso Rizzo, a homeless man who is literally on his last legs. Ratso hustles Joe for $20 on their first meeting in a gay bar, but eventually they have to trust each other to survive a New York winter living in a condemned building.
Pulitzer Prize-winning journalist Glenn Frankel meticulously covers every aspect and the difficult circumstances in shooting, wrestling with studios and location shooting on the mean streets of New York, and the equally homophobic Texas locales.
Herlihy 1965 novel "Midnight Cowboy" was a modest success and was optioned but then turned down by studio brass. The author was living from job to job. After a string of commercially successful films ("Billy Liar," "Darling") Schlesinger was trying to rebound from his star-studded flop "Far From the Madding Crowd."
Producer Jerome Hellman was also almost broke when his co-producing partnership broke up. Yet, somehow it all came together, even after repeated production setbacks and studio stalls.
Frankel devotes chapters with cameo biographies and interviews with all the surviving players of "Midnight Cowboy," who each recount the confluence that proved to be a perfect storm for film disaster, including Hoffman and Voight.
Schlesinger and Herlihy were both gay, and the film's homo eroticism was subject too much criticism from censors who branded it with the X-rated. No, limiting its advertising and booking in many markets around the country. Meanwhile, the drama on location upstaged everything, and sometimes Schlesinger's own artistic insecurities led to temper tantrums.
Polish cinematographer Adam Holender captures the gritty atmosphere of Manhattan's world of prostitution, urban blight, sex shops, drug dealers, and 42nd St. hustlers vis-a-vis the uptown turf where Joe tries, unsuccessfully, to hustle rich women.
For audiences, a peep-show view of gay subculture in New York, including a party scene, was shot documentary style, on location at a three-day, non-stop, drugged out bacchanalia, with Warhol Factory stars floating around.
There were constant difficulties filming in New York, including homophobic union film crews who wanted to stick it to Schlesinger. Meanwhile, the first screenwriter had to be fired; hired as a replacement was Waldo Salt, who was still persona non grata in Hollywood after being blacklisted during the McCarthy era. The studio was also about to stop production at key points to reduce costs, but Hellman managed to keep them at bay.
Dustin Hoffman brought immediate attention to "Midnight Cowboy," realizing he could prove himself as a character actor and not be typecast after becoming a superstar overnight in his film debut "The Graduate."
The casting was lucky, but also caused even more pressure on the film's need to be a hit, mainly because the director and producer had production cost coupled with worries that the whole production might be shut down. Hellman continued to obscure how much the movie was running over budget, as the filming careened past production deadlines.
Stunning performances by both Voight and Hoffman led to both being nominated for best actor Oscar awards; ironically, they lost to John Wayne, that straightest of movie cowboys. Schlesinger, for his part, took the prize for Best Director, but, convinced he would lose, had returned to England.
For LGBTQ+ audiences, this account is a cultural lens of a specific time, of the burgeoning gay and lesbian civil rights movement that was exploding across the U.S. and the almost universally negative representation of gay life on screen.
"The Boys in the Band" came out a year later, which, coming as it did in the wake of the Stonewall Riots, was excoriated by gay activists for its stereotyping.
Interestingly, "Cowboy" wasn't criticized for its depictions of vicious bar queens and murderous hustlers but, of course, it can be viewed now with a more critical cultural eye. Frankel's incisive history of the making of this most unlikely of American movie classics is fascinating.
"Shooting Midnight Cowboy: Art, Sex, Loneliness, Liberation, and the Making of a Dark Classic," by Glenn Frankel, is available from Farrar, Straus and Giroux on March 16, 2021, for $30.00
Lewis Whittington writes about the performing arts and gay politics for several publications.
Comments on Facebook